Description
WOMB AWAKENING SISTERHOOD SATURDAY: CACAO, MOVEMENT, ENERGY & SOUND
Saturday 23rd November 2019
1.00pm-7.00pm
ookushana, Chapel Allerton
The womb, possibly the least talked about organ, yet one of the most powerful. One which bridges heaven and earth, spirit and matter. One which connects us to our wisdom, passion and pleasure. It is our power centre. The seat of our intuition. The garden of our creativity. It is divine. It is sacred. Not only does this sacred space within us have the ability to birth new life but this magical portal can create and birth our dreams and manifestations into reality.
As women, we can carry pain, ancestral trauma, conditioning, fear, shame and guilt within our womb space for many years or even lifetimes. These blockages sit within us, suppressing our natural energy flow, our true feminine nature, our innocence, our freedom to be ourselves and shine our light out into the world. These energetic blocks can also manifest into physical pains, symptoms and ailments within the womb space.
Many ancient traditions understood and honoured the creative power that lies within the womb, yet it seems we have become disconnected from that knowledge. Today, we rarely pay much attention to our womb other than when we experience pain, physical issues or until we come to need it. This is through no fault of our own but simply a lack of education of knowledge which has slowly dissipated through generations. However, we are being called to remember the ancient wisdom that lies within our very own body, our temple. The womb holds the key to activate and reawaken us to our deep feminine power.
Join Josie (Eleven Healing) and Felicity (ookushana) for this empowering and nurturing healing journey to reawaken and purify your womb space using an abundance of gentle yet powerful healing modalities. When we bring love and healing to our womb space we can release feelings of disconnect and shame and reignite our limitless fountain of joy, pleasure and creativity that lies within.
We invite you to join us on this heart opening journey to reconnect to your womb, to the womb of the Divine Mother, from whom all life is created. The shifts will flow out into all areas your life.
"Every woman who heals herself helps heal all the women who came before and all those who come after her" Christiane Northrup
WHAT TO EXPECT?
Josie and Felicity unite with love to offer this immersive 6 hour healing ceremony where you will be held in a safe space to connect with the subtle energy of your womb. We will open with a lovingly held cacao ceremony and sharing circle where you will have the opportunity to express your intentions, your truth. As the ceremonial cacao elixir is working through your system you will be guided through breath, mudras and affirmations to align with our intentions and ignite healing within. Cacao is a powerful plant medicine with the potential to assist in deep emotional releases and open the heart. Consuming this elixir naturally produces serotonin, dopamine and anandamide which are the bliss molecules that make us feel high.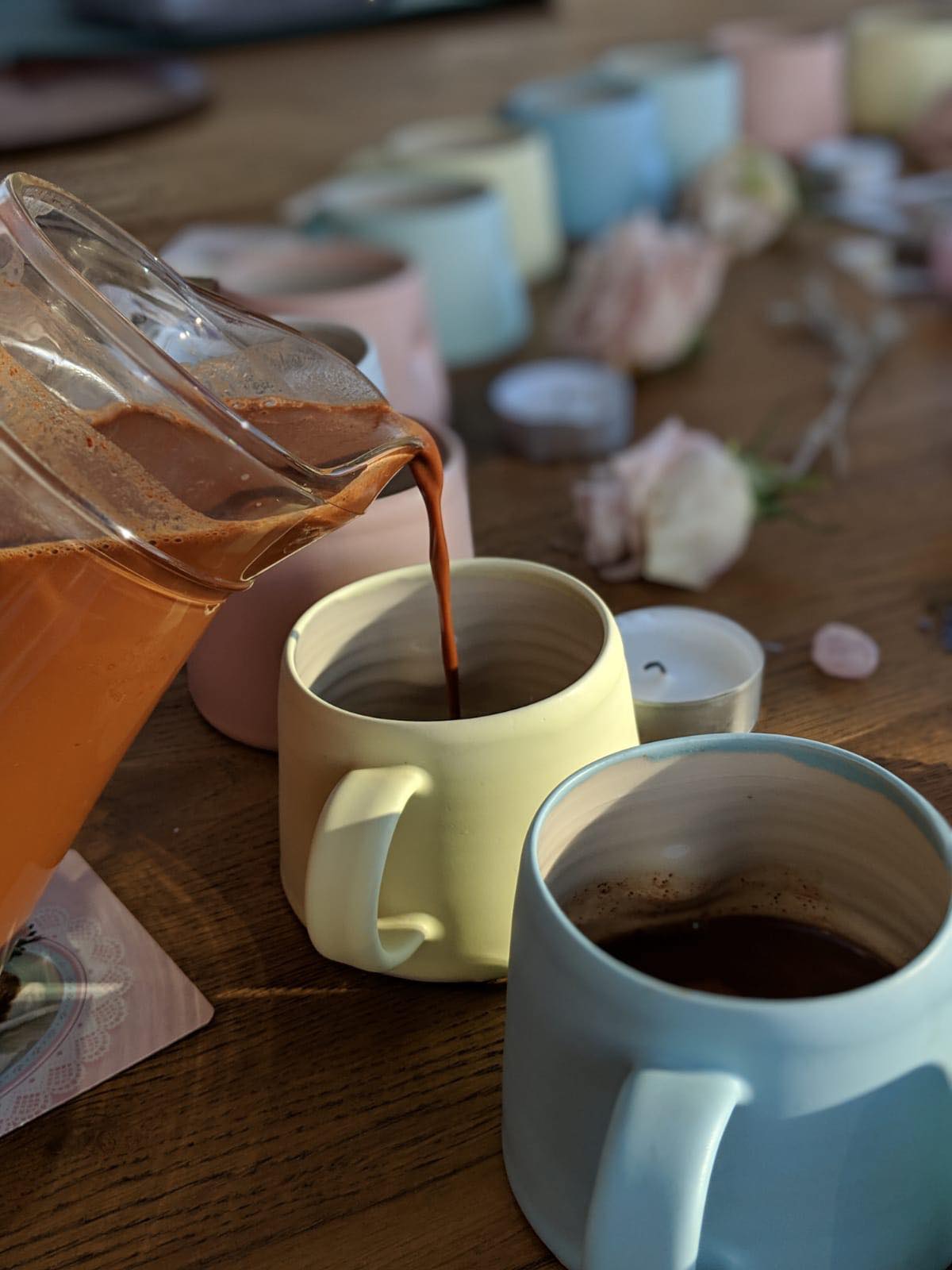 Felicity will guide you through Divine Feminine Flow movement, where we will seek to connect with our divine feminine nature, our creativity and our sensuality through an intuitive, intentional flow and embodied movement. Rather than holding poses or moving through them quickly, we will move within them, through them, letting them flow through us, feeding us and letting our intuition be our primary guide. Moving with absolute fluidity. Exploring our bodies, our needs and our desires. Surrendering to the Goddess within. This is an all-encompassing flow fueled with beautifully evocative music and sacred sound, flowered with history and philosophy and supercharged with sisterhood. Our aim, to connect with and ignite our divine feminine.
Once the movement has come to an end you will be encouraged to lie down and get comfortable as Josie guides you on a dreamy sound journey. You will receive the calming yet powerful sounds of her alchemy crystal singing bowls, chimes, drums, melodic instruments and tuning forks. The heavenly vibrations will permeate through your entire being, releasing tensions, raising your vibration and creating shifts in mind, body, spirit. Naturally the sounds guide you into a deeply relaxed state where you can drift into higher states of consciousness, experiencing visions or insights. Josie will channel light language throughout the journey, bringing healing energies through her voice to create shifts and awakening within. It is to be experienced to be truly understood.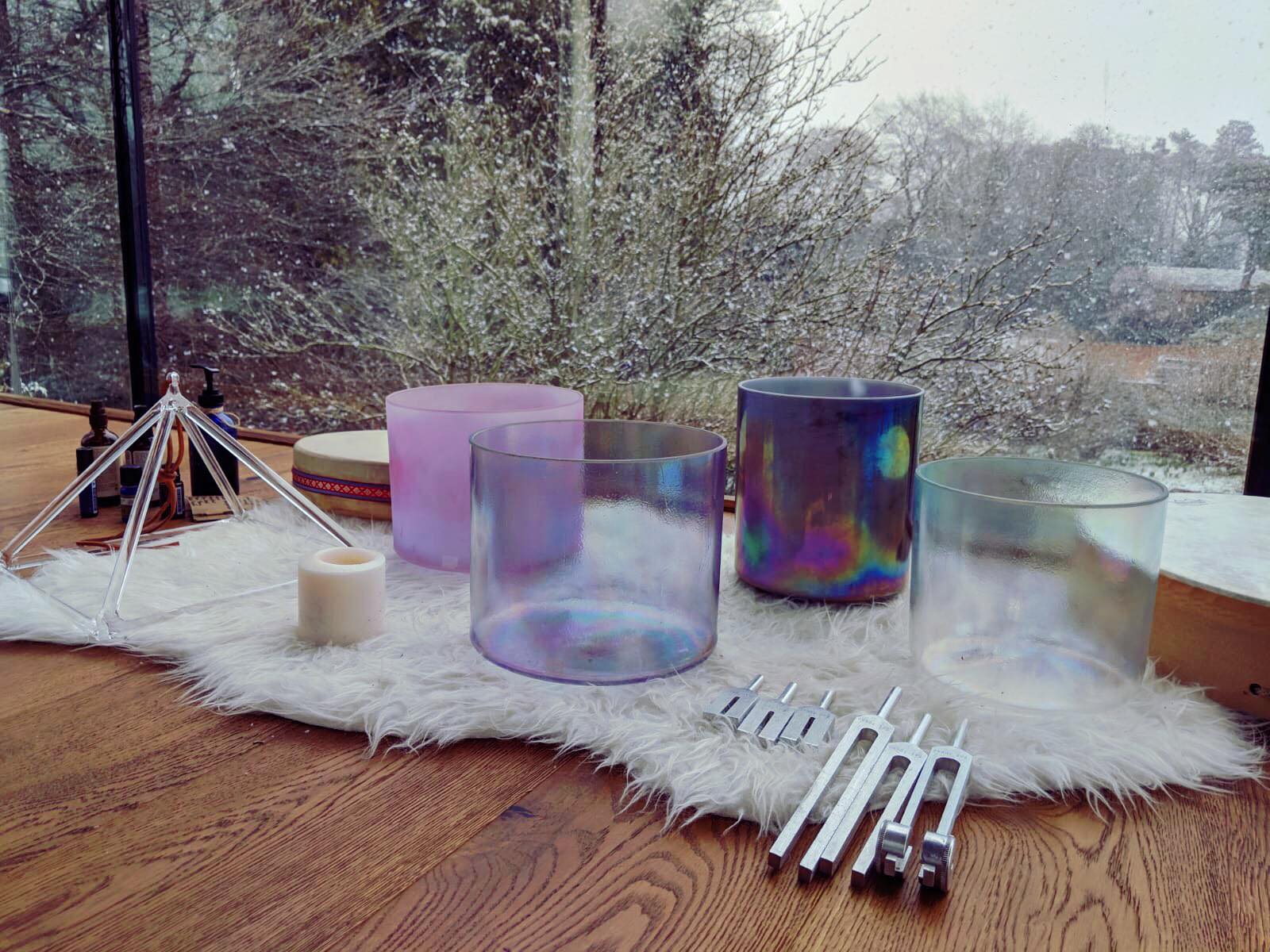 After the sound journey has come to an end you will have time to process the experience, listening to beautiful music whilst Josie and Felicity channel energy healing to everyone individually to cleanse, purify and activate your womb space. The ceremony will close with an aura cleanse.
We will enjoy incredibly yummy and nourishing adaptogenic drinks and divine treats from Nature's Antiodote to seal the experience and ground us back into the physical with care and love.
DRINKS
Nourishing vegan and refined sugar free herbal tonics supplied.
Heart Chakra - This herbal blend contains herbs, roots and adaptogens that are said to have heart opening properties or are in any way related to the Heart Chakra. Relaxing, destressing and thus promoting longevity while also enhancing digestion, improving metabolism, counteracting inflammation and supplying the body with valuable minerals.
Ingredients: Red Rose, Beetroot, Reishi Extract, Lavender, Ginger, Cinnamon, Turmeric, Black Pepper Extract, Thyme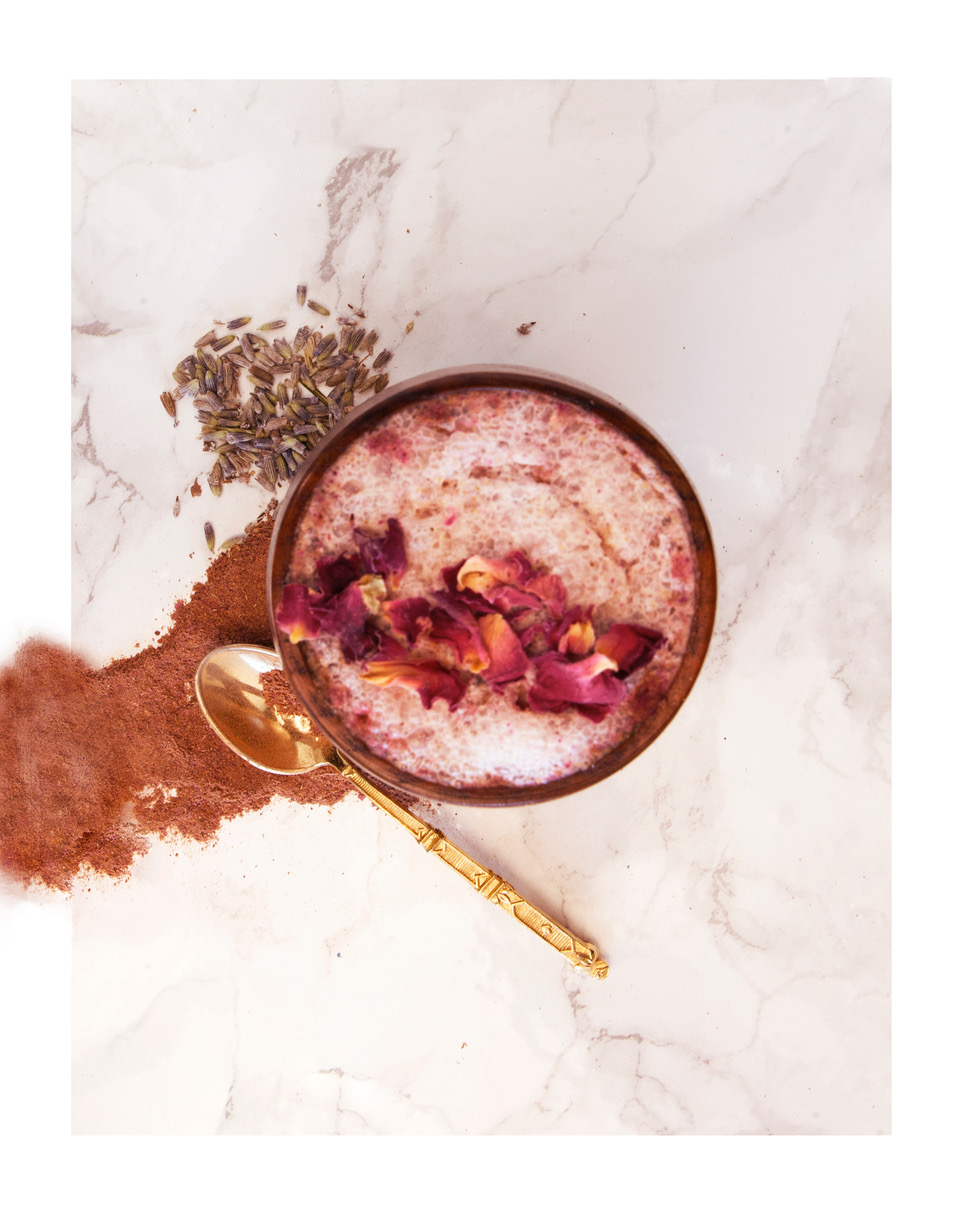 Yoni - This blend contains herbs and adaptogens that aim to cherish your 'Moon Time' by releasing painful cramps and nourishing the body with minerals. The herbs were carefully selected to benefit the womb and body during menstruation but can be consumed to any time of the cycle.
Ingredients: Nettle, Raspberry Leaf, Cramp Bark, Chaga Extract, Shatavari, Lucuma, Cinnamon and Ginger
SNACKS
Raw bliss balls with healing herbs - a delicious and guilt free treat.
Surrender has never been easier in our womb-like supportive space. We cannot wait to share with you in circle if this calls you. NOW is the time to remember your truth and reclaim your power. This will be a reminder of true sisterhood and how it can lift us up to our highest potential. Together we will RISE.
THE FLOW
1.00pm-3.00pm: Cacao Ceremony & Sharing Circle
3.00pm-4.00pm: Divine Feminine Flow Movement with Felicity
4.00pm-4.15pm: Break
4.15pm-5.15pm: Sound Healing & Light Language with Josie
5.15pm-6.00pm: Energy Healing & Aura Cleanse with Josie & Felicity
6.00pm-7.00pm: Grounding // Warming Drinks (Heart Chakra Blend & Yoni Blend) from Natures Antidote
TICKETS
£88
Please note, there are limited spaces with only 14 available so advanced booking is essential if this calls you as it books up fast!
If you would like to pay in 2 instalments please contact Felicity at hello@ookushana.com to arrange directly :)
WHO IS THIS SUITABLE FOR?
Naturally, this offering is for women but you may also feel particularly drawn to this if you are experiencing or have experienced disconnection to your body, sexuality and/or life, fertility issues, irregular menstrual cycle or intense menstrual pain, sexual abuse, miscarriage, abortion, childbirth trauma, any physical imbalances in the womb such as polycystic ovary syndrome, pelvic inflammatory disease, fibroids, endometriosis or HPV and also any digestive problems such as IBS.
Womb healing is suitable for ALL women whether you have a physical womb or not. We hold the energetic blueprint of the womb within us so the energy can always be connected with in the same way. Womb healing can be extremely helpful if you are coming to terms with the loss of your womb, no matter how long ago it may have been. Even when we no longer have a monthly cycle our body always connects with the cycles of nature.
ABOUT US
FELICITY, OOKUSHANA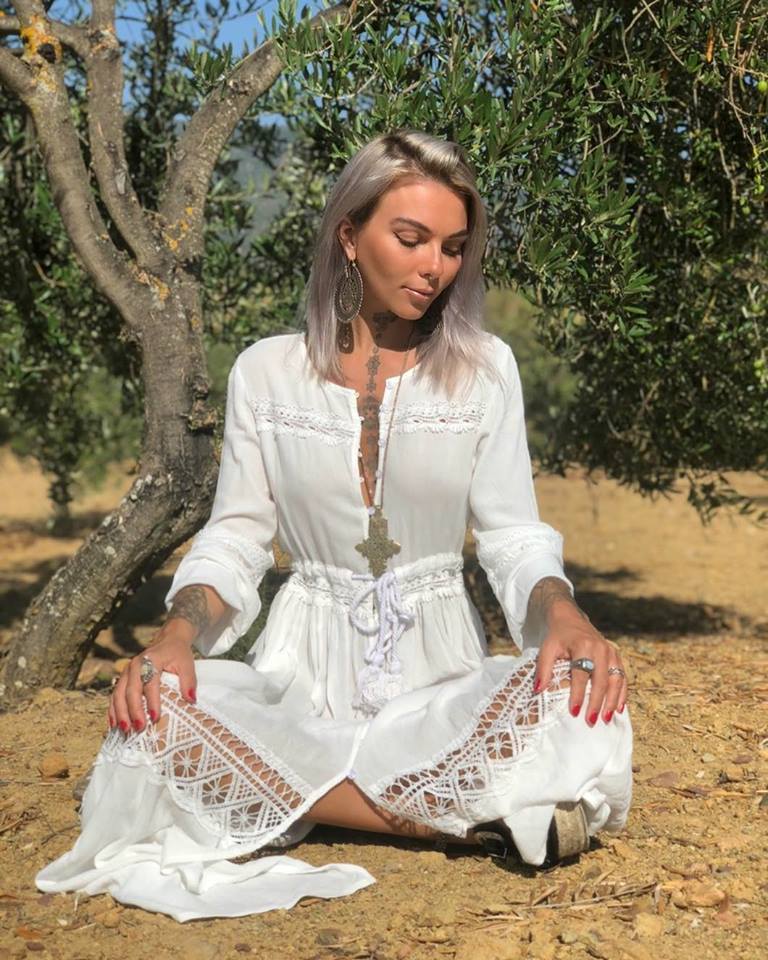 Intuitive Healer
Usui Reiki Master & Teacher
Shamanic Womb Healer
Sacred Sound Healer
Channeller of Light Language & Sacred Codes
Ritual Facilitator
Shamanic Yoga/Movement Teacher
Shamanic Ancestral Healer
Felicity is a light-worker, whole-heartedly in service to spirit, and the greater good of humanity. She is an intuitive energy healer, that is, a conduit to channel pure light and love from Source.
She trained in Usui Reiki to Master Teacher level, immersively yet slowly over 4 years from 2012, which had such a profound effect on her life - and so birthed ookushana Reiki School, where she now works to help others connect to their own unique medicine.
Felicity is also a Shamanic Yoga Teacher and Ritual Facilitator, working with movement, elemental alchemy, sacred sound, breathwork and plant medicines. She has most recently completed Ancestral Healing Training, to deepen her shamanic practice, with the intention of healing the collective wounds that live within us all.
Felicity is founder of ookushana – Energy Healing School – with a current base in Leeds, England.
ookushana is a word created using affinity numerology and ancient language, with the purposeful meaning "infinite inner grace". Felicity's mission is to help people find this inner grace, which we all seek and deserve.
Her current platform is home to many spiritual teachers and healers from around the world, who come to share their gifts with the community.
Felicity is also co-founder of Womb Awakening UK - sharing Womb Healing Retreats & Ceremonies, Internationally. She works intimately with women, both in group and 1-2-1 sessions, seeking to help all beings connect more closely with their truth, their purpose, and their sweet innocence – the true recipe for happiness.
Over the past 8+ years, Felicity has helped clients, friends and family, overcome deep-rooted trauma, behaviours and ailments - her approach most different from any western medicine, allowing for a more subjective, personal relationship and healing with love.
Her compassionate and nurturing nature allows Felicity to hold space with love and without judgement for those who are brave enough to seek truth and look within.
JOSIE, ELEVEN HEALING
Josie is an intuitive energy healer working with sound through her team of instruments and light language channeled through her voice. Known for her compassionate nature and natural affinity with energy, she holds an authentic and safe space for positive shifts to unfold on many levels through the use of deep energy work with her hands and sound. She guides others with love to release from emotional, physical, spiritual and mental blockages which creates deep shifts and transformation unfolding far beyond the session.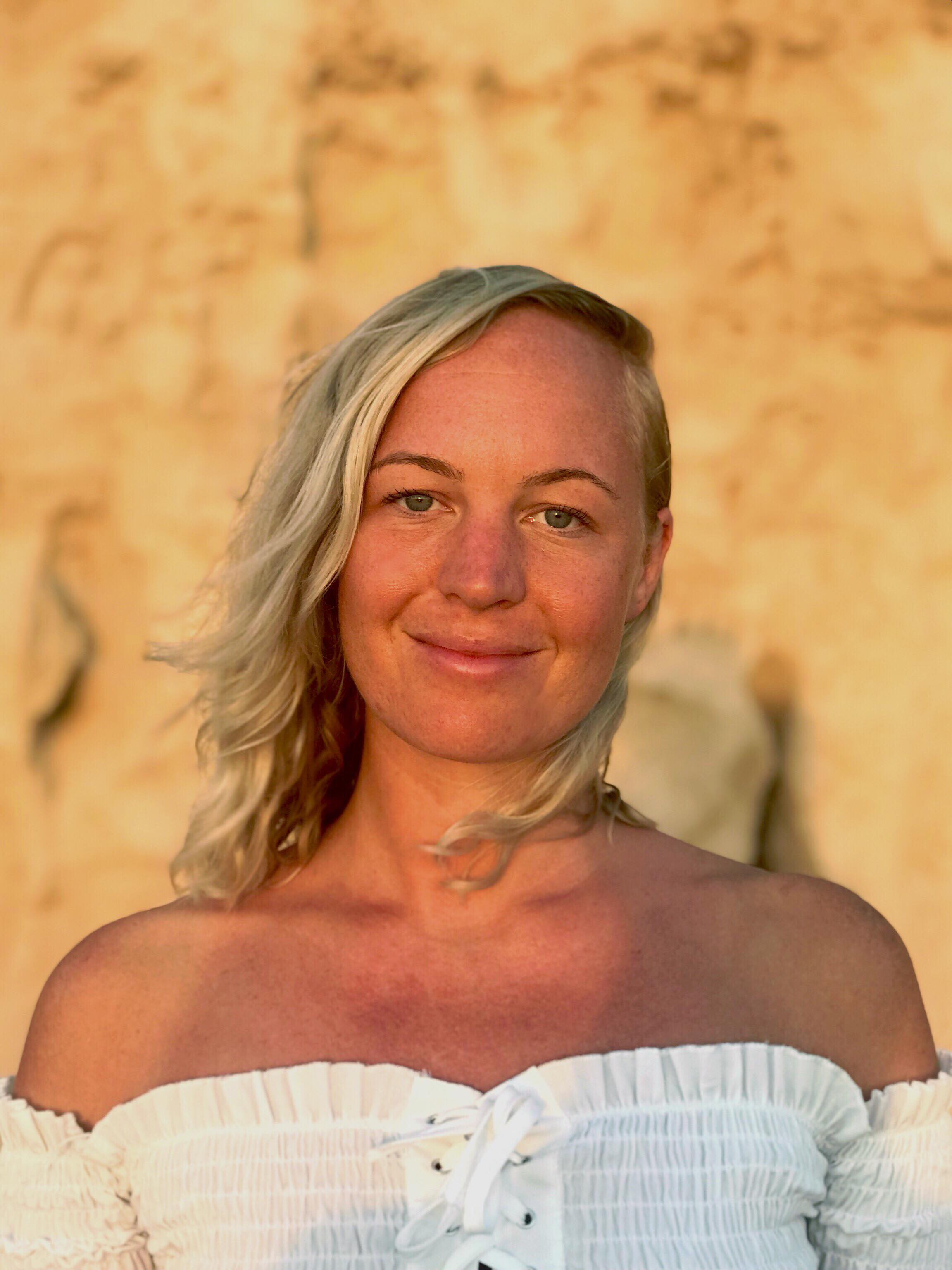 Josie had an intense awakening to her healing abilities in 2011 which led her on a path of self-discovery and profound transformation as she followed her true calling. She launched her practice 'Eleven Healing' 5 years ago in 2014 and has devoted her life to be in healing service to divine and therefore humanity ever since. Her offerings have recently been featured in British Vogue, i-D and Tatler. Her intention is to continue spreading awareness of the power of energy healing because she passionately believes it is a powerful catalyst for growth and awakening and it is here to be shared to help raise the consciousness of humanity.
NATURES ANTIDOTE
Nature's Antidote specialises in tonic herbs that nourish and heal the body. The products can be integrated into daily routines or become a self care ritual in themselves.
WOMB AWAKENING TESTIMONIALS
"Felicity & Josie, Two beautiful beings, your work and the gift you bring, holding space is so needed and so important. During your circles I have never found a love like it from all my experiences. A love so gentle and powerful in the arms of my sisters has birthed a dragon in me I never knew could rise inside my tired body. My heart is full of gratitude for those supporting me in the sacred mission of reclaiming the feminine and coming home to the divine temple of my womb and all the wisdom it holds. The great gift you both have given has allowed me the permission to feel, to face and embrace my shadow and move towards the gentle fire, to feel its intensity and surrender and trust all is well…Om Tat Sat… You have granted me a gift that I will forever be both humbled and grateful for. A healing that I will honour and continuer to uphold and traverse deeply. Sisters thank you, thank you, thank you, from the depths of my womb and my heart" Sian, Leeds, Dec 2018

"Thank you so much for such a lovely time on Thursday. I wasn't really sure what to expect so I was surprised at how moved the experience made me. The following day, and even now, I'm catching myself walking around with my hand on my womb, probably a bit of an odd thing to do in the office! There was a few things that I was too shy to say to the circle and I was really touched by how honest the other women were and how strong they were for sharing their experiences. I've since found myself kind of working through these feelings of guilt/disgust, which actually feels good. The sound ceremony was absolutely divine and a real journey. At one moment I'd feel completely relaxed and floaty and be seeing stars flying past me in space. The next, I'd feel really energetic and be picturing myself running up massive stairs and jumping around. .. I usually suck at meditation and can't stop thinking about needing to pee or that I'd forgotten to get something at Tesco, so this was definitely very enjoyable." Orla, Leeds, Nov 2018
"I have felt so so open since last Friday. I felt quite a big shift during the full moon ritual I was doing myself, however, I think that the womb ceremony allowed me to surrender deeper. This is the first time I have felt anywhere close to feeling my divine feminine energy and it has made me feel powerful and connected all week, truly. My relationship with my other half broke through some massive boundaries that I have been avoiding for a long time which is so so fantastic. I found my love and empathy for others really glowing and speaking my truth in places I would usually swallow my tongue was another reward I reaped. I left feeling so so inspired and it's still absolutely bouncing out of my skin! Also I miraculously haven't drunk a single cup of coffee since the ceremony! From 3 a day to none - incredible! No cravings! THANK YOU SO MUCH." Carrie, October 2018, London
"Last night my mind was blown away by attending the womb awakening held by two amazing healers Eleven Healing and ookushana it was moving to my core. It shifted energy that I have known about for years and just kept buried deep. It was magical and I will never forget it. Truly recommend for absolutely anyone." Harika, October 2018, London
"Such a magical night for the Womb Awakening. Thank you Eleven Healing and ookushana for creating such a beautiful and important event! I can not believe how much change has happened since the last event. I am finally getting to know my soul, and I feel free. All the wonderful women that were there and shared their stories, you inspired me so much." Emily, October 2018, London
"Last night was amazing. I've tried to put into words how totally humbled by the strength and power of the women in that room last night. Josie and Felicity held the space so beautifully and it was really an evening of opening, surrendering, receiving and letting go. I felt truly nurtured and held. I was blown away by what can happen when a group of individuals come together to share and be vulnerable. Truly grateful for the experience that was last night." Melody, September 2018, London
"The evening was pretty life changing for me and part of something much bigger. Connecting with a group of beautiful like minded souls was incredible. Every female should do something like this." Emily, September 2018, London
"My first experience with the womb awakening evening with Felicity and Josie was truly above and beyond what I expected. I went there hoping to reconnect with that feminine energy, and bring back some kindness to a space that I had previously disrespected, endlessly using the contraceptive pill for months on end without break to avoid that dreaded period, I spent years wishing away and trying to avoid my cycle each month. Previous to the event I'd come off the pill (I'd been on for 15 years) in August 2017 and although I'm not trying to fall pregnant now I wanted a more natural approach to contraception as well as wanting to get rid of any accumulated effects from being on hormones for that long. From Aug-June I probably had 2 episodes of very light bleeding on one day each but nothing resembling a proper period but I wasn't concerned too much as I knew it might take a year or more for them to return to "normal". During the event I felt so much gratitude and softness, and I could tell the women there all held space for each other so gently and supportively. The days following I had the worst cramps (I say worst, when I was having periods I luckily never suffered from cramps so they probably weren't that bad!) that I took my hot water bottle with me in the ridiculous heat of summer we had, and the second day after the awakening I had three days of proper bleeding and have been regular ever since. I feel like a blockage or stuck energy was moved that evening and replaced by love and gratitude and has put me on a path to cultivating a more kind and loving connection to my womb space and I can't thank Felicity, Josie and all the other women enough for that. I'd recommend anyone to go and I'm already hooked and will be going to the next one!" Sian, Leeds, July 2018

"I was one of the attendees at the event last night. I just wanted to say thank you for such an amazing experience. I have never done any sound healing or energy work before and I was overwhelmed by how incredible, transformative and powerful it was. Today I am feeling very light and tingly (in a good way). I also had a lot of tightness in my hips and inner hamstrings which has disappeared, which is something I couldn't achieve even with lots of yoga and stretching. I have been able to feel 'energy' in my body for a while now, but never really thought much of it until last night when I felt it on a whole new level." Jessica, July 2018, Leeds