Womb Healing and Inner Divine Feminine Resurrection at our Temple of Isis
Event Information
Refund Policy
Contact the organiser to request a refund.
Eventbrite's fee is nonrefundable.
About this Event
We are excited to announce our new workshop, inspired by Goddess-centred temples of ancient times. We aim to facilitate healing the wounded feminine within, by focusing on the womb - our centre for the creation, gestation & birth. Not just literally, but also on an inner psychological level, which relates to re-birth and resurrection. And this directly relates to the Egyptian Goddess Isis, who was known for her ability to resurrect what was dead and birth what was not seemingly possible: a child of light that will bring order to chaos, and balance & harmonise the cosmos, once more.
As the hermetic principles says, "as above, so below.....as within, so without"...
What was told about conflicts amongst the gods, also applies to our inner world.
We are always growing and evolving in our consciousness, and part of that entails shedding what is no longer needed, so that you have space for the new you to grow. This is the secret of the serpent, to not resist shedding and allow yourself to fully let go of what's no longer serving you, so that you have freedom from the shackles of the past, so you're no longer holding yourself back but instead effortlessly evolving into a stronger, confident and more vibrant you.
The sacral chakra area and the organs that relate to it (the womb, the ovaries, the vagina) is where we hold our power for creation. Where we re-birth ourselves, birth new ideas, and any past trauma can cause blockages and stagnant energy, meaning that we are not fully experiencing our full force of creative potential.
In our workshop we provide instant sonic healing (sound therapy) through gongs, crystal singing bowls and Egyptian musical instruments (such as the Sistrum).
You will experience womb-centred guided meditations, along with a cacao ceremony and blue lotus tea.
You will learn simple serpentine-style belly dancing moves that gently wake up the sacral area and encourages kundalini flow.
You will have the opportunity to move with a snake in a sacred dancing and drumming based ritual. Connect to the dark feminine by embracing her sensuality and sexual power.
This is an intense experience, and guaranteed to cause some shifts: so be prepared!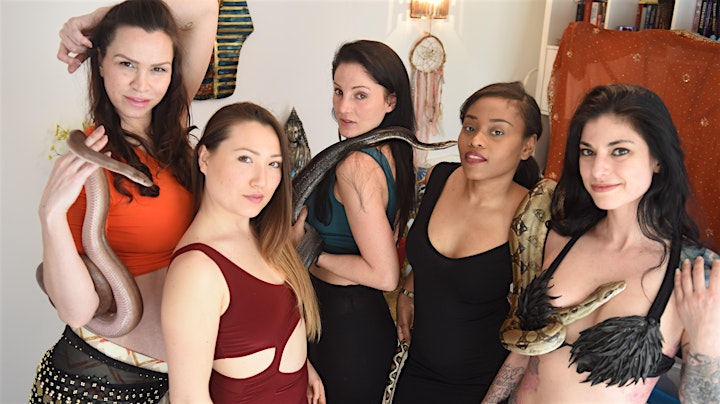 Serpents often featured in temples dedicated to the mother Goddess, such as the Temple at Per-Wadjet, within the many temples dedicated to Isis, as well as the Greek Oracle at Delphi, and snakes within the temples dedicated to the God Asclepius. It was believed that the snake was able to transmute energy and help shift stagnant energy flow, and this can be applies to our sacral chakra areas, to allow for proper kundalini flow.
Date:
01/09/19
Time:
4pm - 7:30 pm
Location:
CR0 (Croydon)
Specific location revealed upon ticket purchase.
Price:
Early bird tickets (sale ends on 08/08) £25
General Admission: £35
We do operate on a sliding scale, for sisters who need the healing but can't afford it: please contact us if you want to know more about this.
Please note that snake interaction is not compulsory, and all are well-trained and safety is assured (covered with PL insurance)
Due to the intimate nature of womb healing, the workshop is for women only
We want to keep the class as intimate as possible, so we are keeping spaces limited, with a short release of early bird tickets.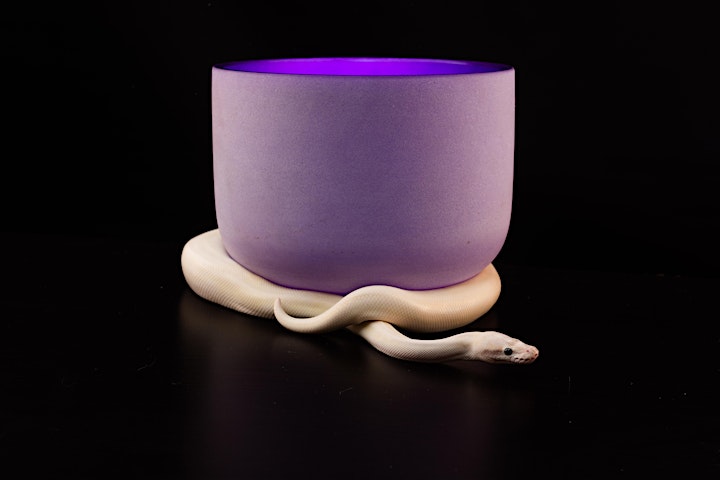 Date and Time
Refund Policy
Contact the organiser to request a refund.
Eventbrite's fee is nonrefundable.