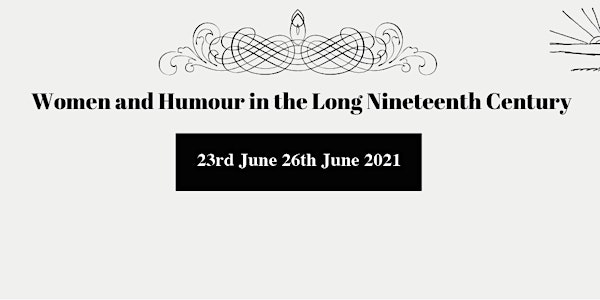 Women and Humour in the Long Nineteenth Century
This interdisciplinary conference is interested in women's active participation in humour and comedy in the long nineteenth century.
About this event
Wit is a prominent feature of nineteenth-century culture that encompasses genres from satire to nonsense. Well-known examples range from Dickens's humorous sketches to joke pages in magazines, and from political cartoons in the tradition of Cruikshank and Gillray to music hall routines. Women's participation in these discourses, however, still goes underacknowledged or even completely unrecognised. This reflects on cultural attitudes of the present day as well as the nineteenth century. While feminist comedy is now a genre in its own right, the question 'Can women be funny?' is still regularly posed. In popular imagination of the nineteenth century, women are the subjects of humour rather than humourists themselves. The centenary of the 1918 Representation of the People Act brought back into the public eye many contemporary cartoons ridiculing the suffragettes, and the strikingly similar earlier satires on the New Woman.
Conference Programme
Women and Humour in the Long Nineteenth Century
Wednesday 23 June
19:00–20:30
Keynote lecture:
Margaret Stetz (Delaware), 'Funny, Feminist, and Forgotten: A "Sirius" Look at Ellen Thorneycroft Fowler'
Thursday 24 June
13:00–14:30
Plenary panel: Fun on Fleet Street.
Bob Nicholson (Edge Hill), 'The "Unknown Man": Women Joke Writers and the Nineteenth-Century Press'
Beth Palmer (Surrey), 'Gossip, transgression and humour in the 1860s Shilling Monthlies'
Katy Birch (Aberystwyth), 'Women Writing the New Woman in Punch Magazine'
Clare Horrocks (Liverpool John Moores), 'Ada Leverson, Punch and the Yellow Book'
15:00–16:30
Panel 1: Traditions of Women's Humour
Janice Niemann (Victoria), 'Shrubbery Jokes and Literary Tropes in Ellen Wood's St. Martin's Eve'
Zhiying Zhang (Exeter), 'Repetitions in Margaret Oliphant's Miss Marjoribanks'
Christine Choi (New York City College of Technology), 'Killing Her Softly: The Role of Social Humour in Ouida's Moths'
Friday 25 June
13:00–14:15
Plenary lecture:
Louise Lee (Roehampton), '"Rest in Pieces": Female Slapstick, the Joke, and the Politics of Accident in Elizabeth Gaskell and George Eliot.'
14:30–16:00
Panel 2: Caricature, Parody and Politics
Helen Potter (Wolverhampton), 'Ellen Thorneycroft Fowler'
Eleanor Fitzsimons (Independent), 'Ada Leverson parodying Oscar Wilde'
Nathalie Saudo-Welby (Picardie), '"Woman Suffrage Precipice": The Gender Politics of Laughter in Elizabeth Robins's The Convert (1907)'
Danielle Schwertner (Glasgow), 'Women and Caricature in the Glasgow Looking Glass'
Saturday 26 June
15:00 – 16:15
Discussion and Reflections
Chaired by Louise Lee and Margaret Stetz
18:00–19:00
Closing Performance:
Iszi Lawrence
Stand-up comdey with a historical twist!