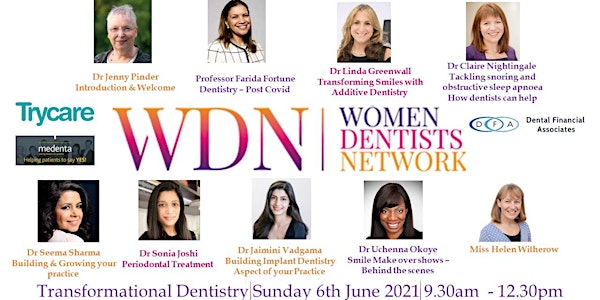 Women Dentistry Network - Transformational Dentistry
WDN are proud to host their First online event, Transformational Dentistry. Get the chance to hear the Female Leaders in dentistry.
About this event
The WDN is a networking organisation established in June 2018, whose mandate is to promote and advance the careers of women dentists across the UK. Our mission is to ensure our voice is heard as a key contributor to decision-making in UK dentistry.
WDN are hosting their first online conference tilted: Transformational Dentistry, where the female leaders in dentistry in the UK talk all things Dentistry.
Dr Jenny Pinder -Introduction and welcome the speakers
Professor Farida Fortune - Dentistry - Post Covid
Dr Linda Greenwall - Transforming Smiles with Additive Dentistry
Dr Claire Nightingale - Tackling Sleep disruption and Apnea - how dentists can help
Dr Uchenna Okoye - Behind the scenes - smile make over
Dr Jaimini Vadgama - Building Implant aspect of your Practice
Dr Seema Sharma - Building and Growing your Dental Practice
Miss Helen Witherow
Dr Sonia Joshi - Periodontal Dentistry
9.30 am - 12.30am