About this Event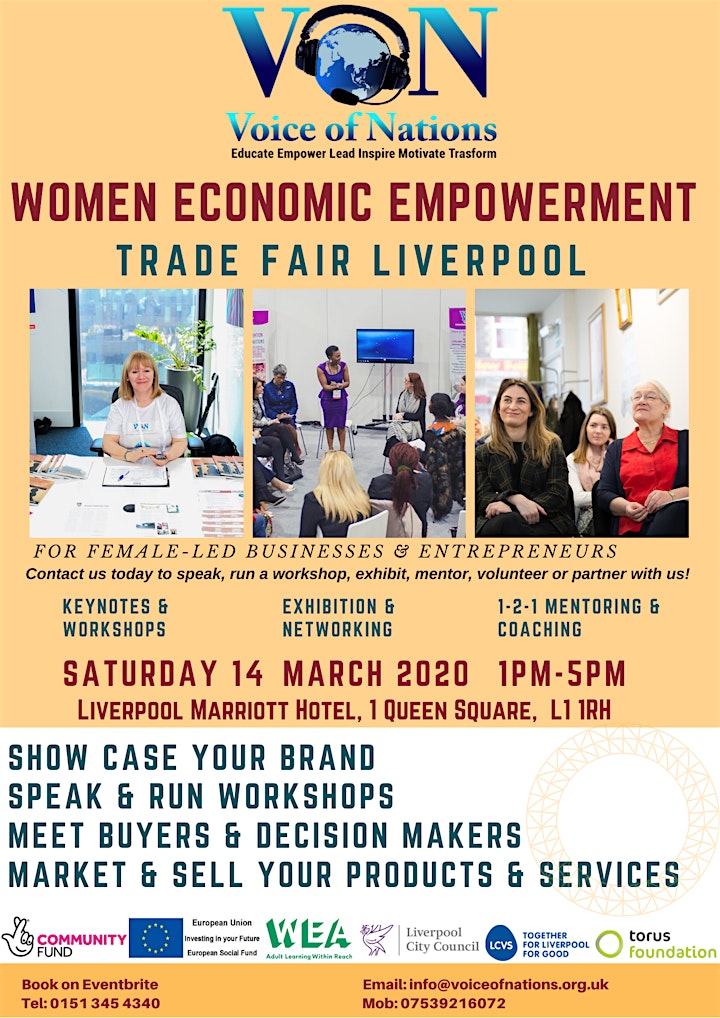 Calling All Female Leaders, Experts, Authorities, Female-Led Companies, Organisations, Businesses & Entrepreneurs For An Unprecedented & Revolutionary Opportunity To Take Their Leadership, Businesses, Careers, Companies, And Brands To A New Level Of Growth, Sustianability & Global Awareness in 2020 & Beyond!
Join The Women Economic Empowerment Trade Fair on Saturday 14th March 2020 at The Liverpool Marriott Hotel from 1pm - 5pm!
SOME OF THE BENEFITS OF TAKING PART INCLUDE:
• Meet & Learn from Industry Leaders & Authorities
• Create Global Brand Awareness
• Gain Practical Marketing Skills & Strategies
• Speak & Run Workshops
• Meet Buyers & Key Decision Makers
• Market & Sell Your Products & Services
• Grow & Expand Your Business/ Career
• Gain Strategic Marketing & Leadership Skills
• Connect With Potential Partners, Stakeholders & Mentors
REGISTER NOW TO BECOME PART OF A UNIQUE OPPORTUNITY & PLATFORM FOR HIGH PROFILE FEMALE LEADERS, FEMALE ACHIEVERS, FEMALE-LED COMPANIES, ORGANISATIONS, BUSINESSES, SMEs & ENTREPRENEURS!
STEP INTO THE GATEWAY THAT ENABLES YOU TO ACCESS & CREATE NEW STRATEGIC RELATIONSHIPS, SHOWCASE YOUR BRAND, GENERATE SALES, MEET POTENTIAL BUYERS, RECRUIT CLIENTS, VOLUNTEERS, & CONNECT WITH LIKE-MINDED BUSINESSES, MENTORS, THOUGHT LEADERS & INDIVIDUALS.
CONTACT US TODAY TO:
• Speak
• Run A Workshop
• Exhibit
• Volunteer
• Partner With Us!
Email Us At: info@voiceofnations.org.uk or sylvia@voiceofnations.org.uk
Call Us At: 0151 345 4340 or 07539216072