About this Event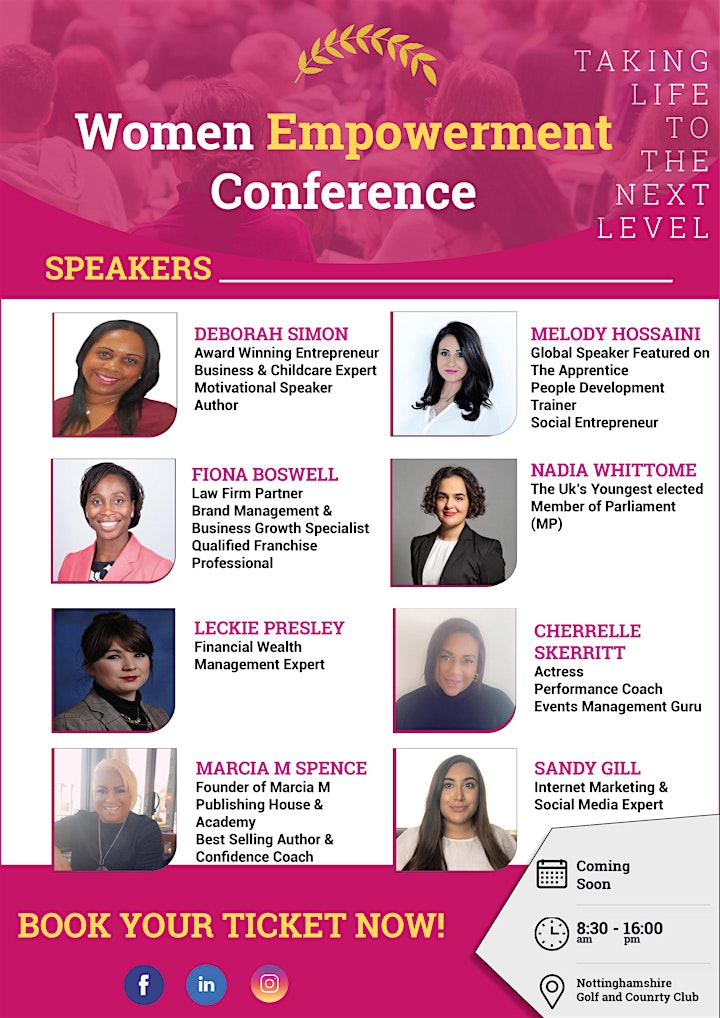 Coronavirus COVID-19 Update:
Dear All,
Due to the current global outbreak of Coronavirus (COVID-19), we have decided to postpone our Women Empowerment Conference on the 15th of May 2020. We have monitored the situation closely and decided the best approach is to keep everyone safe, following advice concerning public social distancing. A new date will be set for the event in the foreseeable future after the outbreak subsides. In the meantime, we will be hosting several online interviews with a number of people of influence in May. So please watch this space for more information in the coming weeks.
As things are rapidly changing, we would like to reassure you we will do all we can to keep you updated with any changes to the date of this event and will continue to follow the government's advice and guidelines.
Thank you for your patience.
Women Empowerment Conference is set to bring together an inspiring selection of industry experts from all corners of business, career progression and life, supplying knowledge on a variety of topics ranging from Wealth Generation to Personal Development and more. The conference will be hosted by Award winning entrepreneur, best selling author, motivational speaker and childcare expert Deborah Simon; whilst, our celebrity special guest speaker, Melody Hossaini is a previous candidate featured on the BBC's The Apprentice is a global speaker, and people development trainer, who is sure to bring an infectious energy and deep professional insight to the day. We are also delighted to announce Nadia Whittome, UK's youngest MP will be sharing her journey to the top of the political ladder and her ambitions to make a difference.
Coming away from this experience, expect to gain a shift in your current mindset, build upon your network of ambitious professionals, and receive practical tools and strategies designed to empower your evolution.
Keynote Speakers:
Fiona Boswell - Law Firm Partner, Brand Management And Business Growth Specialist and Qualified Franchise Professional
Leckie Presley - Financial Wealth Management Expert
Marcia M Spence - Founder of Marcia M Publishing House and Academy, Best Selling Author and Confidence Coach
Cherrelle Skerritt - Actress, Performance Coach and Events Management Guru
Sandy Gill - Internet Marketing and Social Media Expert
#WEC
For updates on current and future events sign up to our newsletter