A women's empowerment event- for anyone interested in personal or professional growth.
About this event
Women Empowerment Event
- for personal and professional growth.
We take pride in sharing that this event of ours is particularly popular amongst female entrepreneurs and people keen to develop themselves.
We have a global reach for our event and are pleased that it is growing organically manifolds.
This event is hosted by the splendid CAROL EDMONDSON.
Each month we have 7 speakers sharing their powerful stories and techniques on personal and professional growth.
Every THIRD THURSDAY of the month.
It's an Ongoing event!
All women welcome!
FREE to attend!!
Please email to register you interest as a speaker or an attendee at
info@kaushalyaUK.com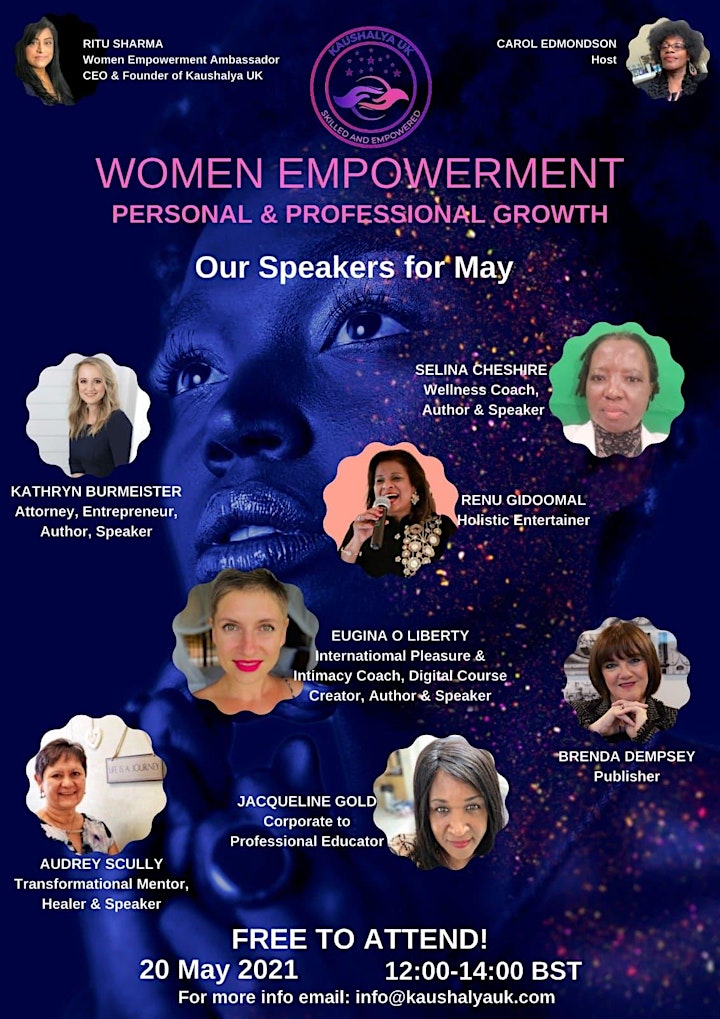 Organiser of Women Empowerment Event
Ritu Sharma is a women empowerment ambassador.




She runs programmes to help business women create their strong and effective business messages and relay them confidently anywhere.




Other programmes are around public speaking and raising self-confidence.





Ritu runs business events all year round connecting speakers and business owners and giving them a platform to share their services and products with wider business communities.





Her service through her community organisation, KAUSHALYA UK, creates opportunities for growth and expression for women. It brings together women and help them get empowered and have awareness of self.





Ritu wrote her life story in a book called 'Rich man's poor daughter' which emphasises upon the fact that self-preservation can be used to create a happy life. Currently, she working on her second book.





Ritu Sharma is a public speaker and delivers engaging, inspirational and authentic speeches.