Women Friendly Leeds Ambassador Network Meeting Thursday 27th May 17:15 – 18:30
About this event
You're invited to the 2nd Ambassador network meeting. We will be discussing the Women Friendly Leeds campaigns & shaping our actions. You will have an opportunity to meet other Ambassadors, & link in with activities to contribute to impactful change in our city for women and girls equality.
The main part of the meeting will be an hour with space for networking before & after.
Please note: This event is for Women Friendly Leeds Ambassadors only. You can find out more and sign up to be an Ambassador at https://womenfriendlyleeds.org/become-an-ambassador/
To access the meeting, please book your free place and the Zoom link will be emailed to you in advance of the event.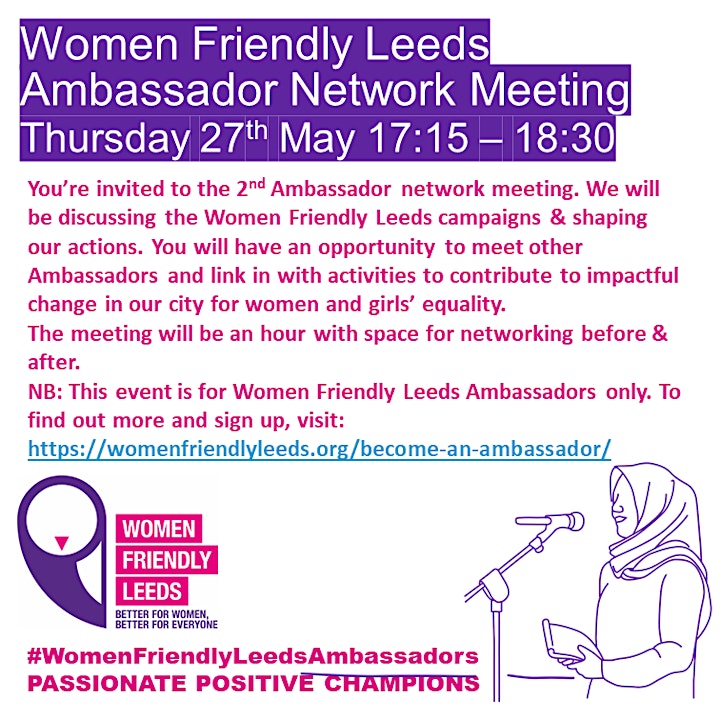 Organiser of Women Friendly Leeds Ambassador Network Meeting
Women's Lives Leeds (WLL) is a unique partnership of eleven women and girls organisations from across Leeds. Between them they have specialism's in domestic violence, mental health, sexual health, sex work, trafficking, child sexual exploitation and education.
WLL have come together to support the most vulnerable women and girls in Leeds. The women and girls are experiencing mental health problems, domestic abuse, sexual violence and exploitation. Many will have experience of the criminal justice system, sex work and substance misuse. WLL will focus on the most disadvantaged communities.
WLL is made up of the following organisations: Leeds Women's Aid incorporating HALT, Behind Closed Doors, Getaway Girls, Hooner Kelah, Together Women, Women's Counselling and Therapy Service, Women's Health Matters, Shantona, Basis, Asha Neighbourhood Project and Nari Ekta.
The project launched on 1st November 2016 and has funding from the Big Lottery for 4 years.