A CONCERT IN CELEBRATION OF DIWALI WITH MUSIC, DANCE & DINNER
About this event
SANJUKTA MITRA
Sanjukta is Indian Classical Vocalist. Sanjukta was born and brought up in Kolkata, India, resides presently at Kings Lynn, UK.At age 8, her first music teacher was Mrs. Seema Ghosh and subsequently Guruji, Pandit Santanu Bandopadhaya of Bishnupur Gharana. She has received numerous Musical Awards and achievements: Sangeet Visarad -Pracheen Kala Kendra -India -2001- Gold medalist – First rank holder Sangeet Prabhakar, Allahabad Prayag Sangeet Samity- 1991-92 – Passed in First Division with Distinction. She has performed at several platforms in the UK, Germany and India, presently Sanjukta is the leading vocalist of the Bishnupur Gharana in the UK.
AMRITPAL SINGH RASIYA
Amritpal Singh Rasiya is recognised as one of the leading Tabla players in Europe. Amritpal has been actively performing in many esteemed events such as guest artist at the BBC Dance Proms at Royal Albert Hall and television appearance as guest artist on BBC Young Dancer. With a diverse array of skills largely acknowledged for his in depth command of intricate rhythmical patterns and the ability to grasp spontaneous musical patterns on the spot, he is a sought after percussionist for performing Tabla solo, accompanying dance, instrumental and various vocal styles with some of the leading masters in their fields.
GURBAKSH SINGH MATHARU
Gurbaksh Matharu is a noted Tarshenai and Dilruba player based in the UK.Starting at age 5, at the age of 10 Gurbaksh began to flourish as a musician under the tutelage of Ustad Kamaljeet Singh Chana. Gurbaksh's potential was recognised by Sri Satguru Jagjit Singh Ji and they instructed him to become a student of Ustad Gurdev Singh Ji, a senior disciple of Ustad Amjad Ali Khan Sahib. Gurbaksh also became a disciple of Ustad Harbhajan Singh Ji under whom he learned traditional Gurbani compositions. Gurbaksh gave his first solo recital at the age of 11 in 1992.
Tonya Sheenson & Priti Gohel - are students of Kathak Dancer Alpana Sengupta
Tonya Sheenson
Tonya has been learning Dance for over 9 years under the guidance of Srimati Alpana Sengupta. She has a keen interest in Bhangra style of dancing. She has toured with Alpana Sengupta Dance Company in Germany and in 2019 she toured India & performed in full house in Delhi, Pune & Kolkata.
Priti Gohel
Priti is an established Dancer & performed with A.S.D.Company for many years. She is now a proud Mum of two. Always a keen dancer & enjoys all styles of Dance specially Bollywood. She has toured Germany and all regions of England representing ASDC. She has Degree in Kathak from Prayag Sangit Samiti, Allahabad, India.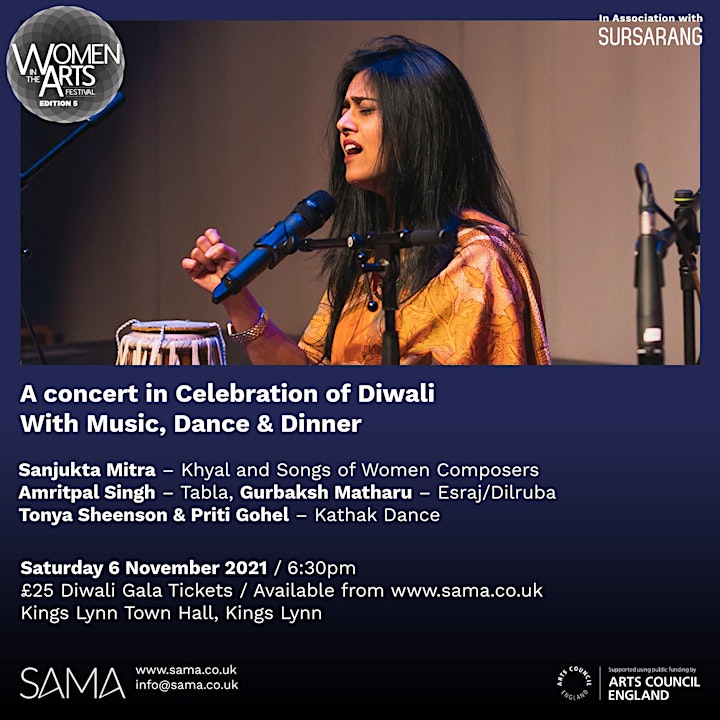 Organiser of WOMEN IN ARTS FESTIVAL ED 5 - IN CELEBRATION OF DIWALI - SANJUKTA MITRA
Sama Arts Network is one of the UK's oldest and most influential arts organisations in the genre of traditional and contemporary South Asian arts, Orchestral, Jazz and World Music. Since 1977, Sama and its associate bodies have together presented more than 1,250 events with acclaimed artists from around the world. Current Work in progress: Archiving: 1,250 events, 3,000 artists 150 venues 400 albums 3,500 hours of music and film footage covering 40 years of work from 1977 – 2016 to coincide with A new Website, a book and a documentary.
www.sama.co.uk
info@sama.co.uk