Event Information
Refund Policy
Refunds up to 30 days before event
Eventbrite's fee is nonrefundable.
Collaboration, Support and Inspiration - Global Networking, Brainstorming and Collaboration for Women in Business across the Globe.
About this Event
This launch event is brought to you by the hosts of the Women in Business Radio Show and 1230 The Women's Company.
A regular event which means ongoing support, connections and collaboration. Much more than networking!
Of course, there will be the chance to share what your business offers, and make those all-important connections to help you and your business grow - but this event will go way beyond that.
By connecting and sharing with other women in business across the world, you'll get inspiration and ideas on how to navigate the changing world - not just to survive but to grow your business.
Speakers with topics spot-on for what you're dealing with today
Special Discussion and Sharing Topics
Zeenat Noorani
Founder of Vida de la Mariposa
Wellbeing and Mental Health Coach and Therapist, who empowers people to live the life they desire by creating transformation through a mindset change.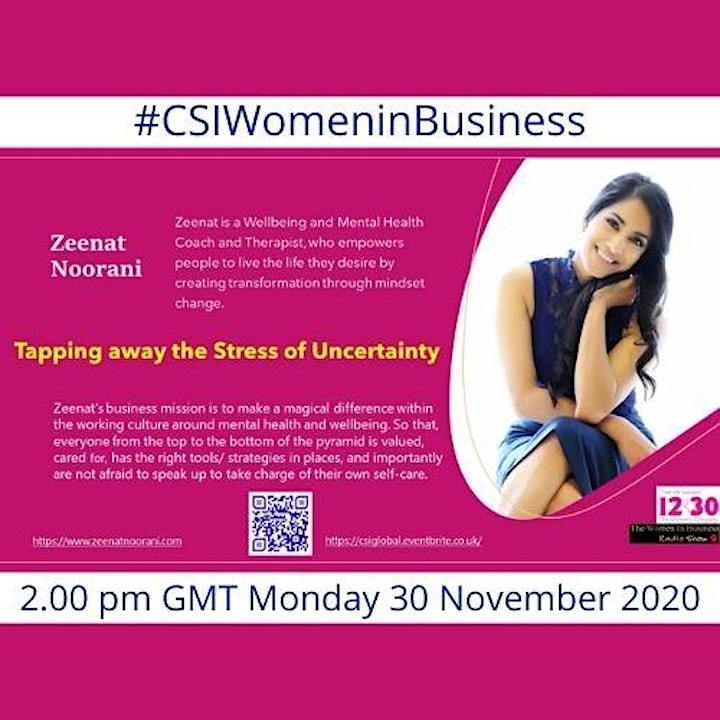 Tap Away the Stress of Uncertainty with Zeenat Noorani Wellbeing and Mental Health Coach and Therapist
Zeenat will be giving a live demo on a powerful and fast stress-reducing technique that everyone can do at home.
Pivoting your business and negotiating these strange times to move forward needs creative thinking and planning, and that is so hard to do, possibly impossible when your body is pumping adrenalin and producing too much cortisol. This simple technique helps reduce stress and brings about a calmness so you can start to see the wood from the trees, to feel better and move your business forwards.
Roz Morris
TV News London
Roz has huge experience as a broadcaster and as a media trainer, working with top executives in the private, public, and third sectors in the UK and across the world. She was an accredited trainer for the Independent Television Association.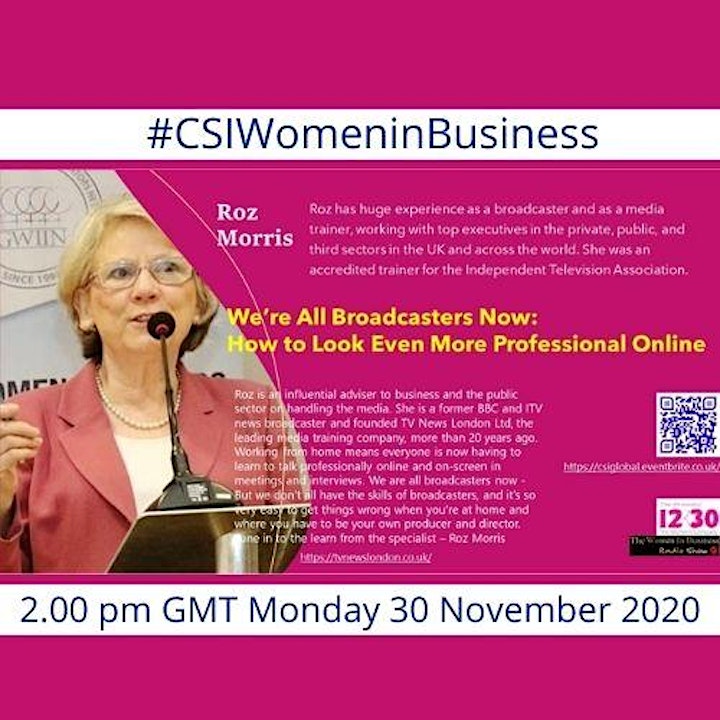 We are All Broadcasters Now: How to Look Even More Professional Online, with Roz Morris of TV News London
Roz is an influential adviser to business and the public sector on handling the media. She is a former BBC and ITV news broadcaster and founded TV News London Ltd, the leading media training company, more than 20 years ago.
Working from home means everyone is now having to learn to talk professionally online and on-screen in meetings and interviews. We are all broadcasters now - But we don't all have the skills of broadcasters, and it's so very easy to get things wrong when you're at home and where you have to be your own producer and director.
Whether it's a meeting, a presentation or an interview, are you sure you're looking professional? Are you looking in the right place? Are you sitting in the dark? What's the background behind you? Do you have a door handle growing out of your ear? Do you look smart or scruffy?
You don't want to look and sound unprofessional, but, so many people are currently making mistakes because of a lack of basic information on what is now required for business life online.
Roz is a leading media trainer, and former BBC and ITV broadcaster and she will give expert tips on how to:
• Master your equipment – and you don't have to spend a fortune
• Sort out your professional space where you will talk online
• Assess what to wear
• Sort out your lighting, framing and sound
• Find your correct eye line
• Achieve your most professional image on-screen whether in meetings, presentations, job interviews or media interviews.
Toccara Steele
VOS Consulting and Publishing, LLC
Tocarra is a multi-talented broadcaster, a business founder and leadership specialist based in Chicago, USA.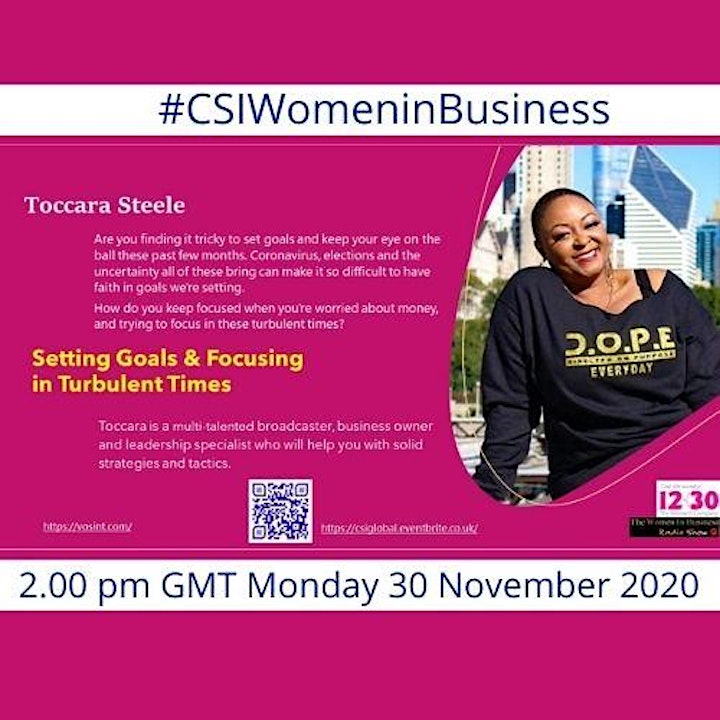 Setting Goals and Focusing In Turbulent Times Toccara Steele, VOS Consulting and Publishing, LLC
Are you finding it tricky to set goals and keep your eye on the ball these past few months. Coronavirus, elections and the uncertainty all of this brings can make it so difficult to have faith in goals we're setting.
How do you keep focused when you're worried about money, and trying to focus in these turbulent times?
Toccara is a multi-talented broadcaster, business owner and leadership specialist will help us with solid strategies and tactics.
Special Discussion Session
A panel-type discussion where stories of support can be shared, synergies can be spotted and opportunities for collaboration created.
These are difficult times - Collaboration, Support, Inspiration and YOU are needed to keep it all going! Come along and join us.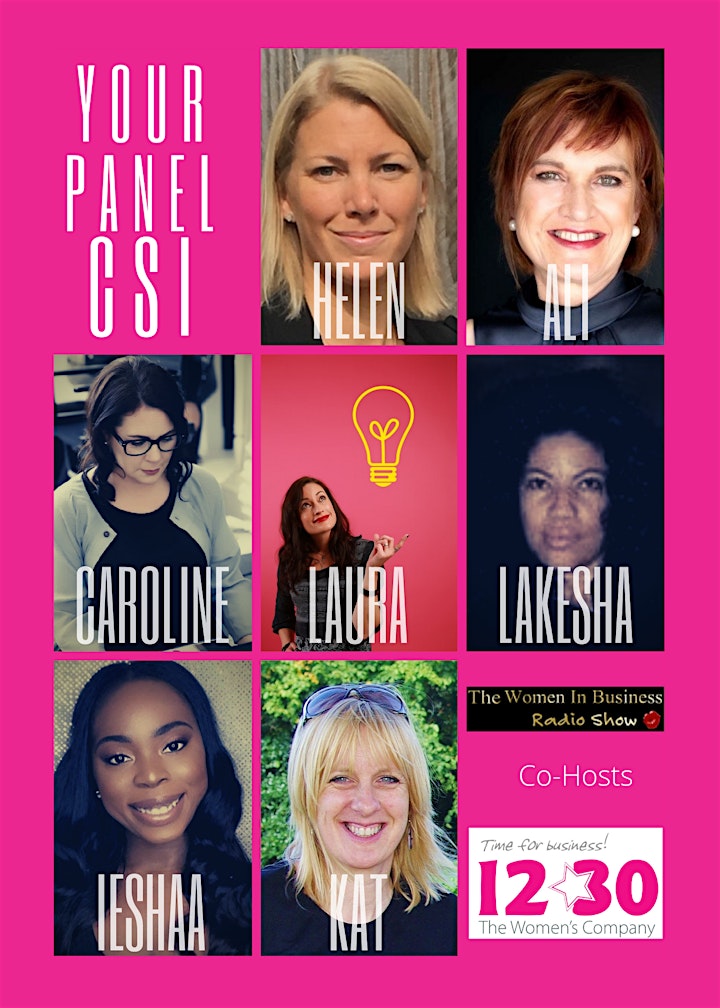 Can't wait to see you there!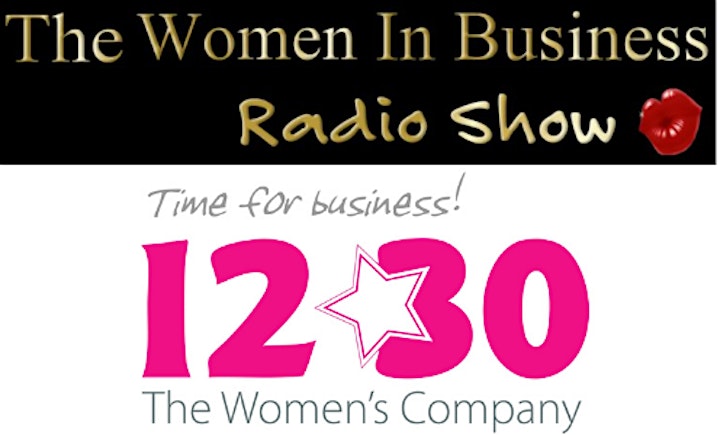 Date and Time
Location
Refund Policy
Refunds up to 30 days before event
Eventbrite's fee is nonrefundable.