Women empowerment event by Women in Business Club in Atlanta - come and join us for an unforgettable evening of networking and inspiration.
About this event
THIS EVENT HAS BEEN CANCELED DUE TO CORONA VIRUS - Please register for email updates to hear more about virtual event experience to be announced soon!
Women in Business Team on 04/11/2020
Come and join us for an evening of Global Opportunities, networking, inspiration, new insights, opportunities and an unforgettable live experience of the Women in Business exclusive luxury events.
Are you a female entrepreneur, business owner or aspiring start-up founder? Would you like to meet likeminded women who have the same passion, inspiration and drive to succeed? Perhaps you would like to meet your next business mentor or budding entrepreneur?
Then you will not want to miss our up-coming Women in Business VIRTUAL event - DETAILS TO BE ANNOUNCED SOON!
You can expect to hear some incredible stories, learn new skills, feel inspired and connect with lots of amazing women.
We started Women in Business events May 2017 in London UK, and have since grown our community to over 140k followers and over 2500 community members. Our ethos is to empower women to thrive all around the world, whilst creating opportunities to connect, collaborate and share experiences.
We know just how isolating it can feel to be your own boss, a business owner or solo entrepreneur, that is why at WIB we pledge to take our events internationally and connect as many women from different parts of the world, backgrounds and experiences.
Many women who come to our events may also have had a previous career in the corporate world, and have now started own business, or are simply at early stages of setting up their own business. You are likely to meet your next business partner, an investor, mentor or simply buddying entrepreneur.
Our speakers will be sharing their business success stories, inspiration and practical business advice on how you can grow your business, grow your visibility, build your authority, nail your personal branding and find more confidence in business.
What will you learn at this event:
- How to build wealth and sustainable income in your business
- How to feel more empowered in business / work with giving yourself the permission to succeed
- How to master the Online Marketing Techniques and build your personal influence
- How to foster better relations and make new connections
- How to build a powerful personal brand & communicate it effectively
Here are our lineup of speakers for this up-coming event: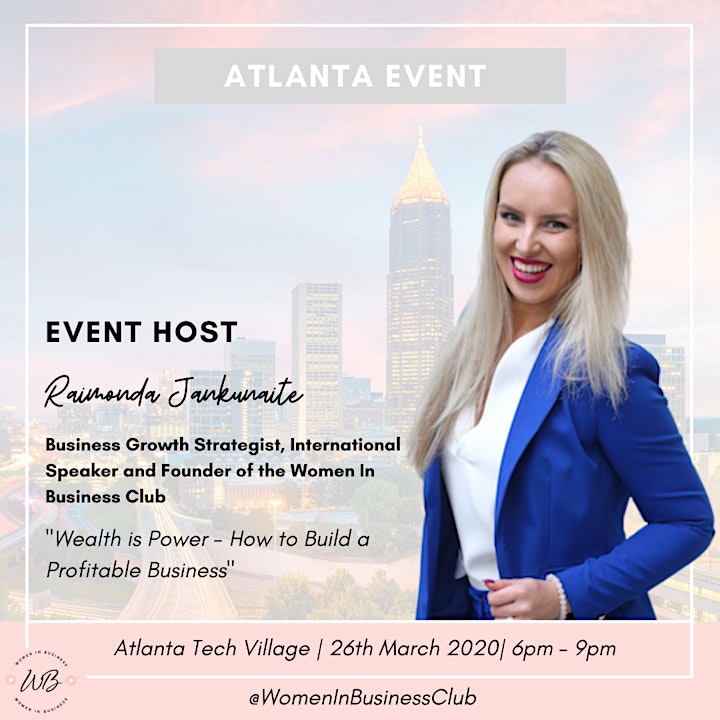 "Wealth is Power - How to build a Profitable Business"
Your event host - Raimonda Jankunaite (London, UK) - Serial Entrepreneur, Business Mentor, Investor, International Speaker and Founder of Women in Business Club.
Raimonda is a serial Entrepreneur, Business Mentor, International Speaker and Investor. She founded the Women in Business Club and International Events in March 2017 as a passion and drive to empower women in business all around the world.
Raimonda have hosted over 15 events and 100 international experts, headline speakers and panellists through her events and Membership Community. Raimonda has empowered thousands of women to start their own businesses and take control of their lives, finances and the future of their business. Raimonda is down to earth and gives practical and easy to implement strategies to help people start own business, get visible and build online brands. Raimonda has mastered Instagram, and she loves sharing her strategies of how she grew her online following from 0-100k in just one year giving her influencer status in business.
Raimonda is currently writing a book and is passionate about the subject of WEALTH and believes that every woman has the power to be wealthy and successful. In her brand new signature talk 'Wealth is Power' - Raimonda sharing her secrets to building a successful and profitable business and how women can become empowered by acquiring wealth, confidence and success in all aspects of their lives.
Raimonda is Women in STEM Advocate through her work with Wonder Women Tech conferences and charitable work.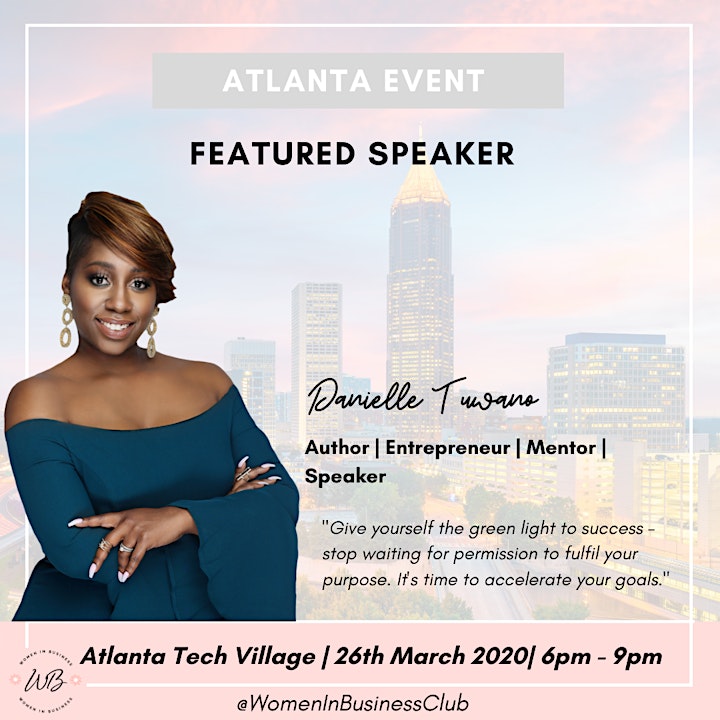 "Give yourself the green light to success - stop waiting for permission to fulfil your purpose. It's time to accelerate your goals."
Danielle Tuwano - Author | Entrepreneur | Mentor | Speaker
Best-Selling Author, Entrepreneur, Public Speaker, and Brand Ambassador. Beginning her career as a filmmaker behind the scenes in 2011, Danielle launched One2Ten Films; a full service production company based in Atlanta, Georgia that allows emerging creatives to develop their content from concept to completion.
Her attributes as a Filmmaker and successful Entrepreneur have been featured in reputable outlets including Voyage ATL. This phenomenal powerhouse was highlighted by Brawny in 2018 as part of their #StrengthHasNoGender initiative. She received the prestigious "Trailblazer Award" at The Women of Wealth Media Awards in 2019. She currently serves as a Women in Business Advocate, Vagisil Partner and Girls Inc. Social Ambassador.
Danielle's well known for her passion for people and their personal growth. She empowers aspiring entrepreneurs to write, publish, and pitch their purpose! In addition to being a supportive GOALfriend, youth and young adult mentor, and Confidence Coach, Danielle's also a loving wife and resilient mother of five. Her favourite quote is "Don't Debate. Create."
Her debut self-help book Lights, Camera, #LevelUp is available now on Amazon, Walmart, Barnes & Noble, and Google Play Books.
"Accelerate your Influence - online marketing strategies to generate new clients into your business"
Headline Speaker - Tara Rae Bradford is a former ICU nurse turned serial Entrepreneur, Visibility Strategist, Emotional Resilience Coach, and International Speaker.
She has helped her clients take their businesses from 100k to 1M in revenue in less than 1 year and has a 100% success rate getting her clients booked for TEDx talks within 4 months.
Her work has been featured in Forbes, Business Insider, HuffPost, ThriveGlobal, Bustle, Glamour, and more! She is also a Guest Lecturer at Fordham's Gabelli School of Business in the Masters of Media Management Program. She has spoken at the Manhattan Chamber of Commerce, Harvard, St. Johns' University, International Association of Women, UBS Financial Services All Bar None, The Network of Women, Growth Driven Entrepreneurs Worldwide, and the Inaugural Women in Business Global Summit to name a few.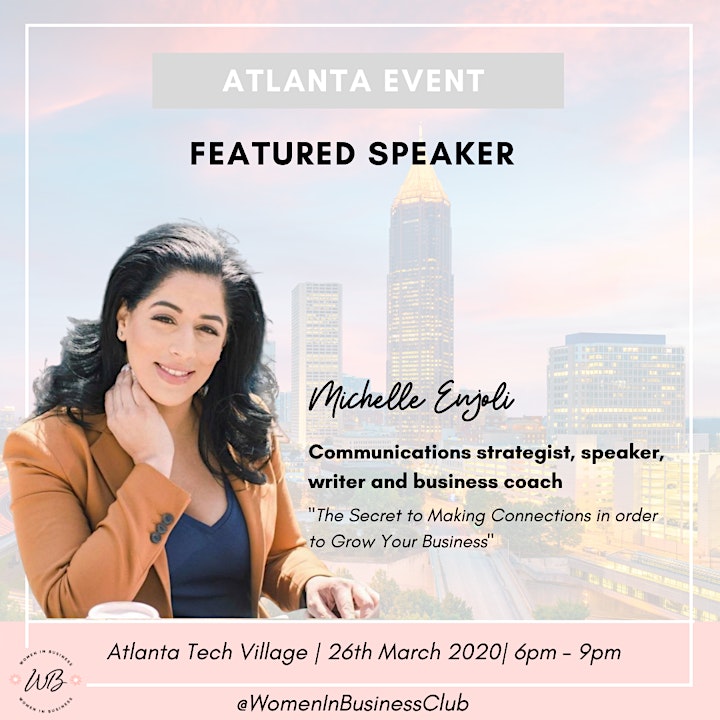 "The Secret to Making Connections in order to Grow Your Business"
Headline Speaker - Michelle Enjoli (Atlanta, GA) is a communications strategist, international speaker, writer and business coach.
While studying journalism in college, Michelle aspired to become a producer in NYC and landed her dream job before she obtained her degree. She's done work for major television networks and global brands including Univision, Telemundo, ABC, NBC, CBS, Mercedes-Benz and Delta Air Lines.
While at Mercedes-Benz, she created her own business resource group in order to connect young professionals with leaders. She is the founder of Connect, a coaching program and workshops designed to assist students, professionals and leaders on how to connect in order to achieve professional success.
"Show Up and Stand Out! How to Captivate, Communicate and Dominate with a Powerful Personal Brand "
Avaree Pink-Lewin is CEO and Founder of IncPowerment!, Brand Strategist and Business Consultant.
With over 15 years experience in brand communication, Avaree has established herself as a business expert providing targeted branding and content creation strategy to her clients. Best known for her ability to recognize a company's brand personality and translate it into a content strategy for strategic growth, Avaree's work speaks for itself.
Avaree has created and successfully launched multi-million dollar global brand campaigns, while also working with start-up entrepreneurs. Additionally, she has received the distinction of being a published author with work in the NY Times, LA Times, Chicago Tribune, USA Today and the Washington Post. As a branding expert, Avaree uses her signature system, The Brand Framework, to guide her clients through gaining clarity on their brand voice, attracting their ideal clients and growing their brand reach.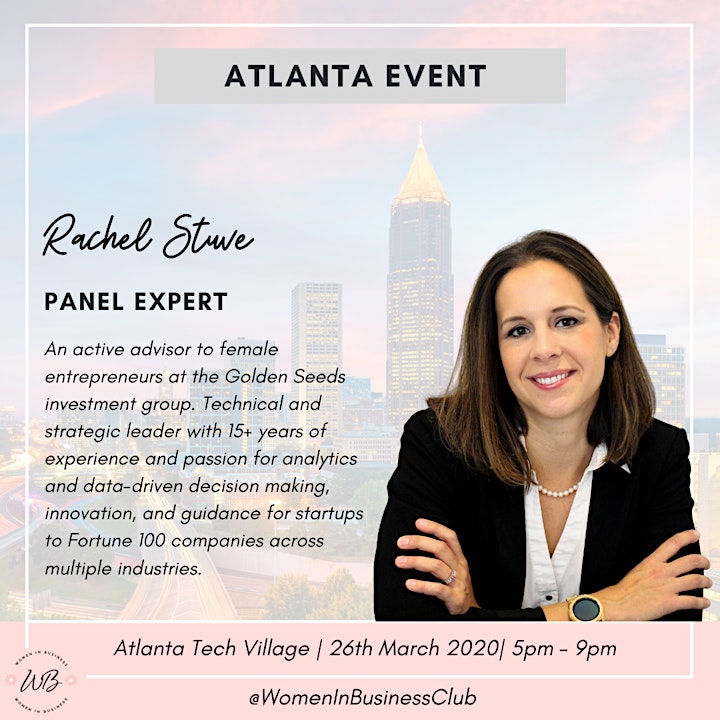 PANEL SPEAKER - Rachel Stuve - Top Voice Analytics | Data & Analytics Director | Fusing People & Data | Sales Support Leader | Data Culture Leadership
An active advisor to female entrepreneurs at the Golden Seeds investment group Golden Seeds is an investment firm that invests in early-stage women-led companies in technology, healthcare, and retail. Golden Seeds has invested over $100 million in the United States since 2005.
Technical and strategic leader, Rachel has over 15 years of experience and passion for analytics and data-driven decision making, innovation, and guidance for startups to Fortune 100 companies across multiple industries including technology, data tech. Rachel Mentors women in tech and STEM sectors.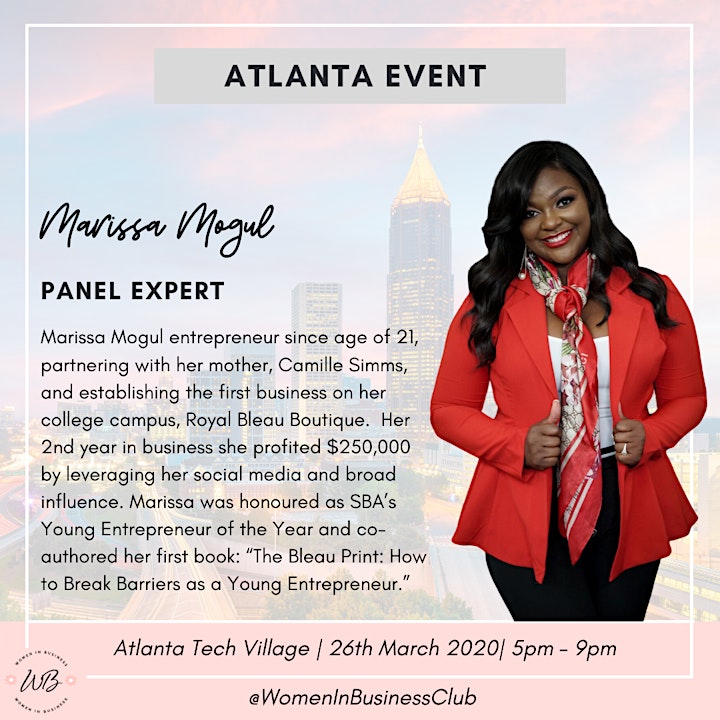 Marissa Mogul entrepreneurial journey started at 21, by partnering with her mother, Camille Simms, and establishing the first business on her college campus, Royal Bleau Boutique.
Her 2nd year in business she profited $250,000 by leveraging her social media and broad influence. Marissa was honored as SBA's Young Entrepreneur of the Year and co-authored her first book: "The Bleau Print: How to Break Barriers as a Young Entrepreneur." Most recently she became certified by Harvard Business School for their Executive Education program.
Her mission is to provide women with resources to leverage businesses through finance, with emphasis in business credit, real estate, and insurance.
Small Print: THIS EVENT HAS BEEN CANCELED ON 11TH OF MARCH - PLEASE EMAIL US FOR MORE INFORMATION CONTACT@WOMENINBUSINESS.ONLINE
MORE DETAILS TO BE ANNOUNCED SOON!
Organiser of Women in Business Event Atlanta GA
We are an international community, offering support and guidance for women who are already running a business or thinking about starting one. Women in Business community & members club connects and empowers women from all around the world. By becoming a member you get the opportunity to connect and network with other women in business, learn and grow your business through our weekly workshops, join our live and virtual events and access other members-only benefits.