About this Event
Come and join us for a sunset evening of networking, drinks and nibbles at our private villa in Ibiza, surrounded by entrepreneurial women from all around the world.
Are you an Ibiza based entrepreneur or a business woman? Would you like to connect with other like-minded female entrepreneurs from all around the world?
We are hosting an international business retreat in sunny Ibiza and we are opening ONE evening only for a special networking event for WOMEN ONLY. To give you the opportunity to meet our international guests and retreat hosts from the UK as well as enjoy an inspirational atmosphere and be surrounded by the energy of other ambitious women.
You can expect to be greeted by our hosts and serial entrepreneurs from the UK, Katie Colella and Raimonda Jan, who have both created location independent and international businesses online.
As part of the event experience you can expect to meet local business women, enjoy a mini hand-craft market, take part in ceremonial event activities, spiritual healing, mini hand massages and other fun things to do, as well as networking.
You can also expect to meet other women from our retreat who have travelled from the USA, UK, Europe, Dubai and other parts of the world as well as female entrepreneurs from the Ibiza Island.
This is truly a once in a lifetime opportunity to meet some incredible female business owners and entrepreneurs from all around the world right on your doorstep.
By attending this event you will be able to expand your connections, hear new and inspiring business ideas, foster new friendships and collaborations, whilst sipping on light alcoholic refreshments and nibbles surrounded by the beautiful views of Ibiza at our private luxury villa.
Arrival is expected at 5pm until 11pm when the event officially closes. THIS IS WOMEN ONLY EVENT.
What's the agenda?
5pm - Handcraft Market - Come and join the very special mini handcraft market hosted by local women showcasing their beautiful products, support local female entrepreneurs and hear their stories.
7pm - Women Circle - We will officially open the event with open circle connecting with each other with a group 'ice-breaker' activity session where you will get to meet other women at the event
8pm - Nibbles and Cocktails - After a little 'get-to-know' each other session we will enjoy beautiful cocktails, prosecco or other fizz plus local and healthy food options
9pm Music and dance - We will end the evening with a bit of music, dancing and celebrating each other
Following the event you will be able to connect with all the ladies from the event via a dedicated Facebook Group where you can continue fostering your connections.
If you are interested in attending this event - please secure your place early. THERE ARE LIMITED TICKETS AVAILABLE - FIRST COME FIRST SERVED BASIS. Once sold out we will not be able to offer any more tickets. We are happy to provide refund up to a week prior to the event if your plans do change.
More about your event hosts: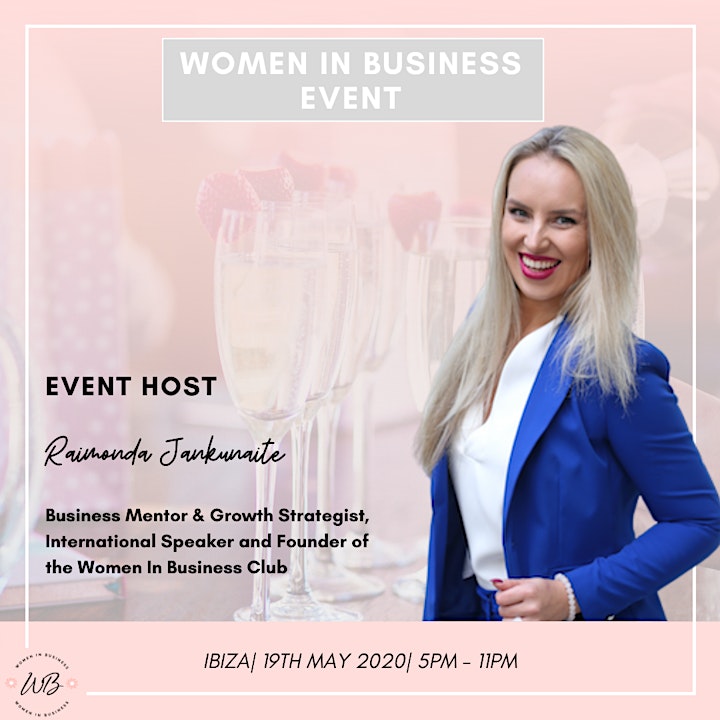 Raimonda Jankunaite - Serial Entrepreneur, Mentor, Speaker and Founder of Women in Business Club.
Raimonda began hosting events for women as a passion that has quickly turned into a thriving international community of women. Attracting female entrepreneurs, business leaders, coaches and speakers from all over the world. The community is now 1,600 members and over 145k followers online.
As a result of such success, The Women in Business Member's Club has become the go-to platform for resources, knowledge, expertise, and inspiration for female entrepreneurs.
Raimonda has background expertise in start-up fundraising, helping to raise millions of pounds for London based tech start-ups. Right now, she is most passionate about supporting other female entrepreneurs, mentoring and helping other women build successful businesses.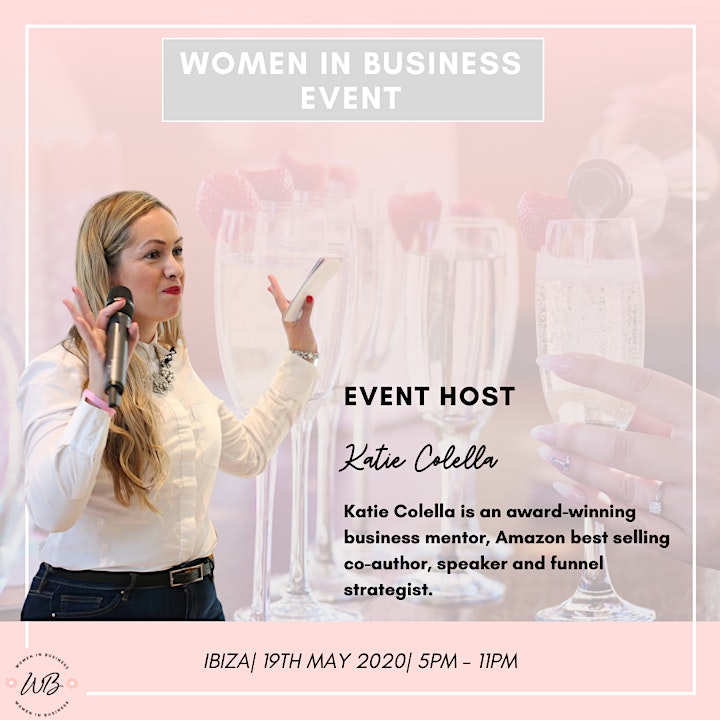 Katie Colella - an award-winning business mentor, Amazon best selling co-author, speaker and funnel strategist.
She has started and run various businesses both online and offline, in product and service based, so has been around in the business world for some time. Katie now working with women who are starting out in business and the online world of business to help them figure out their sales and marketing strategies and help implement them.
Katie now works with women in business who are looking for help with 'all the things' they just feel overwhelmed by, especially tech and launch strategies.
Katie offers both, 'done for you' packages, step by step 1:1 sales funnel mentoring service and group implementation programmes.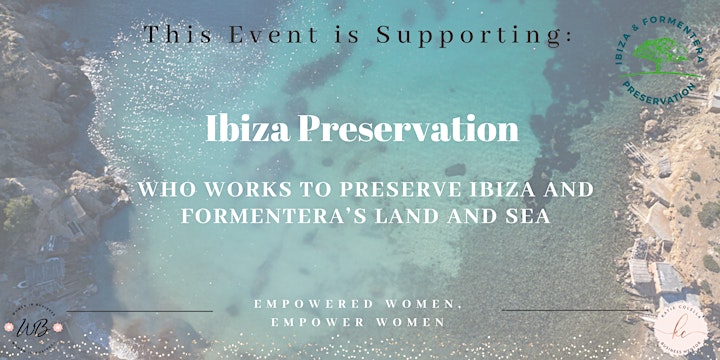 This event is supporting the work of Ibiza Preservation charity who is protecting Ibiza and Formentera's land and sea from environmental impact of tourism.
We are inspired and humbled by the work that this charity is doing and believe that collectively we can positively impact the local community, support the ecological and sustainability projects and raise awareness about the work of this fantastic organisation.
Ibiza is known for it's beautiful beaches and incredible local produce and we hope to continue coming back to this special place for many years to come, that is why leaving a positive footprint as a result of our events and retreats is at the top of our priority.
We also aim to support and connect local businesses, that why this event is supported by many local female entrepreneurs and vendors who share our passion and vision.
Important Notice:
- We highly recommend travelling via taxi or alternative transport to individual cars - parking will be limited within the villa
- By attending this event you agree for pictures or videos to be taken at this event and may be distributed online at a later stage or used for future promotional purposes
- You are required to present your ticket confirmation upon arrival
- You agree to respect the venue and keep the noise levels down if required by the event hosts - the location is set in a residential area of Ibiza and we will aim to minimise the disruption to the local community
- Exact Venue Location will be disclosed upon booking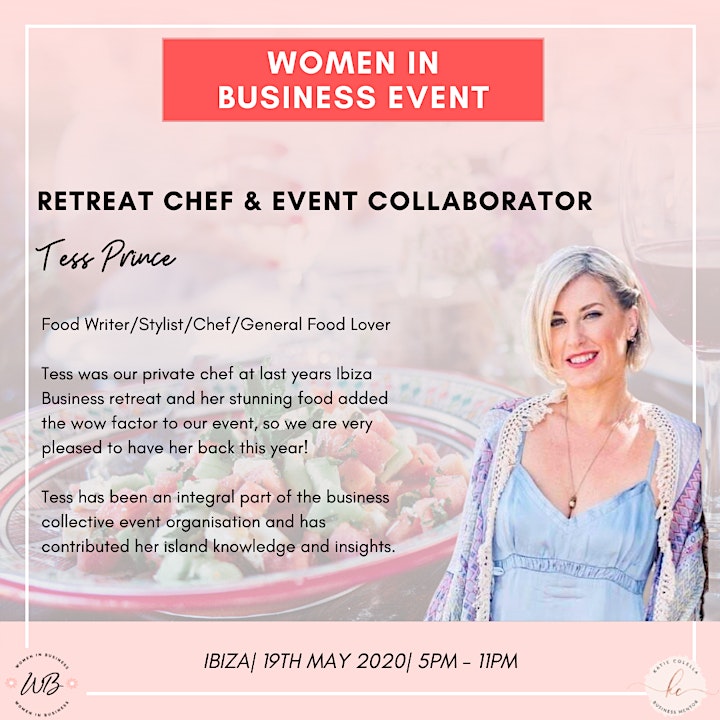 Event Facilitators
Tess Prince - Retreat Chef & Event Collaborator
Tess Prince is the founder of Love Food Ibiza - Food Writer/Stylist/Chef/General Food Lover
Tess was our private chef at last years Ibiza Business retreat and her stunning food added the wow factor to our event, so we are very pleased to have her back this year!
Tess has been an integral part of the business collective event organisation and has contributed her island knowledge and insights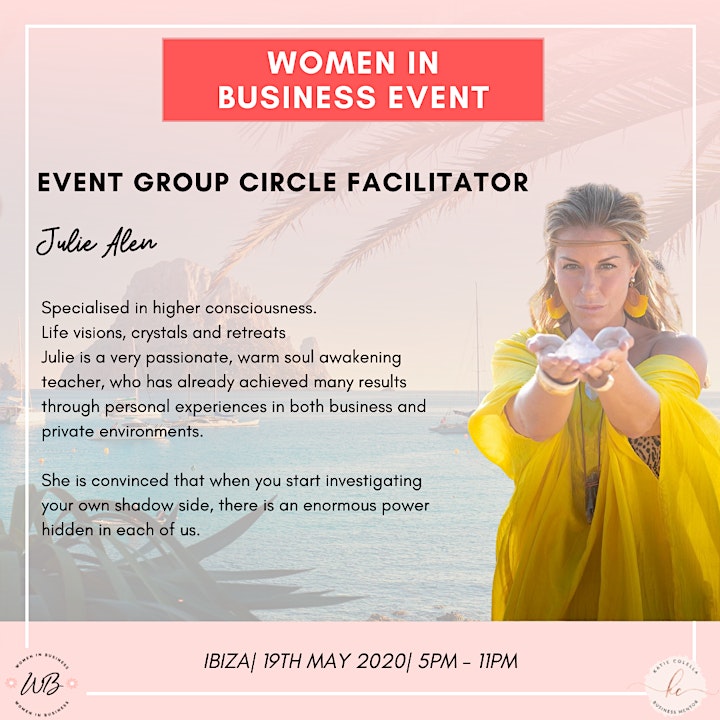 Julie Alen - Event Group Circle Facilitator
Specialised in higher consciousness. Life visions, crystals and retreats
Julie is a very passionate, warm soul awakening teacher, who has already achieved many results through personal experiences in both business and private environments, she is convinced that when you start investigating your own shadow side, there is an enormous power hidden in each of us.
Julie will ensure that every one of her guests gains insight into their personal and physical level. Her therapies are very clear and playful for anyone who is open to finding a solution within themselves.
As a therapist, she has already had an international career and believes that any person can transform.
In her circles we learn playfully and with a lot of laughter and hugs to deal with emotions and everything we feel. Her motto: own your shadow and you will own everything.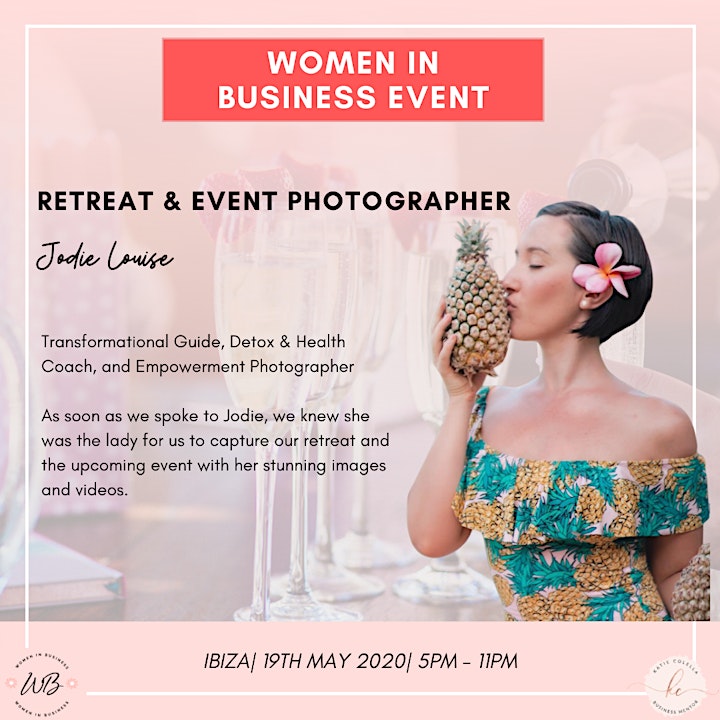 Jodie Louise - The Retreat and Event Photographer
Jodie is a Transformational Guide, Detox & Health Coach, and Empowerment Photographer
Her passion is to guide you to reawaken to your true nature, wisdom, essence & power. She believes that every person deserve to live your life to its fullest & shine bright. Whether you want to connect with your life purpose, heal your body, photograph your essence or build your brand, Jodie has years of professional training & experience that she loves sharing with the world.
Living as a nomad, Jodie offers her gifts globally virtually via Skype/Zoom or in person. She currently spend most of her time between Australia, Ibiza, & Bali. During this event Jodie will be capturing special moments together that we look forward to sharing with the world.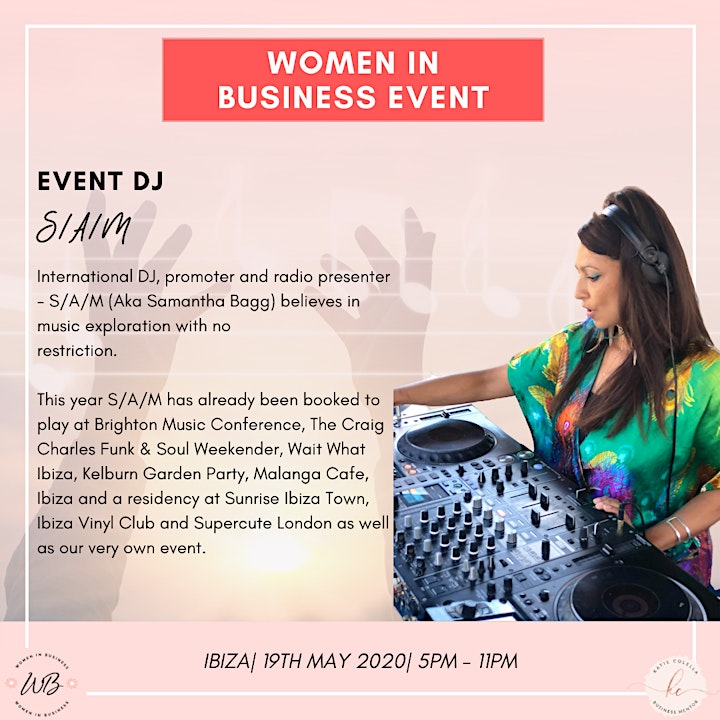 S/A/M (Aka Samantha Bagg) - Event DJ
S/A/M/ is an international DJ, promoter and radio presenter believes in music exploration with no restriction.
This year S/A/M has already been booked to play at Brighton Music Conference, The Craig Charles Funk & Soul Weekender, Wait What Ibiza, Kelburn Garden Party, Malanga Cafe, Ibiza and a residency at Sunrise Ibiza Town, Ibiza Vinyl Club and Supercute London as well as our very own event.
SAM loves playing variety of genre of music, including house music - whether it's deep, soulful or funky, chilled balearic vibes, jazzed out beats, world music and latin vibes - all of it - to suit the time and place to create a beautiful atmosphere of any event or occasion. Bring your Vibe and SAM is guaranteed to bring the music to match it.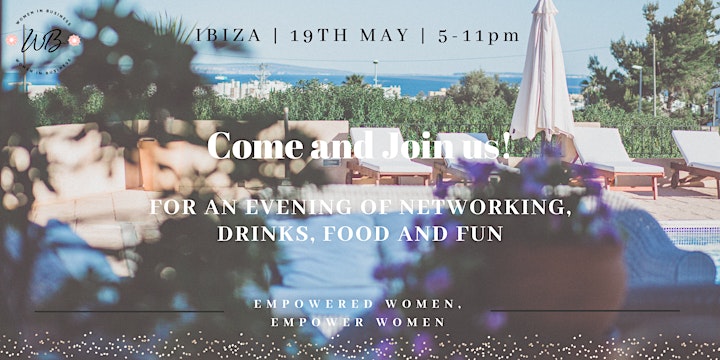 To learn more about Women in Business Community and our International Events and other retreats, please visit: