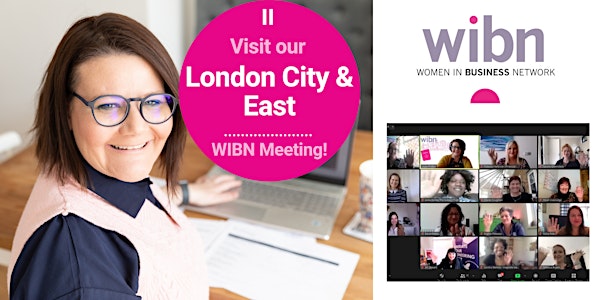 Women in Business Network - London City (Bank and Moorgate)
Location
The Anthologist
58 Gresham Street
London
EC2V 7BB
United Kingdom
Drive your business forward with our upcoming women in business networking event. Get support, and futureproof your business with us!
About this event
London City (Bank and Moorgate) - Women in Business Network Event (face to face)
Join fellow female professionals at our lunchtime networking event to drive your business forward and futureproof your business.
If you would like the opportunity to connect with successful businesswomen in a focused forum, to drive growth in your business and support others to do the same, whilst expanding your network of contacts, then you are exactly the person I'd like to join us at our next Women in Business Network event!
Focused business networking over lunch
We are not ladies that lunch, we are ladies that do business through lunch so expect a business networking event for you to build your contacts and really focus on your business.
Lunch and refreshments are included.
Upon booking your place you will receive a food selection request 7 days before the meeting.
PLEASE NOTE THAT FACE TO FACE MEETINGS ARE SUBJECT TO GOVERNMENT GUIDELINES . SHOULD THE MEETING BE MOVED TO ONLINE DUE TO RESTRICTIONS A PART REFUND OF £20 WILL APPLY.
A little more information about the London City Women in Business Network Group:
Our London City group is a City-based group that is excellent for connecting with professionals and corporate businesses in the heart of London.
So why not come along and find out more about our London City group?
Women in Business Network group is a great group, with a real mix of corporates and creatives from the City and closer by.
As this is a Hybrid Networking event - we host 4 of our meetings online each year. To reserve your place at the online meetings, please go here.
Meeting format
11:45am - 12:05pm - Open networking
12:05 - 12:15pm - Welcome
12:15 - 1pm - 1 minute pitches around the room
1pm - 1:20pm - Lunch is served, with a business activity to get you talking with your new connections!
1:20pm - 1:30pm - Business Spotlight - one member shares a little more about their business.
1:30pm - 2pm - Let's Talk Business! This is the chance to request 121's, share testimonials, & pass business contacts. As a visitor, please don't feel you need to share your little black book with your new network of connections, it's all about building relationships in these meetings.
2pm - close and more open networking
What my members say
I have a three-minute video which explains what to expect at one of my WIBN meetings so you can feel comfortable and confident before joining us!
If want to grow your business and connections, there has never been a better time.
This is the perfect route to growing your business, and if membership does appeal, then you will instantly receive regular access and ongoing support from a Nationwide network of entrepreneurial women! Why wouldn't you visit a WIBN group? Don't miss out, and book today!
Why visit us?
Networking is a really important part of growing your business, but of course I would say that, so here are some words my members have said about WIBN!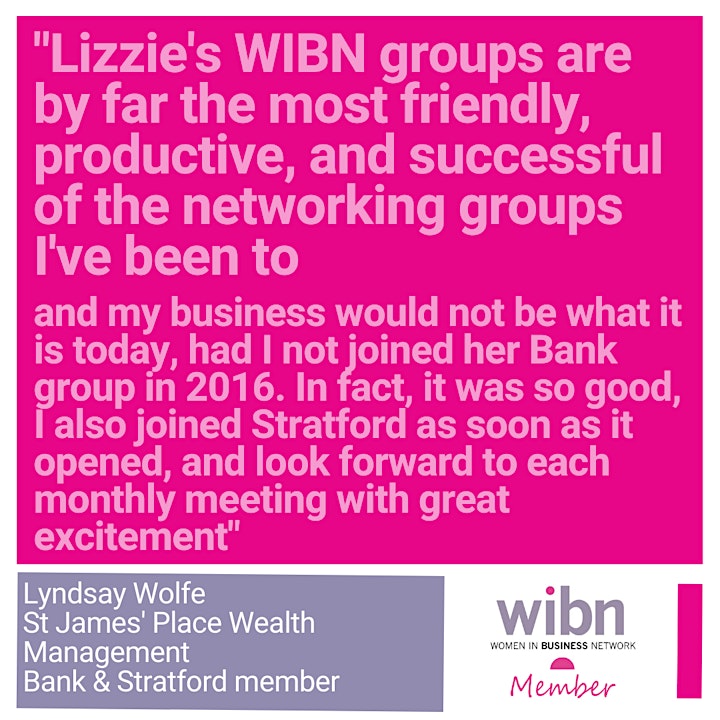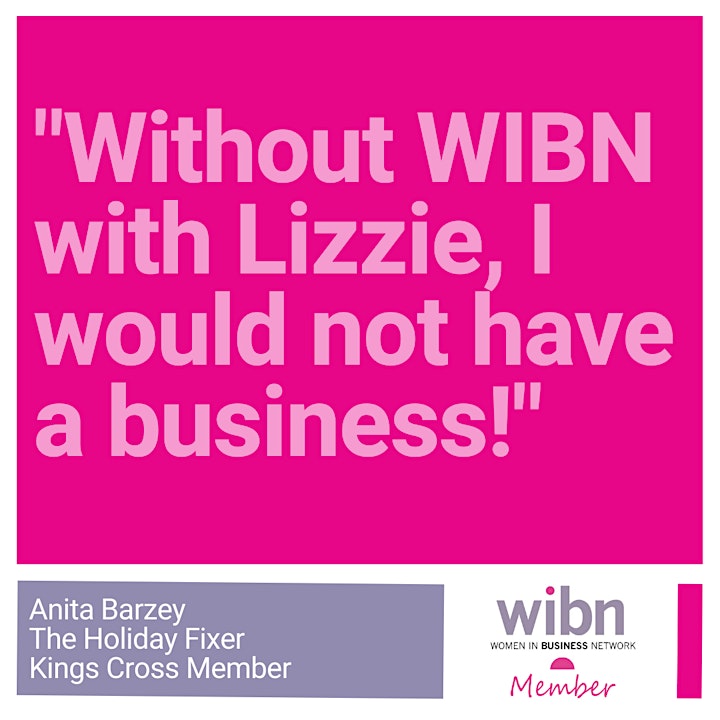 About us
Our members aren't latte loungers or ladies who lunch, but inspirational career women who really put the work into a working lunch. Every meeting sees us doing some serious business, making connections and providing referrals – though we make sure we have some fun along the way.
Over 120 business-minded women attend one of my groups each month, and we'd love you to join us.
One profession rule for members
We do run a one-person per category membership, please book your ticket and if your category is taken, we will let you know.
We look forward to welcoming you to our event, and please do email Lizzie if you have any questions before booking at Lizzie.Phillips@wibn.co.uk.