Women in Business - #Networking #BalanceforBetter #IWD2019 #NatwestWIB
Description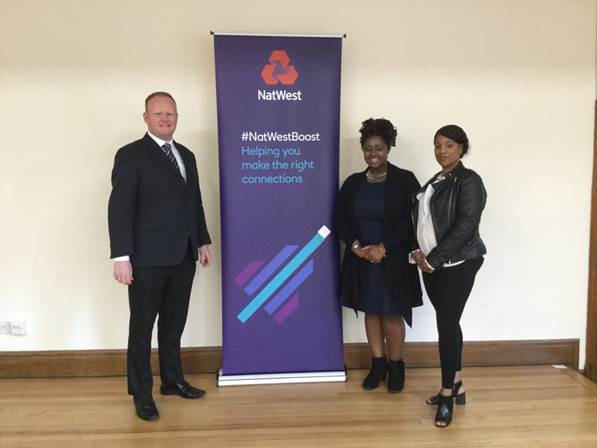 Please use the following link for travel to the Civic Centre
http://www.harrow.gov.uk/info/200116/media_publicity_and_web/1174/contact_harrow_council
This is an open free network meeting for Women in Business hosted by NatWest's Business Growth Enabler Stewart Smith & supported by Harrow London Borough Council to celebrate International Women's day 2019. #IWD2019
In 2018, more than ever, there was a strong call-to-action to press forward and progress gender parity. The global call to #PressforProgress motivated and united friends, colleagues and whole communities to think, act and be gender inclusive. #PressforProgress, an an international Women's day theme, extended well beyond one day to support and unify year-long activity aimed at forging women's equality.
In 2019 Better the balance, better the world. We will celebrate women's achievements on Friday 8th March while calling for gender balance.
The future is exciting. Lets buld a gender-balanced world. Balance drives a better working world. Lets all help create a #BalanceforBetter
Come along and meet business minded people from the local community and make some new connections.
At NatWest we understand the challenges business owners may face and our Women in Business specialists throughout the UK are here to help.
If you have never been before please come along and network meet new people and all I would ask you to bring is your business cards with you.
Boosting connections and partnerships in the local community is crucial in helping small businesses grow and succeed, so as part of my commitment to support this I organise networking events.
This event is all about YOU and helping you grow your business, grow your confidence and inspire you.
Our 2019 focus is #BalanceforBetter. Better the balance, better the world.
AGENDA:
9.30 Networking and refreshments
10.00 Introductions by NatWest and Harrow Council
10.10 Achieving personal and professional success: presentations from
Beverlie Wilkinson - Nuggets of Learning
"Balance for Better" - the theme of International Women's Day 2019 and the scene setting for the first speaker. Gender balance is not a women's issue - it's a business issue. The talk will highlight the current status of gender balance and explain why it matters to business. What can organisations begin to do in order to redress balance for their people. What will you gain from listening:-
Context of where we are currently with gender equality?

An understanding of why it matters?

Practical ideas and initiatives to work on #balanceforbetter
Mia Flanagan- My Journey - Your Business Community
Born in a small town in the Czech Republic Mia started working in Prague at 19, doing a number of jobs including PA for a company whilst overtime developing and managing a property portfolio. On arriving in England she worked for Barnardo's and through attending a cake decorating class she developed her own business in Multi Level Marketing (MLM) which eventually led to her current work with Your Business Community.
Sarah Ellis - Sarah Ellis Coaching
The title of her talk will be 'Surviving Solo: the key challenges of running a business by yourself & how to overcome them'.
The aim of the talk is to provide the audience with tools to help them:
- maintain a balance between paid work and working on their passion, particularly in the early days of their business
- building and maintaining resilience, creating a healthy outlook on 'rejection'
- staying motivated and accountable, creating balance between the 'now' and the 'bigger picture'
11.10 Q & A
Sarah, Beverlie, Mia & Naima
11.30 Speed networking led by Naima Omasta-Milsom
Informal Networking
Biography
Sarah Ellis
Sarah is a Career and Business coach working with the mission to help as many people as possible have a successful career that they love, are fulfilled by and is in alignment with a happy and balanced life. Sarah qualified as a professional coach with The Coaching Academy, the leading coach training provider in the UK, and was recently voted to be one of the three finalists for Small Business Coach of the Year at the 2018 International Coaching Awards.
Beverlie Wilkinson
Beverlie set up nuggets of learning in 2004 to help people and businesses to think and work differently. The interactive workshops always project colour and appeal to all five senses. The company offers a series of 90 minute courses/full day/half day and one to one coaching.
Prior to setting up nuggets Beverlie worked at The Walt Disney Company Limited – delivering and designing training programmes and also managing the learning and development calendar for fifteen lines of business under the Disney umbrella.
An important aspect of her work is constantly updating her own learning and development. She is Myers Briggs Type Indicator accredited, Strength Deployment Inventory licensed and CIPD (Chartered Institute Personnel Development) qualified, and graduated as a Co-Active coach through CTI.
Stewart Smith
As a Women in Business accredited Business Growth Enabler I want to support female entrepreneurship by helping them share their experience or connect with other local business owners, whether they bank with NatWest or not. I started a Women in Business group in September 2017 which enables attendees to network on a monthly basis. I have created an open environment for business owners to feel comfortable sharing their ideas whether they're considering starting a business, have just started, are currently trading or even coming from an employed role and want to have a voice to represent their organisation.
Our events are all about the attendees and give them the opportunity to Pitch to others about themselves and their business. This is where Diane Boothe and Sophia Leach (picture above) met, upon hearing each others Pitch they realised that they had a connection and have since launched their own events management company. Both customers have been regular attendees at my events and found other useful contactsto help them achieve their business goals.
Facilitating introductions like Diane and Sophia is one of the things I enjoy most about my role, I am passionate about helping people achieve their ambitions. Local, face to face support for someone starting up or help through one-to-one consultations to support them in taking the next step makes my role stand out in the local business community, I am delighted to see how we can make a difference and create opportunities for local businesses.
Look forward to seeing you all there.
All information used in this presentation you are registering for relating to Women in Business Networking is produced by NatWest for information purposes only and is for the sole use of the attendees at the presentation.
Whilst we feel this topic is beneficial to business owners,the views expressed are not intended to be and should not be viewed as individual advice or as a recommendation. Any views expressed in the presentation are not necessarily those of NatWest and should not be viewed as individual advice or as a recommendation. You should seek independent advice in respect of issues that are of concern to you.
To the maximum extent permitted by law we expressly disclaim all representations, warranties, or assurance of any kind, expressed or implied, that are made to the accuracy or completeness of the information contained in this presentation and no member of NatWest accepts any obligation to update or correct any information contained herein.