Description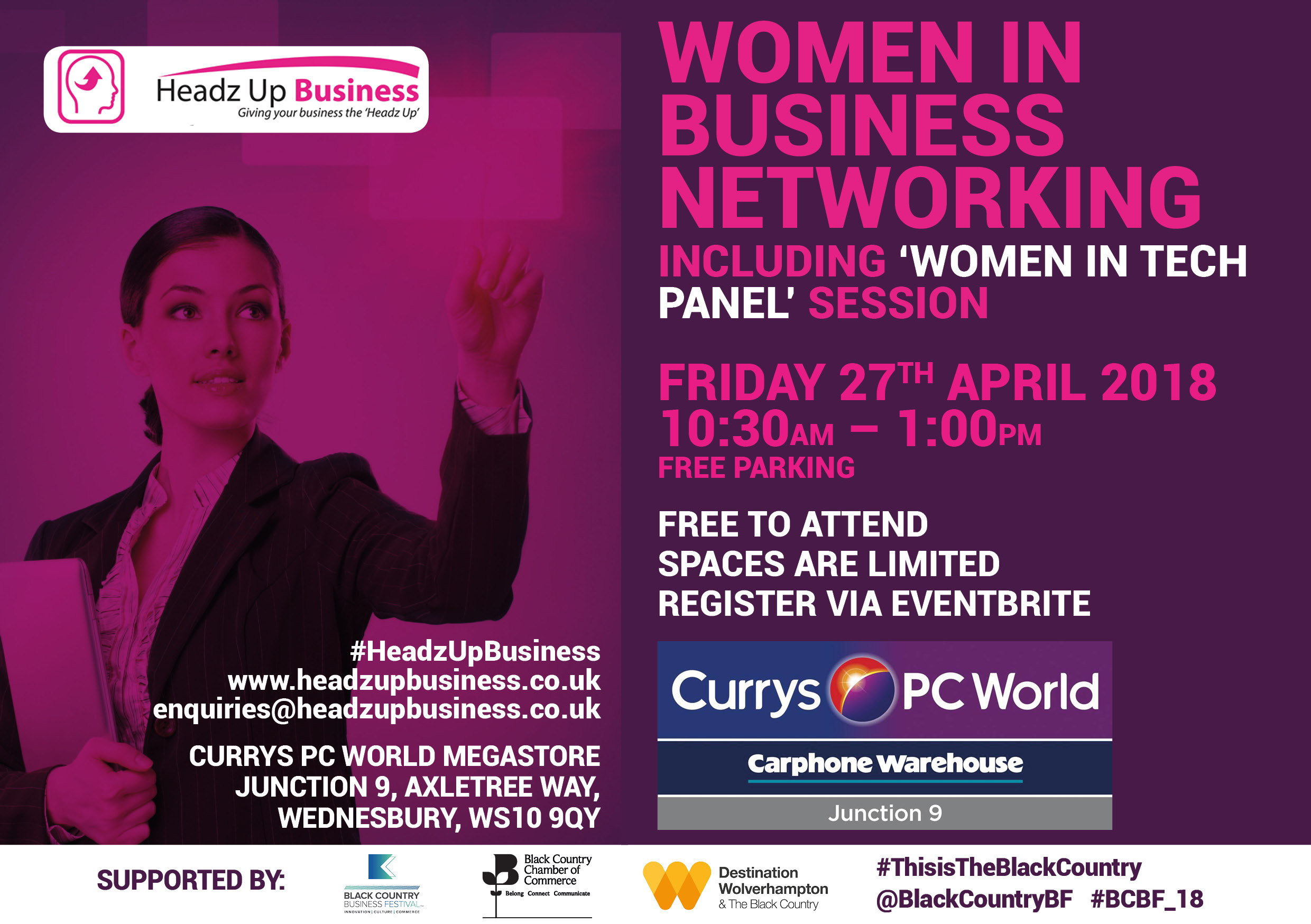 Headz Up Business is proud to be supporting Black Country Festival run in association
with the Black Country Chamber of Commerce, an event supporting, encouraging 'Women In Business,' and including a 'Women In Tech' panel session. Connect, and join in the conversation with the following social media handles:
@HeadzUpBusiness @BlackCountryBF #ThisisTheBlackCountry #BCBF_18
FREE Parking for 4hrs Only.
Who is the event FOR:
Business Owners, Business Professionals, Marketing Managers/Executives, Sales professionals and Entrepreneurs.
What to Expect:
Join us for an exciting morning involving live demos from PC Curry's World on the latest must have tech for your business. The event is a general networking session with 100 women in attendance from ALL industries.
This event will include a Q & A session involving a 'Women In Tech' panel session, raising the challenges affecting girls/women going into tech and also highlighting some of the leaders in our region. There will be plenty of opportunities for attendees to connect, engage and network on the day.
Schedule:
10.30am-11.00am: Registration and delegates will be allocated a sticker for the special 'LIVE' demo, Refreshments & Networking.
11.00am-11.30.am: Q & A Panel Session
11.30am - 12.15 Noon: Delegates will be given 10min, opportunity to see the latest tech with 'LIVE' demo experience with 4 of the leading tech suppliers, Sony, Samsung, Apple & Microsoft.
12.15am-1.30am: Networking, with refreshments, complimentary buffet for delegates that have registered.
Confirmed 'Q & A Panel' :
Rebecca Stringer: @funnelmetrics Rebecca is a self confessed data junkie, before setting up Funnel Metrics Ltd, her background is primarily in marketing, launching titles such as Tomb Raider, then moving into multi channel marketing and then Head of Ecommerce. She has since supported many businesses from SME's to enterprise level organisations such as The Guardian, Ryman Carphone Warehouse & Haymarket Media, helping them understand and improve their online performance. Rebecca is passionate about increasing standards and usage of web analytics tools to drive business improvement, along with looking at the bigger picture from complimentary data sources.

Revathi Timms: @Avatar3D, Executive Director of Avatar3D. Most Innovative Award Winning business Avatar 3D Printing specialises in custom-built FDM 3D printers compatible with a wide range of thermoplastic materials from graphite to chocolate. This cutting edge digital fabrication technology is available at several STEAM centres with open avenues for design and ingenuity. From concept modelling to the integration of Building Information Modelling with 3D printing and providing Rapid Prototyping Solutions for all industry sectors, Avatar 3D is the right choice to arm yourself with tools and techniques to succeed in a fiercely competitive and constantly evolving market.
"The future will depend on 3D printing technologies in all aspects of our life, starting from the houses we live in, the streets we use, the cars we drive, the clothes we wear, the food we eat''.
Avatar 3D is a pioneer in digital training services offering skills and development to meet the requirements of a demanding future in Engineering/Manufacturing.
Nikki Labrum: @nikkilabrum, @AskAdaUK : Nikki has a b

ackground in website development and has worked on digital projects for many organisations from SMEs, charities through to large organisations such as the World Bank, European Commission and UK Government. Nikki is the founder of Ask Ada - a digital agency supporting women entrepreneurs. She is passionate about empowering women to take advantage of digital tools to start and grow their own business. Her company offers a number of services from website and app development, to digital marketing support. Ask Ada also deliver training workshops on website building to equip women entrepreneurs with the skills needed to launch their new business online.
Heather Clarke: @planitglobal Heather comes from a creative and training background and now works as Head of Global Communications and Events for PLANit Global. PLANit Global is an innovative all-age online careers exploration platform that is radically different to anything else currently available. The platform is a 24/7 digital careers fair allowing young people to explore local companies virtually whilst learning about how they work, what job roles there are within the businesses and what opportunities they offer. Search for work experience, apprenticeships, volunteering and job opportunities from your phone, tablet or computer. Her mission is to help to inspire the next generation of young girls by showcasing women in business in all sectors helping to bridge the gap on gender stereotypical job roles.
In addtion to the Business Card Draw Prize, 4 lucky individuals could win £25 cash on the day just by downloading MobyTap and leaving a review. The best reveiw will be chosen on the day, you will have to be in attendance to collect the prize. https://mobytap.com/
Spaces are limited to hundred, to avoid disappointment please register prior to attending. FREE Parking.