Women in Business Networking - Channel Your Mind-set To Boost Your Business
Description
At NatWest we understand the challenges business owners may face and our Women in Business specialists throughout the UK are here to help.
This is an open free network meeting for Women in Business hosted by NatWest's Business Growth Enabler Stewart Smith. Come along and meet business minded people from the local community and make some new connections.
These are regular events usually held monthly in Harrow, so come along and network meet new people and all I would ask you to bring is your business cards with you.
There will be no specific agenda to the networking meeting other than an opportunity to showcase your business and hear from a women in business guest speaker.
Each Business owner will be given the opportunity to showcase their business to the room usually about a minute per attendee depends on the amount of people there, so please come with something to say to engage the attendees.
Our guest speaker for June is Anita Gohil-Thorp who will be presenting thought provoking information on how your mind-set as you begin, or grow, your business impacts every end result.
As one example, when you are stressed, you are often in your mind. 67% of business leaders are struggling with stress and managing their emotions in the workplace (2016) and stress accounted for 37% of all work related ill health cases and 45% of all working days lost due to ill health (2015/16). If you are stressed, how does this block the growth you want?
Business owners, as well as staff, often ignore the triggers and the signs with performance, security and profit being key drivers for businesses and individuals. Equally important however is your reduction of stress and the development of consistent motivation, direction and morale through wellbeing initiatives; the government's review of evidence on employee wellbeing and its potential impact on workplace performance suggests that key improvements in wellbeing will result in improved workplace performance, improvement in financial performance and profitability, enhanced labour productivity and better quality of outputs or services.
If the stress is in your mind, the good news is that you can challenge it and overcome with tools Anita will share.
About Anita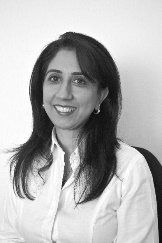 Anita is a former lawyer and professional recruiter for leading City firms and now helps people to positively transform their mind-set and capabilities for the success and wellness they dream of. She is a qualified professional coach whose tools help people to master the happiness, development, direction, motivation and potential they want.
She also supports MIND and local high schools, driving her passion to spread the message of success and wellness as one, as wide as possible. Anita trains other aspiring coaches and holds workshops. In addition to speaking for NatWest Women in Business, Anita has presented at the Economic Development Forum at Harrow Council, Harrow Carers, EKTA, a London University and has appeared on Radio Harrow. She writes with published articles on LinkedIn and the expert section of the Life Coach Directory.
Having escaped the rat race of city corporate life, Anita now brings tools to everyone so they can work and live towards their optimum success and wellness.
What clients say:
"I honestly could not have imagined that I could come out of a 60 minute session with such a greater understanding of my objectives and how to obtain them in a simple way."
"You are very inspiring and I hope I can continue with the commitment and confidence I have with the tools and strategies you provided today."
Anita can be contacted on 07961 111 255 or at anita@evolutiondevelopmentcoaching.com
Look forward to seeing you all there.
All information used in this presentation you are registering for relating to Women in Business Networking - Channel your mind-set to Boost your Business is produced by NatWest and Anita Gohil-Thorp for information purposes only and is for the sole use of the attendees at the presentation.
Whilst we feel this topic is beneficial to business owners,the views expressed are not intended to be and should not be viewed as individual advice or as a recommendation. Any views expressed in the presentation are not necessarily those of NatWest and should not be viewed as individual advice or as a recommendation. You should seek independent advice in respect of issues that are of concern to you.
To the maximum extent permitted by law we expressly disclaim all representations, warranties, or assurance of any kind, expressed or implied, that are made to the accuracy or completeness of the information contained in this presentation and no member of NatWest accepts any obligation to update or correct any information contained herein.
Please note there is no car parking on site. Nearest Car Park is Saint Ann's Shopping Centre Car Park www.stannsshopping.co.uk/centre-information/parking - The Heights 59-65 Lowlands Road Harrow is a short walking distance from the car park.