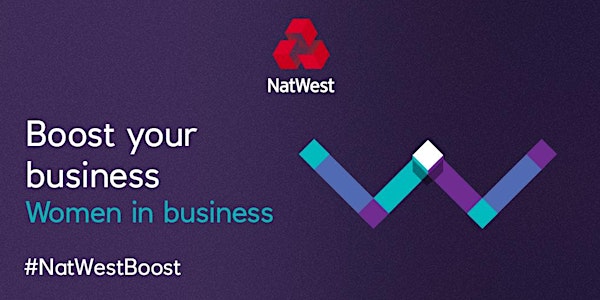 Women in Business Networking event - Wellbeing- It's stressful being an ent...
Location
The Heights 2nd Floor RBS
59-65 Lowlands Road
Harrow
HA1 3AW
United Kingdom
Description
At NatWest we understand the challenges business owners may face and our Women in Business specialists throughout the UK are here to help.
This month the event comes back to Harrow. This is an open free network meeting for Women in Business hosted by NatWest's Business Growth Enabler Stewart Smith. Come along and meet business minded people from the local community and make some new connections.
These are regular events usually held in Harrow, so come along and network meet new people and all I would ask you to bring is your business cards with you.
There will be no specific agenda to the networking meeting other than an opportunity to showcase your business and hear from a women in business guest speaker.
Each Business owner will be given the opportunity to showcase their business to the room usually about a minute per attendee depends on the amount of people there, so please come with something to say to engage the attendees.
Our guest speaker for May is Mala Seecoomar who will be presenting 'It's stressful being an entrepreneur' she will be providing you with some ideas to help you understand and cope.
'Starting and growing a business is never an easy path – more often than not, the journey to success is fraught with challenges. Entrepreneurs often put themselves under a huge amount of pressure to succeed, so it's imperative that they have coping mechanisms to deal with feelings of stress.' Sandler training
Mala recently returned to England after living and studying in India for the past three years. Combined with her extensive time working in Denmark and Zanzibar, she has a fascinating mix of different experiences and cultures and professional fields. In India she added exponentially to her skills with a 500 hour, intensive, Yoga teacher training course, with International Yoga Alliance ambassador Dinesh Shastri in Rishikesh. She spent 18 months at Yog Ganga Centre for Yoga Studies in Rajpur, with teachers Ravij and Swati Chanchani. She completed a 300 hour yoga therapy training in Goa with the Kashmir Shivaism Yoga School. She now spends her time in London working with private clients on a variety of health issues.
Mrs Varsha Soneji BSc (Hons) MNIMH is a qualified medical herbalist with over 25 years of experience in the complementary health business.
She is passionate about herbs and natural medicine and has been using natural remedies to help people overcome their health concerns.
Look forward to seeing you all there.
All information used in this presentation you are registering for relating to Women in Business Networking is produced by NatWest and Mala Seecoomar for information purposes only and is for the sole use of the attendees at the presentation.
Whilst we feel this topic is beneficial to business owners,the views expressed are not intended to be and should not be viewed as individual advice or as a recommendation. Any views expressed in the presentation are not necessarily those of NatWest and should not be viewed as individual advice or as a recommendation. You should seek independent advice in respect of issues that are of concern to you.
To the maximum extent permitted by law we expressly disclaim all representations, warranties, or assurance of any kind, expressed or implied, that are made to the accuracy or completeness of the information contained in this presentation and no member of NatWest accepts any obligation to update or correct any information contained herein.
Please note there is no car parking on site. Nearest Car Park is Saint Ann's Shopping Centre Car Park www.stannsshopping.co.uk/centre-information/parking - The Heights 59-65 Lowlands Road Harrow is a short walking distance from the car park.