Women In Business Virtual Networking Brunch
About this event
All Women's Network is a leading professional business networking organization, we are fully committed to helping the small business community maintain and grow their business during this turbulent time. We provide Business skills & Personal development training as well as online networking events, Conferences and Workshops.
Join our Monthly online Women In Business networking meetings to connect with like-minded business owners and Coaches, freelancers to share your expertise, and learn valuable skills to grow your business through Networking & Collaboration Strategies.
OUR NETWORKING GOALS:
NETWORK: Meet like- minded Women in business, exchange ideas and experiences with others. Build long-lasting relationships, expand your network, raise your profile get noticed and grow your business.
COLLABORATE: Opportunity to form connections with others, establish relationships and trust and build joint partnerships that will help you grow your business to new levels.
REFERRAL: Get to know the business of fellow Entrepreneurs and share your story Promote your services and products, while giving and receiving referrals and establish strategic alliances.
WHAT YOU WILL GAIN FROM THIS EVENT?
Meet 6-10 new people who can become Joint partners for your business.
You can find resources for your business.
Meet new prospective client and improve your business.
Meeting Agenda
7:00 - 7:10 Welcome- Open Meeting
07:10 - 7:25 Networking Breakout Room /60- Second Business Pitches
07 :25- 7: 35 Questions/Testimonials
07:35- 7:55 Business Breakout Rooms/ Speak & Host a 20+ minute breakout session to give attendees more details about your business & Meet New Prospective clients or referral partners
07:55- 8:15 Business Collaboration opportunities
8:15- 8:30 Announcements
8:30 - 8: 40 Feedback
8:40 -8:45 Close
Our meetings tend to be lively and productive – and there is certainly ongoing support available through our Membership opportunities!
Please ensure you book your place and you will receive an email with the Zoom Meeting details.
For more information, please contact
Email: allwomensnetwork@gmail.com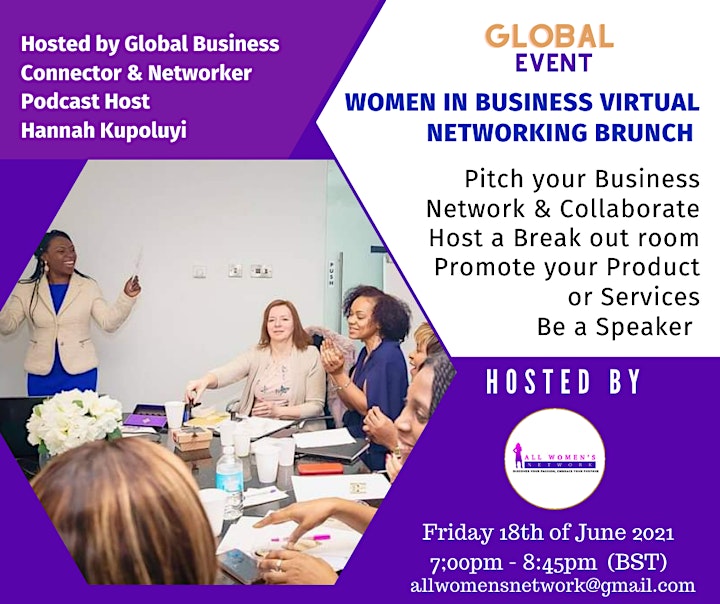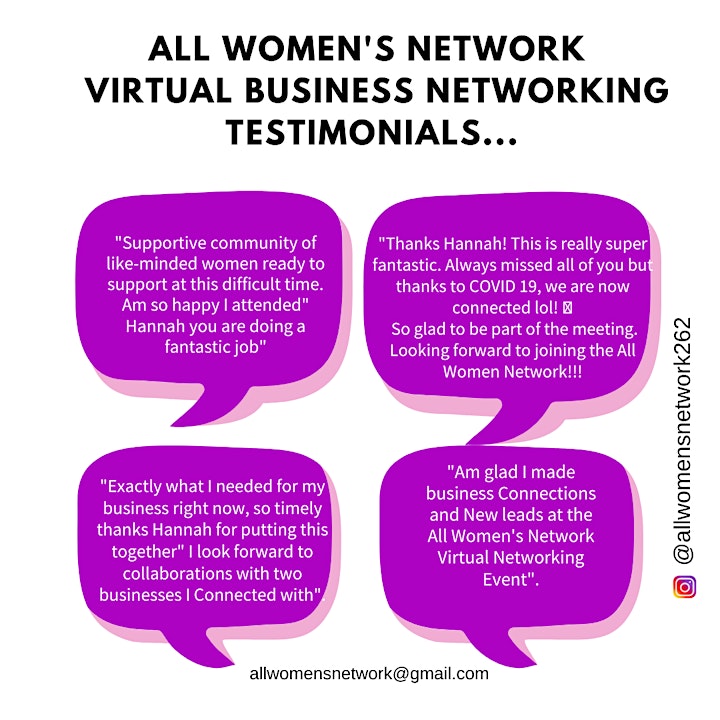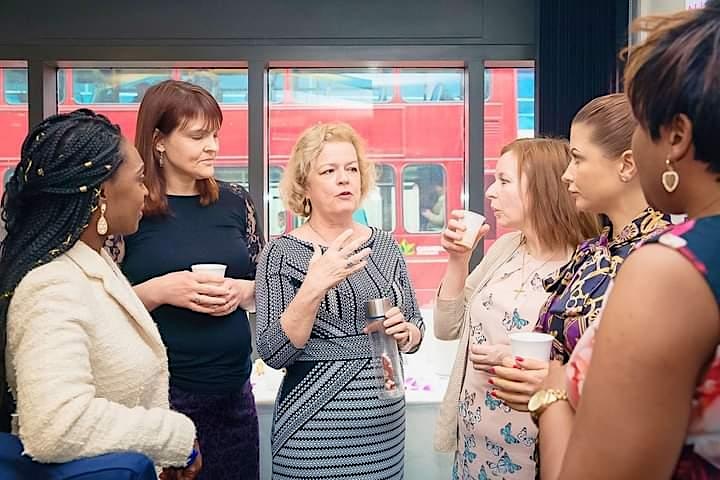 Date and time
Location
Refund policy
Organiser of Women In Business Virtual Networking Brunch
About the Host
Hannah Kupoluyi is a Multi Award Winner, an entrepreneur, Business Connector , Coach , Podcast Host, Speaker, Beauty Expert, Business event organiser & Trainer. Her mission is to enable women who want to change their life: break through their limiting beliefs and achieve their dreams, through building their own Network and Monietizing it. She does this through various workshops , networking events and mentoring sessions, she helps women get confidences to build , grow and Monietize their own Network and achieve great success in balancing family life and business.
She is also a Networker and conference designer expert who has hosted many events including: Female Entrepreneur Business Networking event, Annual Women in business Conference, Monthly Meet ups, Beauty skills workshops, Annual Festival celebration for Black History Month, Domestic Violence awareness, International Men's day Conference and many more.
She is the founder of "All Women's Network " A platform that Celebrates womens' achievement and successes, thorugh Networking, Collaborating and Connecting women with similar interests and businesses together.
Hannah hosts regular Business Networking for women in busness to build up their confidence through various workshops & training. She is also the host Business Networking events for Female entrepreneurs to inspire and empower women to show up powerfully online, step into leadership , embrace their passion and walk into purpose.
Email: allwomensnetwork@gmail.com