Join us for our fifth annual Women in Data Science conference, featuring outstanding women in the field!
About this event
Welcome to the fifth annual Women in Data Science conference - hosted from Oslo, Norway on March 17th and 18th, 2021.
The conference will feature exclusively female speakers doing outstanding work in the field of data science, but it is open to all, regardless of gender.
Programme
A two-day conference featuring stories from leading industrial professionals
We are excited to welcome EIGHT industry professionals to share their stories with us over two days. The programme will run from 10:00 to 12:30 (GMT+2, Oslo time) on both days featuring 4 speakers per day, parallel breakout sessions, and networking opportunities.
Wednesday, March 17 - Speakers
Julija Pauriene - Head of AI at Avo Consulting
Frøydis Bjerke - Data Scientist at Animalia AS, Norwegian Meat and Poultry Research Centre
Parallel Break out Sessions

Session 1: Avo Consulting
Session 2: Redpill Linpro
Nina Walberg - Director of Data & Insight at Kolonial.no
Janniche Moe, Product Director, and Radmila Stoltz, Head of Customer and Partner Experience at FotoWare
Thursday, March 18 - Speakers
Sheri Shamlou - CCO at Solution Seeker
Gunnhild Presthus, Data Scientist, and Alexandra Østreng, Trainee, at Statnett
Parallel Break out Sessions
Session 1: Lighting the Technology Industry, Parinaz Bassampour, Microsoft
Session 2: Standard Based Digital Twin, Mona Chaure, Jotne
Session 3: How to attract female talent? A discussion with the amazing women at Solution Seeker
Camilla Feurst - Senior Risk Specialist at Statkraft
Agnieszka Rackiewicz - Senior Data Scientist, Yara International
(Details including schedule, speakers, and sponsors will be continuously updated here.)
Sponsors
This event would not be possible without our partners and sponsors and we are very grateful for their support of women and diversity in data science!
Platinum Partners: Microsoft
Gold Sponsors: Avo Consulting, Jotne, Redpill Linpro Analytics Architecture, SINTEF, and Solution Seeker.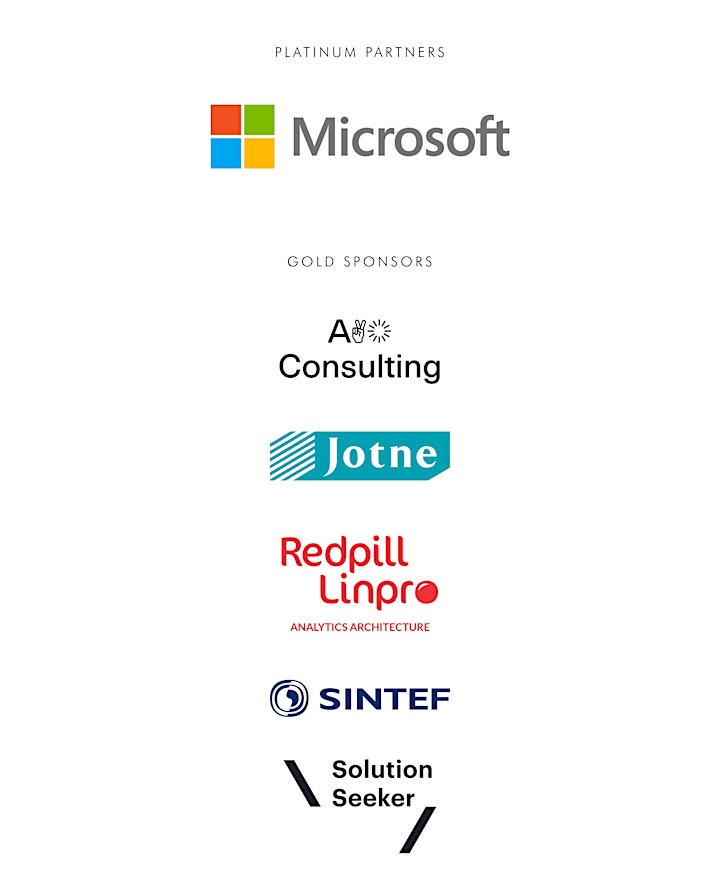 Supporters
WiDS Oslo wouldn't be possible without the hard work of the committee , including Mia Ryan and Sheri Shamlou, and our supporting networks, Tekna. Thank you for your continued support!

About WiDS
WiDS Oslo is an independent event that is organised by Alexandra Gunderson and Heidi Dahl and the WiDS Oslo committee as part of the annual WiDS Worldwide conference organised by Stanford University and an estimated 150+ locations worldwide, which features outstanding women doing outstanding work in the field of data science.
All genders are invited to attend all WiDS Worldwide conference events.
What to expect?
Talks from local speakers from academia and the industry.
Who should attend?
The conference is open to everyone, regardless of gender, who is interested in engaging with and learning from the local data science community.