Location
Forskningsparken - Oslo Science Park
21 Gaustadalléen
0349 Ullevål
Norway
Description
Welcome to the third annual Women in Data Science conference on Thursday, April 4, 2019.
SCHEDULE
The day will be split into two parts, please select your ticket based on the portions you plan to attend. The event is free, but tickets are limited so we appreciate you updating your RSVP if you know you won't be able to attend :)


MORNING: HANDS-ON WORKSHOPS (9:00 - 13:00)

Choose one from three hands-on workshops and start applying machine learning to real world problems:
Reinforcement Learning in a Nutshell - Ning Zhou (Microsoft)
In the "Reinforcement Learning in a nutshell" tutorial, we will walk you through the core ideas behind reinforcement learning - how reward functions, how it has developed from the classical dynamic programming to the modern algorithms used by Deepmind AlphaGo. You will also get your hands dirty and build a smart agent with reinforcement learning for an Atari game.
Build an Anomaly Detection Model using Deep Learning - Kristin Hornæs (Arundo)
Equipment failure in heavy industry (maritime, oil and gas, mining...) accounts for millions of dollars in downtime and repairs annually. Identifying failures in these equipment can be difficult due to low number of failures and disparate data sets. Anomaly detection is often used to begin understanding the outliers within the dataset and if they are indicative of failure.
In this workshop, we will explore the difference between deep learning (including auto encoders) and traditional machine learning techniques (including Isolation Forests and Support Vector Machines) in identifying anomalies on engine sensor data.
Building a Data Analytics Model - Que Tran and Rebecca Seyfarth (Cognite)
Today we hear about Machine Learning applications in the consumer world quite often: from estimating traffic on our way to work to smart recommendations based on our past behavior and interests. However, in asset-heavy business-to-business industries, Machine Learning is still a bit of a buzzword. In this workshop, we'll show you an example of how the Oil & Gas industry is currently using Machine Learning and you will learn how to build your own data analytics model. We'll show how to build a model to estimate the output pressure of a suction cooler from input flow rate, input pressure, and input temperature.


AFTERNOON: SPEAKERS FROM THE INDUSTRY (13:00 - 17:00)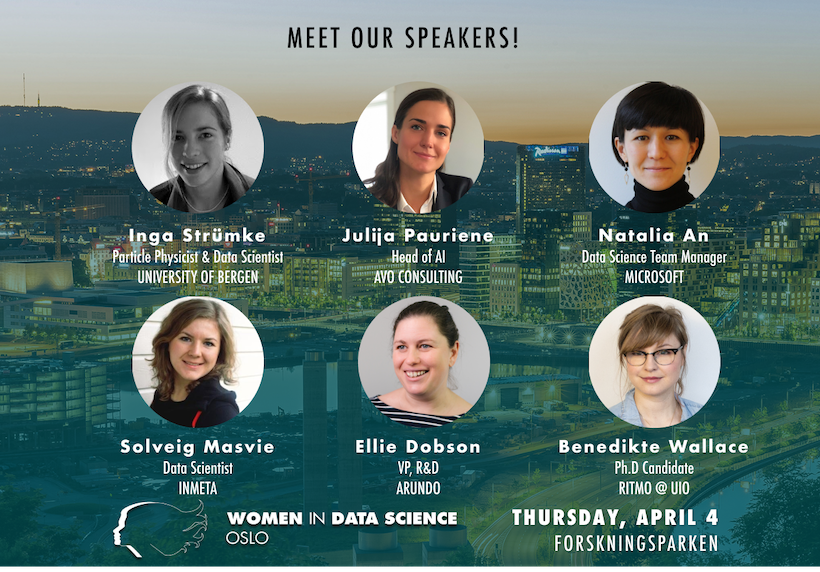 We are excited to welcome six industry professionals to share their stories with us. The programme will be as follows:
13:00 - Welcome
13:30 - Doing AI right: How to avoid a business case that is "Artificial" and a solution that is missing "Intelligence"? (Julija Pauriene)
14:00 - From the cloud to the edge: The increasing importance of decentralised computing in IOT (Ellie Dobson)
14:30 - Deep learning: Separating Higgses and interpreting probability (Inga Strümke)
15:00 - COFFEE BREAK
15:30 - Art and Artificial Intelligence: How does an algorithm learn artistic expression? (Benedikte Wallace)
16:00 - Computer vision with limited data (Solveig Masvie)
16:30 - What does it mean to work on a Data Science project? (Natalia An)
EVENING: DINNER & NETWORKING (17:00 - 19:00)
Join us for dinner and networking.


ABOUT WiDS
The Global Women in Data Science (WiDS) Conference aims to inspire and educate data scientists worldwide, regardless of gender, and support women in the field. This annual conference is held at Stanford University and 100+ locations worldwide, hosted by WiDS Ambassadors.

WiDS OSLO CONFERENCE - WHAT TO EXPECT
Talks from local speakers from academia and the industry. Live introductory workshop on applying machine learning to detect anomalies in real data. Opportunity to network with the local data science community and leadership. Stream of Stanford Keynote Speakers with drinks and networking.

WHO SHOULD ATTEND?
The conference is open to everyone, regardless of gender, who is interested in engaging with and learning from the local data science community.