Description
Welcome to Women in Data Science 2018!
About WiDS
The Global Women in Data Science (WiDS) Conference aims to inspire and educate data scientists worldwide, regardless of gender, and support women in the field. This annual conference is held at Stanford University and 100+ locations worldwide, hosted by WiDS Ambassadors.
This one-day technical conference provides an opportunity to hear about the latest data science-related research in a number of domains, learn how leading-edge companies are leveraging data science for success, and connect with potential mentors, collaborators, and others in the field. All genders are invited to participate in the conference, which features exclusively female speakers.
Keynote Speakers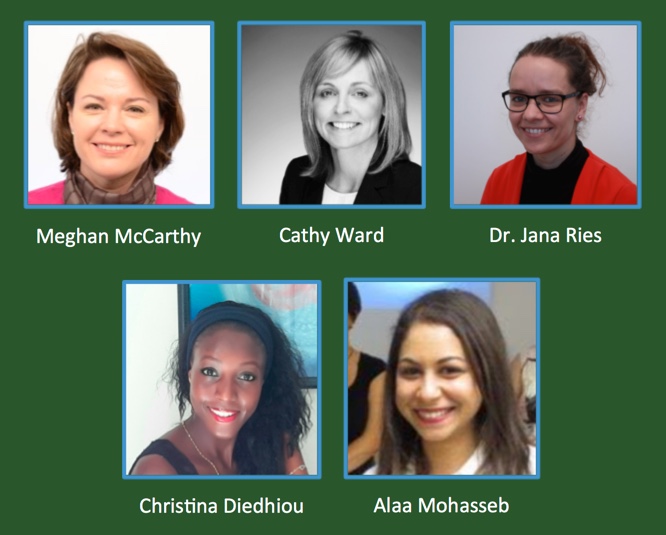 Meghan McCarthy, Regional Early Talent Lead, SAP Sales Academy (EMEA North)

Cathy Ward, Global Chief Operating Officer at SAP Leonardo Services

Dr. Jana Ries, Senior Lecturer, Quantitative Methods, Portmouth Business School.

Christina Diedhiou: PhD Student at Unibversity of Portsmouth

Alaa Mohasseb: PhD Student at Unibversity of Portsmouth
Who Should Attend

Data science is a rapidly growing field as big data and advanced analytics change the nature of the business boardroom. As companies stuggle with business complexity, and need answers faster than ever, managements everywhere now realise that 'gut feel', instinct, and experience are insufficient when intelligence contained within volumes of data may lead them to meet today's challenges rapidly. As a result, data science techniques and skills have never been more in demand, as they foster new ways to look at problems that leverage meaning in hidden data patterns, and lead to unique breakthroughs and innovative thinking.
The keynote speakers are all successful women in their field who will inspire attendees to step up their game. Women can find creative ways to leverage their unique skills, mentality, and natural abilities, ranging from a collaborative style, to nurturing sensibilities such as humility, insight, intellectual curiosity, and empathy. The field of data science needs these alternative perspectives to generate new ways to make data work harder. However, the conference is open to all those who are interested in engaging with and learning from the local data science community (both female and male). Come along and hear about how machine learning, blockchain, big data, the internet of things, data analytics and business intelligence are creating new opportunities in the modern workplace, and be part of making a new tomorrow for the world. You will learn how you can develop your knowledge and contribute in this very important field, while still enjoying a reasonable work-life balance well suited to busy women who successfully juggle both home and career.
What To Expect
Eloquent keynote speakers

Presentations/demos by female students in data science

The opportunity to network with the local data science community and leadership

Join over 75,000 participants globally advancing data science and empowering women in the field
The Agenda*
09.30: On arrival: Tea/Coffee/Water/Juice/Croissants & Jam/Luxury Danish – in Room RB2.02
10.00: Welcome to WiDS 2018 by Lab Co-Directors: Martin Gollogly & David Starkey
10.15: Presentation 1: Cathy Ward: 'Data Science in a SAP Leonardo Framework' (30 minutes)
10.45: Presentation 2: Meghan McCarthy: 'Opportunities in Data Science' (30 minutes)
11.15: Presentation 3: Dr. Jana Ries: 'Using Fuzzy Logic/IoT to Optimise Container Transportation (30 minutes)
11.45: Buffet Lunch & Networking (50 minutes) (RB2.02)
12.35: Short Video: Data Science at Portsmouth (TEAL Studio One) (5 minutes)
12.40: Presentation 4: PhD Student Ms. Christina Diedhiou: 'Big Data Recommender System' (15 minutes)
12.55 Presentation 5: PhD Student Ms. Alaa Mohasseb: 'Text Mining' (15 minutes)
13:10: Design Thinking Workshop: Martin Gollogly - 'Women in Data Science' (~2 hours)
15.10: Event Closes
The buffet lunch and refreshments will be located in Room RB2.02, close to TEAL Studio One. Both rooms are on the second floor of Richmond Building.
* Talk titles subject to change
The Venue
The Event will be run in TEAL Studio One, Floor 2 of the Richmond Building, in rooms RB2.08 and RB2.09.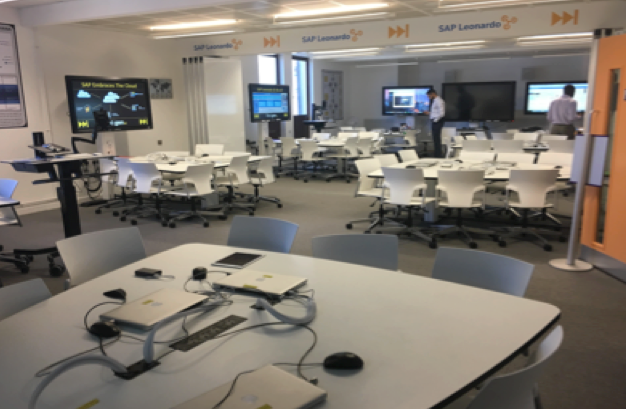 The TEAL Studio is designed to allow design thinking to be undertaken at tables where teams of students have access to laptops, and can synthesise an analysis onto the larger table screen. The image from that screen can be re-directed around the room to highlight it to the rest of the class.
WiDS Globally
To learn more about global events happening during 2018, and what came before, please follow this link:
http://www.widsconference.org/
Booking
To book a place at WiDS 2018, please click 'Register', and enter your name to secure a single ticket.
Keynote Speaker Profiles
Meghan McCarthy
Responsible for the Strategic Aligment between Sales Leadership in EMEA/MEE and the SAP Academy Graduate Lifecycle - from recruiting and role placmement, the Academy Program and transition to the Field through year 3 of their tenure at SAP. Responsible for working with Regional Stakeholders to drive AG results and retention, ensuring business-aligned KPIs are in place.
Cathy Ward
Leads digital transformation services to drive customer value engagements at scale enabling innovation to deliver high performance and sustainable business growth. Responsible for the set-up and build of SAP Leonardo Services driving a tight interlock with our customers, sales, development and delivery teams as well as extending scale via SAP's Digital Ecosystem. SAP is uniquely positioned to help its customers digitally transform their businesses linking their past, present and future, and SAP Leonardo Services help to guide them to make the best choices to consume edge technologies for maximum business impact.
Dr. Jana Ries
After completing her Phd at the Department of Mathematics (University of Portsmouth), Dr. Ries has been a post-doctoral researcher on two EU-funded projects under the 7th Framework Programme: LOGMAN (www.logman-footprint.eu) and SEABILLA (www.seabilla.eu). Since 2011, she has been lecturing at Portsmouth Business School. Her main research interests are in algorithmic design for combinatorial optimisation problems with a particular interest in transport logistics and the use of fuzzy logic to deal with uncertain environments in real-time optimisation. She has worked with industry in the defence and maritime logistics sector, including in the area of container port traffic flow optimisation.
Christina Diedhiou
Christina is a Researcher in Big Data and Data Mining at the University of Portsmouth. She has Microsoft Excel, C++, Oracle database and Visual Studio skills.
Alaa Mohasseb
Alaa is a Researcher in Text Analytics at the University of Portsmouth. She is also a Teaching Assitant at the University, in the School of Computing. She won £100 for her research on classifying text using a lexicon-grammar approach, which is about helping people find relevant information when using search engines like Google and Yahoo. Alaa won the award at the Research Spotlight competition at the London Hopper Colloquium 2017, a one-day event featuring women speakers talking about their research and opportunities to network with other new researchers in computing.
The SAP Next-Gen Innovation Lab
The Co-Directors of the SAP Next-Gen Innovation Lab include Martin Gollogly and David Starkey, who will introduce the conference.
Martin Gollogly
Director, SAP Next-Gen: An Innovation Community for SAP Leonardo, UK and Ireland
David Starkey:
Senior Lecturer in Business Systems & Analytics, Operations & Systems Management, Faculty of Busienss & Law.
SAP Leonardo
SAP Leonardo brings together deep process and industry expertise, advanced design thinking methodology and cutting edge software capabilities such as IoT, Big Data, Machine Learning, Analytics, and Blockchain. SAP Leonardo is about orchestrating these disruptive capabilities to create completely new ways of working and new business models. The San Francisco 49ers are among many others that adopted SAP Leonardo solutions in the fourth quarter to redefine their businesses and become intelligent enterprises.
https://www.sap.com/uk/products/leonardo.htmlSAP Leonardo Services
SAP Leonardo Services
https://www.sap.com/uk/services/leonardo-innovation.html#pdf-asset=48c7efe8-d67c-0010-82c7-eda71af511fa&page=1
The 'She Innovates' Podcast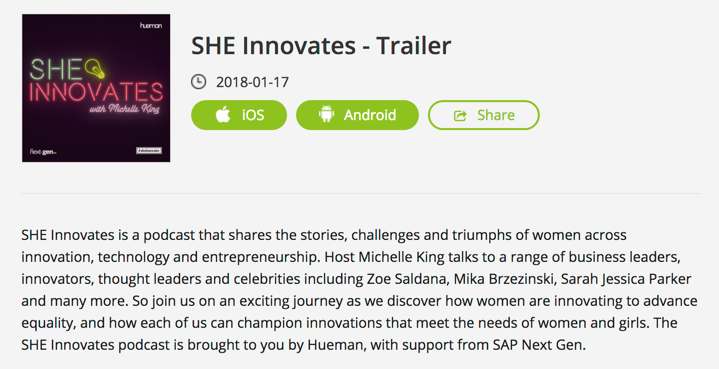 The podcast #sheinnovates can be followed on iOS or Android:
https://www.podbean.com/media/share/pb-63rfx-83c46f
'She Innovates' on Twitter
To learn more about the presenter of 'She Innovates' Michelle King, follow this link: