Description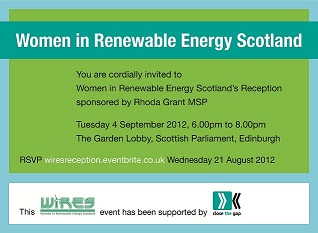 Women in Renewable Energy Scotland's (WiRES) reception aims to celebrate the contribution women can make to the economic growth of the renewable energy sector in Scotland. It will be held in the Garden Lobby of the Scottish Parliament on Tuesday 4 September 6.00pm-8.00pm (registration is open from 5.30pm).
This event is being sponsored by Rhoda Grant MSP.
This event will primarily bring together women working in renewable energy industries and those interested in working in the sector. This will be an informative and stimulating evening with an opportunity to find out about developments within renewable energy industries over some light refreshments.
We will be hearing from John Swinney, Cabinet Secretary for Finance and Sustainable Growth who will be discussing the importance of the renewable energy sector to the sustainable economic growth of Scotland. Our other confirmed speakers include Rajini Sokhi, a co-founder of WiRES and Renewables Manager at Active Sustainable Energy Systems and Morag Watson, Senior Education Officer from WWF Scotland. Together they will be discussing developments and opportunities within the renewable energy sector, including reflecting on their own experiences of working in the sector.
Please RSVP by clicking the registration button above by 21 August 2012.
We look forward to welcoming you the reception.
Best wishes
WiRES
Prior to attending the event please contact Suzanne Motherwell, Close the Gap, on 0141 337 8139 if you have any specific access requirements or if you require personal assistance in the event of an evacuation.