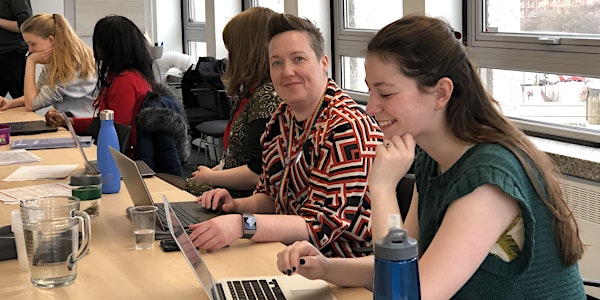 Women in Sport event - adding inspiring women missing from Wikipedia
Join us to celebrate the lives & contributions of all the incredible women missing from Wikipedia!
About this event
Women in Sport - a Wikipedia editathon celebrating the lives and contributions of all the inspiring sportswomen of Scotland (and beyond) missing from the world's go-to site for information.
Wikipedia is the 5th most visited website in the world but lacks diversity in its editors and its articles. This event will focus on improving the representation of women in sport.
Participants will learn how to edit Wikipedia pages during an online webinar and will be supported over the week to help create new pages for notable individuals who are not currently on Wikipedia and/or help improve already existing Wikipedia pages.
No prior knowledge required as training will be provided for those with no Wikipedia editing experience.
You'll learn a new digital skill in a social & supportive setting and meet like-minded event participants all passionate about improving representation online to help close the gender gap for the benefit of millions of readers all around the world.
Online training webinar on Monday 1st June 2020 will begin at 1pm.
Please login at 12.45pm on Mon 1 June at this link: https://bit.ly/1JuneWIR
NB: This session will be recorded if you cannot attend so you are very welcome to take part when you can during this week.
12:45 pm - 1:00pm: Housekeeping and introduce yourself.
1:00 pm - 1:15 pm: Welcome from Laura Rose Wood and discussion of Wikipedia pages we can look to create during the event.
1:15 pm – 2:30 pm: Wikipedia training from Ewan McAndrew.
2:30 pm - 3:00pm: Q&A and begin practising editing.
The webinar will go offline at 3pm to allow you to research and edit your chosen article to create. Laura and Ewan will be available for questions during this time and then:
5:00 pm - 5:30 pm: Laura and Ewan will come back on the webinar to assist participants to PUBLISH their articles on Wikipedia.
5:30 pm - 5:45 pm: Event close.
EDIT the article and contact @emcandre on Twitter or ewan.mcandrew@ed.ac.uk for help. Questions can also be posted on the Facebook event page.
AIM TO PUBLISH the article by 5-6pm on Monday 1st June 2020 if you can.
Laura and Ewan will be available to support any editing efforts over the course of the week with a view to publishing all new articles by 5pm on Friday 5th June.
Join us as we help make Wikipedia better!
Then you can check how long it takes for it to appear in Google's top ten results!
Have a look at the event page to see if there are pages you would like to help edit/create and if you fancy learning more about Wikipedia ahead of time then you can view the Wiki Basics site.