Women in Sustainable Construction and Property Social
Description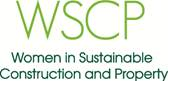 This event is a sociable evening event - this is a donation based event for those happy to support WSCP.
Women in Sustainable Construction & Property would love to have you join them for an evening of discussion and connectivity!
- Build networks and develop new contacts
- Discuss environmental, diversity or built environment issues
- Support a growing social enterprise which has been established since 2012
- We woud appreciate any small donation to support us!
Contact : Emma Nicholson : efn121@yahoo.co.uk on 07403 361584