Alpana Sengupta will perform her newly created piece called "LOVE" based on the poetry of Rabindranath Tagore.
About this event
ALPANA SENGUPTA
Alpana Sengupta is a brilliant specialist of the vivid and mesmerizing Kathak Style of Indian Classical Dance. She has been awarded MBE for her contribution to education & choreography in South Asian Dance Field.
Alpana has been a leading pioneer in raising the awareness of Indian Dance throughout Britain for 42 years. Kathak is arguably the most exhilarating and accessible of Indian Classical Dance Forms. The evening's programme will be presented by Alpana Sengupta Dance Company accompanied by live music.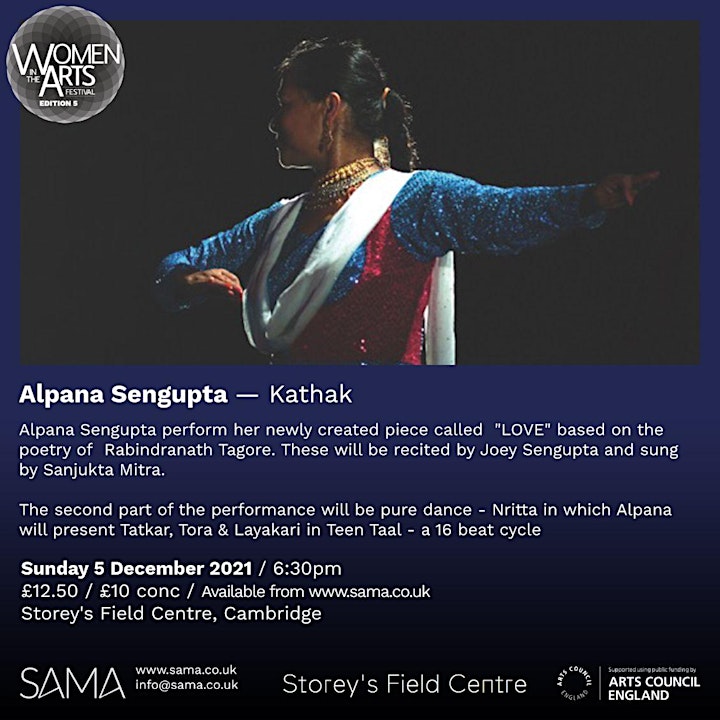 Organiser of WOMEN IN THE ARTS FESTIVAL -EDITION 5: ALPANA SENGUPTA - KATHAK
Sama Arts Network is one of the UK's oldest and most influential arts organisations in the genre of traditional and contemporary South Asian arts, Orchestral, Jazz and World Music. Since 1977, Sama and its associate bodies have together presented more than 1,250 events with acclaimed artists from around the world. Current Work in progress: Archiving: 1,250 events, 3,000 artists 150 venues 400 albums 3,500 hours of music and film footage covering 40 years of work from 1977 – 2016 to coincide with A new Website, a book and a documentary.
www.sama.co.uk
info@sama.co.uk