Description
Join the Traveltech Lab and Women in Travel CIC for a dynamic and intimate mentoring event which will allow for a small group of women within the travel industry to come together with questions and/or challenges they would like our three experienced female entrepreneurs to address. This event is certainly one not to be missed!
The session will be led by Alessandra Alonso, Founder of social enterprise Women in Travel CIC whose mission is to empower women by leveraging a thriving travel and tourism industry and will cover a variety of topics facing female entrepreneurs & share some personal experiences, practical tips & insight.
Event Agenda:
8:45 - 9:00: Welcome / Registration
9:00 - 9:30: Panel Discussion
9:30 - 9:45: Q&A
9:45 - 10:45: Intimate mentoring groups

10:45 - 11:00: General Networking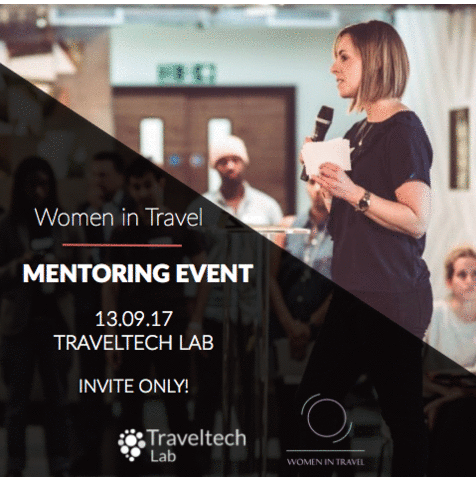 Meet our Mentors:
Eulanda is the co-founder of Hey! Dip Your Toes In (HDYTI); a platform which promotes creative digital content with a focus on global travel and food culture. In the last calendar year alone, she has worked with over 45 leading brands including IBM Chef Watson, OgilvyOne, P&O Cruises, Urban Adventures, and Global Food Tourism Conference.
Using her skills in writing, photography, branding and
management consulting, she has helped travel & food
culture brands around the world to create compelling
digital content that has improved their marketing
strategies and visibility within their niche areas.
Her authoritative voice on global travel, food tourism, and influencer marketing has led her to be sought out as a guest speaker at events around the world. Upcoming engagements include being keynote speakers at the 2017 Global Food Tourism Conference in Montreal.
Debbie has
a thirty-year career in the travel industry, initially heading up the chalet operation for Crystal Holidays in the Alps in the 1980s, then Product Director, ultimately taking over as Managing Director for Crystal Holidays and Thomson Ski. From 2004, she spent seven years leading the luxury specialist CV Villas from private to corporate ownership and was involved with the acquisition of other specialist businesses including Ski Verbier.
In 2011 Debbie created and launched
Silver Travel Advisor
, the award-winning unique travel review, information and advice website for mature travellers aged 50+. Her team of staff are aged from 55 to 80 years, several of whom are officially retired! The membership base now stands at over 70,000, and the company works with Age UK to provide the travel and leisure content for their website. She is passionate about helping older people to enjoy later life, and the ethos of the company is that age and mobility should not be a barrier to travel.Silver Travel Advisor has a forum, printed Silver Traveller magazine, a training & research division, and a weekly Silver Travel radio show.
In 2015, The Silver Travel Awards were launched, now an annual event which celebrates the best in travel for the over 50s.Debbie is an industry spokesperson for the silver travel sector at various industry events, such as the ABTA convention, the Adventure Travel Show and the Barclays Travel Forum.
She has been inaugurated into the '60 for 60' influential women list at the Association of Women Travel Executives and
holds two non-executive director roles with The Thinking Traveller and Bailey Robinson / Real Holidays.
Managing Director, Founder and owner of
DiamondAir International Ltd
. and Sky Diamond Ltd. (part of Diamond Selection Group Holdings Ltd.) for the past 22 years, Christina has immense experience in premium passenger handling at International airports globally. Innovation and passion are paramount especially when it comes to achieving and maintaining the highest service delivery standards in the industry on behalf of many prestigious Airlines, Airports, Travel Companies and Global Brands.
From just 18 years of age, Christina has developed the company into a global, multi million-dollar business and has created an unsurpassed business model that manages an international network operating in over 500 airports and train stations globally. Her key responsibilities are business development, strategic planning, partnership alliances and product development, innovations within international airports.
Sky Diamond has been trading since 1994 providing support to UK tour operators by assisting their holiday passengers on arrival and departure. Christina started to win many contracts with consolidators, holiday companies and tour operators providing representation at UK airports.Whilst running Sky Diamond, Christina began to recognise that there was a need for a VIP meet and assist service at London Heathrow on commercial airlines. Christina began to look after the music and entertainment industry on arrival and departure, this business started to grow substantially. 2001 saw the separation of the VIP Meet and Assist business from Sky Diamond and DiamondAir International was conceived.
SPACE IS LIMITED TO 24!
PLEASE NOTE, THIS EVENT IS INVITE ONLY! Email traveltechlab@thetrampery.com for more details.