An exciting day of impactful workshops, panel discussion and networking opportunities
About this event
Women Incorporated: OneTech's International Women's Day Event
OneTech would love for you to join our annual International Women's Day event created especially to support entrepreneurial women in their journey to developing their digitally-enabled startup. This is a great opportunity to be inspired, network and gain support from industry professionals. Hear the stories and experiences of underrepresented founders who have conquered barriers and built businesses of their dreams!
Today, less than 1% of UK venture funding is awarded to all female-founded teams, with the statistics even lower for founders from diverse backgrounds. As an organisation committed to further empowering women, we believe female founders and their innovative ideas deserve more recognition, support and investment. Though there is so much progress to be made, we deserve to celebrate how far we have come and build a better future together. And, that's the goal of Women Incorporated.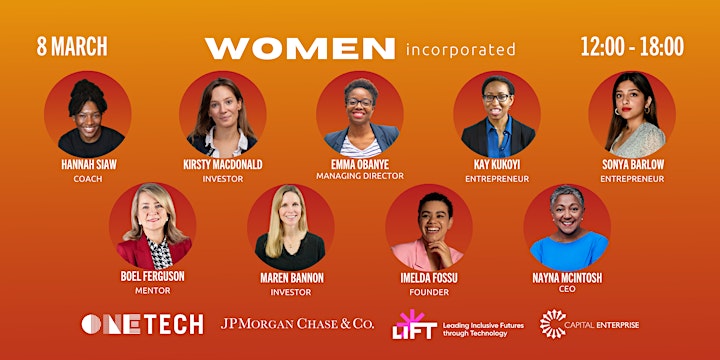 The Line-up :
⚡️ Emma Obanye, Entrepreneur + Managing Director of OneTech
⚡️ Imelda Fossu, Entrepreneur + Founder of @dripdropagency
⚡️ Kay Kukoyi, Founder of Purposeful Group + Author
⚡️ Hannah Siaw, Coach + Communicator
⚡️ Maren Bannon, Investor at January Ventures
⚡️ Sonya Barlow, Founder of @lmfnetwork + Author
⚡️ Kirsty MacDonald, Investor at Jam Jar Investments
⚡️ Jeevan Sunner, Investor at Playfair Capital
⚡️ Nayna McIntosh, Founder of Hope Fashion
⚡️ Boel Fergusson, Advisor + Mentor
The Schedule:
If you can't make it for the full event, Airmeet allows you to drop in for the time and area of interest that suits you best! The day schedule is below:
12:00 - 12:30 Welcome and Introductions from the OneTech Team
12:30 - 13:30 Mindset Presentation "Mind and Your Business"
13:30 - 14:30 3 Pitches (10-minute pitches, 5-minute Feedback)
14:30 - 14:45 Break
14:45 - 15:35 Panel Discussion / Debate 'Can Women Have It All?' featuring Imelda Fossu, Nayna McIntosh, Sonya Barlow and Kay Kukoyi
15:35 - 16:00 Break
16:00- 18:00 Drop-in Office Hours with Investors & Advisors
So, What to expect from our mini virtual festival?
We will be joined by Hannah T Siaw to begin our event off with an entrepreneurial mindset workshop. This will set the foundations for our event as Hannah will be giving you a better idea of how to tackle common challenges and tools to take away to thrive in your respective fields.
Following on from this we will hear three pitches from three incredible founders, with feedback from our amazing investors Maren Bannon from January Investors and Kirsty Macdonald from JamJar Investments on how to best improve their pitches.
At 2:45 pm, we have a panel discussion hosted by Imelda Fossu with three founders on their perspective on what it means for Women to Have it All in 2022? Kay Kukoyi, Nayna McIntosh and Sonya Barlow will discuss their views on what it's like to balance life, business and relationships as a modern woman.
Finally, from 4 pm onwards, our office hours will be open with our virtual socialising tables!
Each investor and advisor will have their own table open for drop-ins where you will have the opportunity to ask any burning questions directly in a casual setting.
Location:
This event will take place virtually on the platform Airmeet. A link will be sent to you prior to the event.
Partners:
Thank you to our incredible funders and partners JPM Chase and LIFT.
Want to Pitch at our event or future events? Sign up below: