Description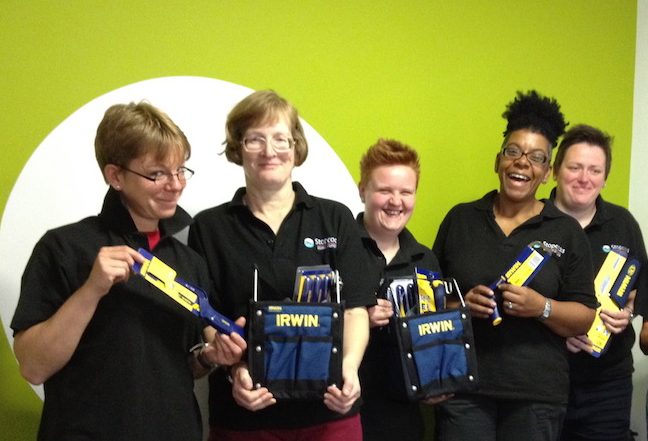 After almost 30 years in the industry, Hattie Hasan has decided it's time to celebrate those women who are making it and succeeding, and is spearheading the first ever Women Installers Together conference.
Since 1990, numbers of women in the industry have hardly changed, remaining at less than 7% of those working in this sector. In fact, women make up just 1% of all plumbing installers and just 1 in 300 gas engineers. And yet, those women who have broken in to construction are providing top class technical standards and backing this up with excellent customer service. So, this yearly event will celebrate their skills, staying power and achievements.
What's it all about?
The day will provide great speakers who will enhance the skills and resilience of those attending the first ever national event for women in the construction industry. There will also be informal networking and a 'Meet the Manufacturers' segment, where our delegates can meet the sponsors of the event and find out more about their products and why they've joined this collaboration.
So why should I attend?
Attendees of this event will:

- Meet key manufacturers in the plumbing and heating industry
- Expand your knowledge of existing and new products in your industry
- Learn about training and development opportunities available from manufacturers
- Build strong peer support networks with other women working in the industry
- Find new motivation and inspiration from the day's speakers
- Gain new skills, including:
* Recognising potential conflict situations
* Finding your own conflict management style
* Becoming more comfortable in conflict situations and finding the positive outcomes
* Understanding the power of a strong brand
* Gaining the tools for identifying and developing your own personal brand
---


ITINERARY
Continental breakfast served from 9.30am
Morning (10am -12.45pm)
Welcome
SKILLS | Conflict Management Session
This course is designed to enable you to effectively manage conflict situations in the workplace.
Course Content:
- What is conflict? What does it mean, is conflict always negative?
- Understanding and identifying different confrontational styles
- Exploring conflict management techniques and what will work best for you
- Seeing things differently and challenging perceptions
Comfort Break
INSPIRATION | Special Guest Speaker - Resilience
Lunch 12.45pm - 1.30pm
Afternoon (1.30pm - 4pm)
SKILLS | SLG Marketing - The Power of the Brand
INSPIRATION | Hattie Hasan - Making it in a Man's World
NETWORKS | Meet the Makers and informal networking
An opportunity for delegates to meet the sponsors, examine and discuss the products plus networking with fellow women installers to discuss common issues and find solutions.
---


Giveaways
Goody bags

Raffle 1st prize is a weekend in a luxury cabin fitted with Polypipe Underfloor Heating and complete with hot tub. For more information on the cabin, click here.

Spot raffle giveaways including signed copies of The Joy of Plumbing by Hattie Hasan