Description

This is an exclusive, invitation only event for top female CEOs, leaders and influencers led by world class practitioners, and is the first experience ever designed to blend business, leadership, yoga and personal transformation

This is a retreat style event that involves six days of deep personal transformation at the beautiful Lumeria in Maui. You will learn how to be a more inspiring leader, magnify your impact and apply global best practice gained from top global CEOs.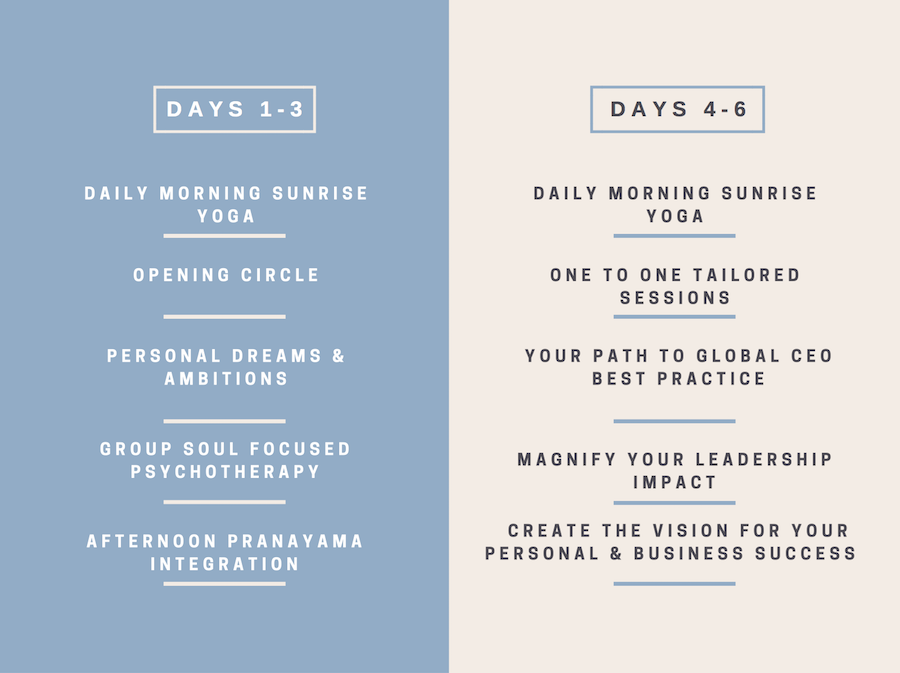 You will have the opportunity to connect to a peer group of highly influencial entrepreneurs and women from Google, CCTV, Intel and other top European and Chinese companies. Together you will go deep and you will unite to bring true femminine leadership to the global corporate and political world.
The event will be hosted by event organizer Ana Marinovic along with three other world class practitioners who come together for the first time to deliver a truly unique and transformational experience.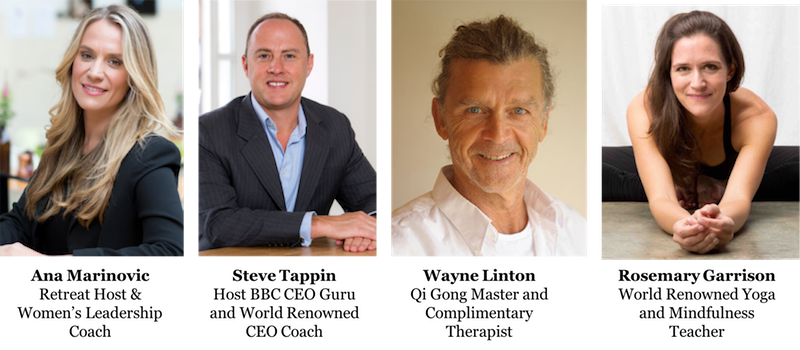 Be part of a first time ever experience for women unlike anything ever done before. To access these practitioners would be in individual excess of $50,000. This event provides access to all four world class practitioners and them working together to provide an integrated and transformational experience for you and for the collective women's agenda.
Places are strictly limited and will sell fast. Early bird discount applies up until December 18, 2016.
For more information read our FAQ's or contact the organiser below.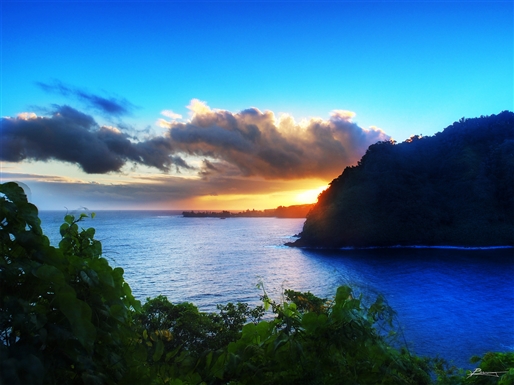 FAQs
Where can I contact the organizer with any questions?
If you scroll below you can contact the organizer directly with any questions.
Can I make a deposit and pay in full later?
Yes you can pay a non- refundable 20% deposit to secure your place at the event. Simply click on "tickets" and then register for the event. At the "purchase tickets" section click on "other payment options" and "send invoice". You will be emailed an invoice that includes a first instalment of 20%.
What is the cancellation policy?
In the event of a cancellation, you will be charged 20% of the total ticket cost.
What does my ticket cost cover?
Cost covers all accommodation, meals and tuition for the 6 days.
What type of accommodation and meals is it?
All attendees will stay at Lumeria Maui which is world renowned for this type of retreat. You can visit the site for more information and learn more about the healthy meals included.
Accommodation is double or single. We highly recommend you register for a double as sharing is part of the experience.
Where will daily yoga and group work be held?
All yoga and other group work will be held on the grounds of Lumeria. A full agenda will be provided closer to February 2017.
What do I need to bring with me?
You will be given a list of what to bring closer to February 2017.
What about transportation?
A logistical overview will be provided closer to February 2017 which will include getting to and from Lumeria.
What is expected of me at the event?
This type of event is for women willing to explore themselves at a deeper emotional level and who want to make a transformational personal change.
The most important thing is to bring yourself prepared and ready for a transformational experience.
The event can be personally challenging and will require a willingness to share openly to a group of other like- minded women.
Our highly skilled practitioners will ensure a safe environment is created over the course of the week.
Why are there male leaders at a women's retreat?
We are creating an experience that is aligned to the real world of business and believe women must learn to open up and express themselves authentically in front of both men and women. Male retreat leaders will help to assimilate this.
Does it matter that I have never done yoga before?
It matters not if you have never done yoga before. All levels of experience will be accommodated.