WOMEN ON SOFAS AN EXHIBITION BY PHOTOGRAPHER RUBY STEELE
About this Event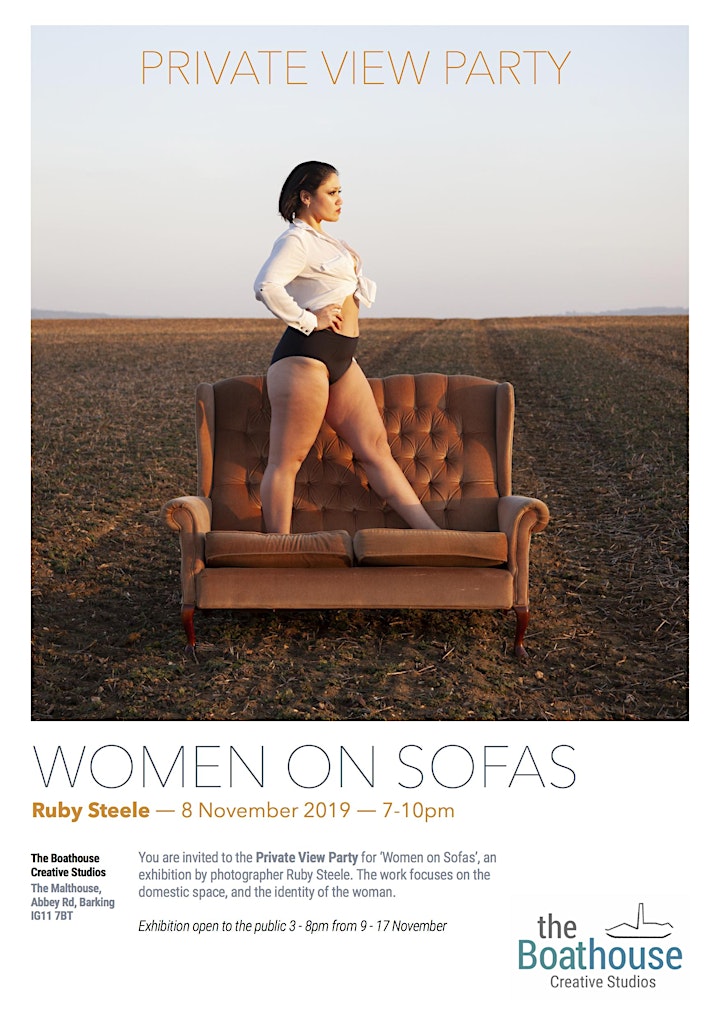 I was driven to create this series of portraits 'Women on Sofas' by an innate curiosity about the spaces women occupy in contemporary western society. The women I have photographed come from diverse backgrounds and cultures and span eight decades. The exhibition explores how we experience ourselves in the domestic and public arenas, whilst celebrating our diversity and power in unexpected ways. It looks at the pride and pleasure we take in our strength and resilience, and in challenging society's expectations of us. In spite of growing freedoms in many areas of society over the past century, the domestic space often remains seen as women's terrain. It has been compelling to observe this space, disrupt it and take it beyond its 'natural' limits, all whilst exploring our emotional response to it.
The sofa is more than a domestic object; it is imbued with symbolism and a rich history. It holds a familiarity and is an invitation for togetherness. These photographs bring that intimate space into the outside world and ask us to reconsider what it means to get comfortable, and feel safe.
'Women on Sofas' says 'I am in the world, I've made a surprising home here, and now I'd like to welcome you in.'
Ruby Steele, October 2019
Ruby is a London based photographer. She graduated with a BA in Photography from London College of Communication in 2018. Since graduating she was awarded the Michael Wilson Photography Prize and shortlisted for the British Photography Portrait Awards. Her previous work 'Divine Light' was exhibited in GX Gallery, South London as well as The Millepiani Space Photography Show in Rome, Italy and The Auction Collective, North London.
Ruby's work is available for purchase. Please contact her at: https://www.rubysteele.co.uk/ rubysteele@hotmail.co.uk(+44) 7591 190227
The Boathouse Creative Studios is delighted to support and sponsor Ruby Steele's first solo exhibition 'Women on Sofas'. We are committed to promoting emerging artists, who are encouraged to explore and share the power of their work with a wider audience. Barking has a long and rich history of powerful women from St Ethelburga the first Abbess of Barking Abbey, to the women machinists at Ford who went on strike to fight for equal pay in 1968. The arrival of the East End Women's Museum in Barking will actively celebrate the lives of women, many of whom have hitherto been obscured in history. https://eastendwomensmuseum.org/