Women Returners Conference 2016
Mon 14 November 2016, 09:00 – 17:30 GMT
Description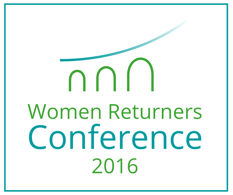 Are you a woman with a professional/managerial background wanting to return to work after an extended career break?
Would you like to use your professional skills in a rewarding role?
Back to Your Future
Join Women Returners for a day of inspiration, advice and support, specifically designed for you. Alongside a range of workshops, panels and speaker sessions, you will have the opportunity to meet informally with a like-minded peer group and returner employers. The Conference is hosted by the ICAEW, sponsored by Credit Suisse, Skanska, PwC, O2, Fidelity International and The Cabinet Office, and supported by the 30% Club. The content will be relevant to you whether your background is finance, law, tech, engineering, marketing, retail or any other professional area.
---
What will you gain from the Conference?
Hear from our speakers Jane Garvey, Presenter of Woman's Hour, Brenda Trenowden, Global Chair of 30% Club and Julianne Miles, Co-Founder & MD of Women Returners
Be inspired by personal stories of women who have returned to work through a variety of routes including returnships, direct hire and self-employment
Participate in two return-to-work workshops for advice and support 
Learn the employer perspective on returners from the ICAEW returnship employer panel
Benefit from networking time to:
Meet a peer group of like-minded women

Meet representatives from corporate sponsor organisations: PwC, O2, Skanska, Credit Suisse and The Cabinet Office

Receive a 20 minute individual coaching session (Full - waitlist on request)

Participate in a 15 minute 'Bridge your IT gap' group session (FULL - waitlist on request)

Receive a free headshot photo for your LinkedIn profile
---
Who should attend?
The event is targeted at women with a professional/managerial background who have taken an extended career break (1-15+ years) for childcare or other reasons and who now want to get back into the workforce using their professional skills and experience. You may have been working on a small-scale basis to fit around your other commitments or have not done any paid work for a number of years. You could have experience in any sector; the content will be relevant whether you're returning to finance, law, tech, engineering, marketing, retail or any other professional area.
The Conference is not targeted at employers, recruitment agencies or coaches. If you are an employer who would like to find out about sponsorship options please contact Julianne at info@womenreturners.com.
---
What is the timing?
The Conference will start with coffee and pastries at 9.00am.
Lunch is provided.
The Conference Programme will end at 4.30pm with networking time until 5.30pm.
Note: Individual coaching and Bridge your IT Gap sessions may be scheduled in the 4.30-5.30pm slot.
---
How can I get more information?
For further details visit the Women Returners Conference 2016 webpage. 
If you have any questions about the conference email Donna at info@womenreturners.com
---
FAQs 
Can I update my registration information?
If you would like to update your registration information, please contact info@womenreturners.com
What is the refund policy?
Full refunds will be provided up to 26th October 2016. No refunds after this date.
---