Description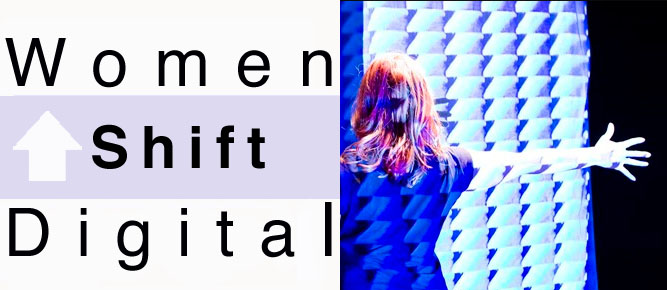 Women Shift Digital is a conference for women and men, designed to celebrate women in digital careers, network the networks and influence the influencers. It is a day to reflect collectively on the positive impacts women are making with digital-led careers as creatives, managers and executives in creative industries, education, business, design, STEM, skills development and the arts.
This special gathering will feature inspiring keynote speakers and panelists, demonstrations and debates from leaders and movers in micro-enterprises to SMEs, institutions to companies
We are inviting women and men, active talents in the digital sector to join us on the day, ready to input, share ideas, make new partners and move forward together.
This is the right point in time to recognise and celebrate the greater benefits gender balance is bringing to the digital and tech marketplace in terms of creativity, user design and economic added value.
Underusing the talent, skills, visions and knowledge offered by women is no longer an option - we need to work together, women and men, to design our future.
Start following the debate now #womenshiftdigital
SPEAKERS BIOGRAPHIES read

here
WATCH THE LIVE STREAM

here
A conference to:
Celebrate women in digital careers for the 21st century

Promote and share good practices

Network the networks

Influence the influencers

Recognise the positive benefits of equal yet diverse teams at all levels of creation and production


Programme:
Tuesday 26th November 2013

10.00 Welcome / Introductions
Lead Moderator Ghislaine Boddington - Co-founder and Creative Director, body>data>space with
Claire Cockerton - Head of Innovation Programmes, Level 39
10.20 - Opening Keynote
Chi Onwurah - Newcastle upon Tyne Central MP, currently Shadow Cabinet Office Minister and former Shadow Minister for Innovation, Science & Digital Infrastructure
10.40 - In Conversation - Setting the scene
Ghislaine Boddington - Co-founder and Creative Director, body>data>space
with
Janet Thomas - Vice President, Women in Banking and Finance
11.00 Opening Reflections - Professionals share their expertise
Paola Cuneo - Programme Director, Sirius Programme, UKTI
Will Harvey - Creative Technologist, Ogilvy Lab
Audrey Mandela- Co-founder, Multimap / Chair & Acting COO, Informilo / Independent Consultant
Dr. Mitra Memarzia - Artist and Digital Consultant / IC tomorrow
A collective reflection on the positive impacts women are making in digital-led careers. Represented in this conference today are creatives, managers and executives, working with the digital in education, creative industries, business, design, STEM, skills development and the arts. Here we have upfront inputs on the present scenario from experienced leaders and professionals working across the technology sector, with a debate on how to increase the essential involvement of women in the digital future world of work.
12.00 - Input
Damian Collins - Conservative MP for Folkestone and Hythe and Chairman of CACIN 'Conservative Arts and Creative Industries Network'
12.15 - Women Making it Happen - Role models for us all
Chair - Kate Russell- Technology Reporter and Author, BBC Click /Working the Cloud
with
Rachel Coldicutt - Director, Caper / Articulate
Magdalena Krön - Co-organiser, GeekGirl Meetup UK / Community and Operations Manager, Capital List
Roberta Lucca - Co-founder, CMO and Board Member, Bossa Studios
Sarah Platt - Managing Director and Co-founder, Kinura / Sayansho
What's the reality out there? A set of successful female founders and SME experts talk about their start-up impetus, their life pathways and business methodologies. How and why did they start their work in the technology sector? What were the ups and downs of their routes through digital enterprise zones, finance packages, network mania and pitching environments? Did their gender hinder or help them to move forward? What do they see as the potential barriers and triumphs for the next generation of women entering the digital workplace?
14.15 - Keynote
Anne-Marie Imafidon - Head, Stemettes
14.30 - 16.00 Breakout Groups

Design Futures / STEAM skills - Creativity in the mix
Chair - Ruth Catlow - Artist, Co-founder and Co-director, Furtherfield & Head of Writtle School of Design
with
Alexandra Deschamps-Sonsino - Founder, Good Night Lamp
Emilie Giles and Becky Stewart - Producer / Founder, Codasign
Paula Graham - Director, Fossbox
Sinead Mac Manus - CEO and Co-founder, Fluency
How can we encourage more girls to take up STEM skills (Science, Technology, Engineering, Maths) at school and university? How can we ensure women's involvement in the base of design conception right through to product release, thus enabling balanced end user fulfillment? What can the arts and design sector deliver into this interdisciplinary context through a STEAM led strategy i.e. adding the A for Arts/Design into the mix)? Would this help more girls and women to gain the skills needed to join the digital knowledge pool?

The Added Value/s of Gender Balance
Chair - Haidee Bell - Innovation Programmes Lead, Nesta
with
Michael DaCosta Babb - Management Consultant
Dinis Guarda - CEO and Founder, IntelligentHQ
Anjali Ramachandran - Head of Innovation, PHD UK
Evelyn Wilson - Director, The Culture Capital Exchange & Head of Knowledge Exchange Programmes, Creativeworks London

What are the key values that a gender balanced workforce bring to any company or organisation? Added economic value and widening customer bases are showing as positive results in this debate, but how can this be truly encouraged at all levels from SMEs to board rooms? Can social purpose enterprises facilitate women to engage in the digital sector through solution-based approaches? Can economic value and social impact values be equally encompassed? How can we enable a balance between professional and personal life to flourish?
What should men do?
Chair - Colin Hicks - Advisor
with
Richard Adams - Senior Academic Program Manager EMEA, Microsoft Studios
Ron Edwards - Head of Virtual Learning, QA
Christoph Jankowski - Expert on EU and European Programmes
Derek Richards - Chief Executive, Hi8us South
Many men are fully supportive and understanding of the long-term problems for women in the workplace overall. However, the sexism facing women entering technological jobs today is undeniably present. How do men take up the challenge to influence younger generations by disabling the outdated gender reactions from their colleagues and within their teams? Can the 'unconscious bias' debate be shifted into a conscious zone through men speaking out, writing and blogging more strongly about their own experiences and solutions for dealing with these issues?
16.30 - 17.15 - Breakout Group Feedback and Summaries

17.15 - Final Keynote
Dr Sue Black - Founder and CEO, Savvify

17.45 Showcases and Networking
Showcases
body>data>space
Codasign
Anna Dumitriu
Furtherfield
Dr. Maria Mencía
Young Rewired State
Stemettes

18.30 - 20.30 Reception
Run by experts
Produced and curated by body>data>space www.bodydataspace.net
Hosted and supported by Level39 / Canary Wharf http://level39.co
Streaming Partner: Kinura
Media Partner: The Huffington Post UK
Partners
UK Trade & Investment
QA
Canary Wharf Arts and Events
IntelligentHQ
Supported by

Taylor Wessing LLP
SMartEU
Creative Guild
Hai Media Group
Middlesex University,
Brunel University
'Women Shift Digital' emerges from our 'Robots and Avatars' EU project, initiated in the UK in 2009 with key partner NESTA. As a female led interdisciplinary design collective, body>data>space and its Creative Director Ghislaine Boddington are recognised as international long term figures involved in the women in digital debates and networks. Read more here about this work: http://www.bodydataspace.net/what-we-do/women-in-technology/
Picture: Multiple Realities / Robots and Avatars at AltArt, 2011
Organizer of Women Shift Digital - A Conference to celebrate Women in Digital Careers
body>data>space is an East London design unit creating innovative connections between performance, architecture, virtual worlds and new media, placing the body at the centre of digital interaction. We produce collaborative R&D projects, events, consultancy, training and websites in the UK, Europe and internationally.

Standing at the forefront of the convergence between telepresence, motion capture, social medias and virtual worlds, we co-create collaborative share spaces and develop virtual/physical experience interaction for creative industries, arts and education sectors.
For further information please contact us:
E: interested@bodydataspace.net
www.bodydataspace.net