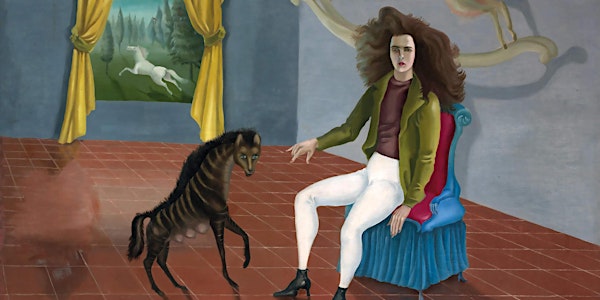 Women Surrealists with Professor Dawn Ades on Zoom
Refund policy
Refunds up to 1 day before event
Join Professor Dawn Ades to explore the paradoxical role of Surrealist women artists in a movement that both elevated and silenced them
About this event
Whitney Chadwick's pioneering study Women Artists and the Surrealist Movement (1985) transformed the position of the women associated with the movement. It was controversial – Dorothea Tanning and Leonor Fini both felt being singled out would perpetuate their 'exile', and Meret Oppenheim refused permission to reproduce any of her work in the book. They were not alone in questioning the legitimacy of separating their work from that of male surrealists, rejecting the implication that it was conditioned by their gender, and insisting that the creative spirit is androgynous. However, there is no doubt that since the publication of Chadwick's book artists like Leonora Carrington, Remedios Varo, Dora Maar, Frida Kahlo and Claude Cahun, all closely associated with Surrealism at some point in their lives, have become hugely popular and if anything more familiar than their male colleagues.
It's pleasing to see justice done, of course, but the question remains, why were the many women associated with the movement ignored or sidelined for so long? It used invariably to be the male faces that defined the movement. What might it have to do with one of the central paradoxes of Surrealism, that Woman was elevated as the muse and object of desire, given a central and revolutionary role in the aim of transforming the world, but women were often in practice denied a voice? What has the vastly increased visibility of women artists and their work in recent years added to our understanding of Surrealism? I propose to take a sideways look at the issues, and focus on some striking female alliances, and one instance of discord: the long friendship, shared ideas and occasional collaborations between Carrington and Varo; the union of the artist Alice Paalen (Rahon) and the poet Valentine Penrose; the joint work of Claude Cahun and Marcel Moore; and the curious and one-sided rivalry between Frida Kahlo and María Izquierdo. These will throw light on different ways in which women artists responded to, challenged or ignored the male surrealists' attitudes to Woman and women.
Dawn Ades is Professor Emerita of the History and Theory of Art at the University of Essex. She writes about Dada, Surrealism, photography, and women artists among other things, and has organised or co-curated many exhibitions, including Dada and Surrealism Reviewed (1978); Art in Latin America: the Modern Era 1820-1980 (1989); Dalí's Optical Illusions (2000); Salvador Dalí: the Centenary Exhibition (2004); Undercover Surrealism: Georges Bataille and Documents (2006); Close-Up: Proximity and Defamiliarisation in Art, Photography and Film (2008); and Dalí/Duchamp, (Royal Academy and the Dalí Museum 2017-18). Apart from the catalogues associated with these exhibitions, publications include Photomontage (1986), Marcel Duchamp (with N. Cox and D.Hopkins, 1999), A Dada Reader (2006) and Writings on Art and Anti-art (2015).