Description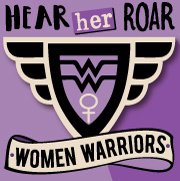 Workie Ticket Theatre Company invites you to a rehearsed reading of "Women Warriors" a new collection of short plays about female veterans.
Directed by Rosa Stourac McCreery. Written by Juliana Mensah, Sam Neale, Olivia Hannah, Rebecca Glendenning-Laycock and JoJo Kirtley.
This will be followed by a short Q & A with the Workie Ticket team, including founder JoJo Kirtley, co-director Lindsay Nicholson and Dr Alice Cree from Newcastle University.
This rehearsed reading is to help inform and shape a bold, new piece of theatre devised and inspired from workshops with female veterans, centred around their lived experiences.

With special thanks to the 'Salute Her' project at Forward Assist and ALL of the female veterans who have shared so much of themselves with us.

With gratitude to our funders: Greggs Foundation, Sir James Knott Trust, Hospital of God, Joicey Trust and to Newcastle University Social Justice Fund.