Description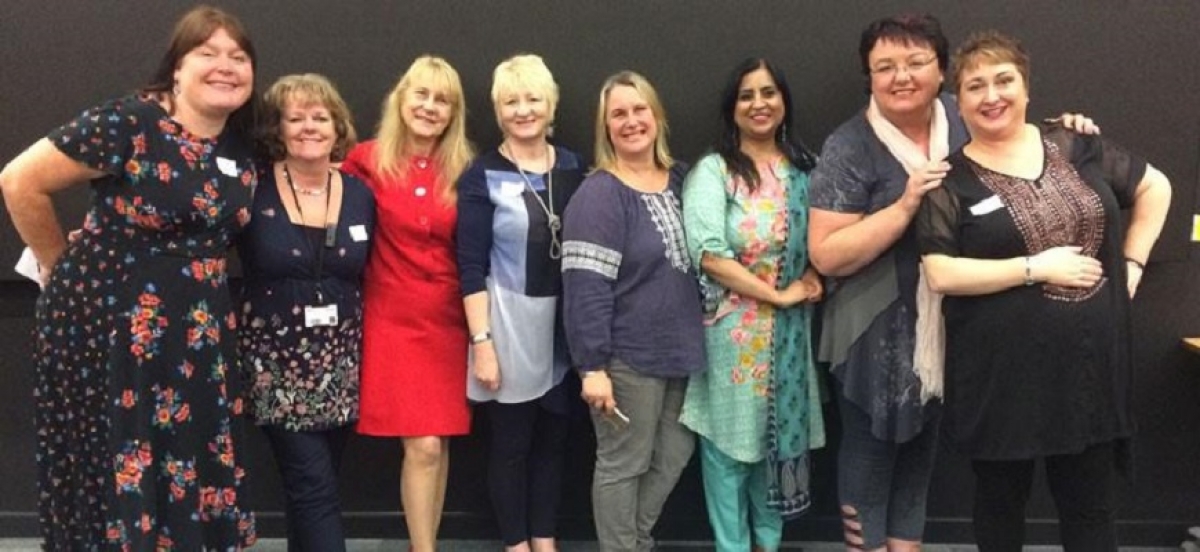 From Left to Right - Co-founder Hannah Wilson, Professor of Education, Sam Twiselton OBE, Councillor Jackie Ward, Co-founders and strategic leads, Vivienne Porritt, Jules Daulby & Sameena Choudry, Chief Executive of Doncaster Council, Jo Miller and co-founder and strategic lead, Keziah Featherstone.
Above image of a previous Unconference at Sheffield Hallam University in 2017
@WomenEd is delighted to announce that our 5th global unconference will be at Sheffield Hallam University on 5th October, 2019.

We are honoured to return: thanks Professor Twiselton!
#10%braver: Inspiring Women to Lead Education
We are very grateful to our partners for supporting us with this #WomenEd event which keeps the ticket price down. Give them a big shout out please!
FREE CRECHE with thanks to @Tes_Institute
Catering with thanks to CER
This year's theme is #10%braver, which celebrates our first #WomenEd book, published by @Sage in 2019.
The sessions will be linked to our chapter headings. As many of the book's chapter authors and contributors who can make it will join us as well as many other inspirational speakers and workshop facilitators.
If you would like to offer to lead a workshop or contribute to a #LeadMeet, please submit your idea here: https://docs.google.com/forms/d/e/1FAIpQLSe7MpsIdQfqP5Ja-2c0Be04esHxm6MZxhdRk6-gEEGS3RGwQw/viewform The deadline is Monday 17th June at 7:00pm so be quick!
Programme
9.30am: Registration and workshop sign up
10am: Keynote tbc and #WomenEd Strategic Leaders / @WomenEdYandH network leaders
10.40am Workshops
Chapter 2: #10% Braver: Feel the fear and do it anyway
Chapter 3: Pink and blue limit us all
Chapter 4: International perspectives
Chapter 5: Concrete ceilings and kinked hosepipes: Understanding the experiences of BME female leaders in schools
Chapter 6: Doing leadership differently
Chapter 7: Removing the blinkers
Chapter 8: Get the job you dream of: Applying for leadership positions
Chapter 9: The #HeForShe agenda: What male leaders need to do to actively enable equality in education
Chapter 10: Flexing our schools
Chapter 11: What price equality?: The gender pay gap
Chapter 12: Still we rise: Our agenda for the future
3.45pm: Keynote tbc and #WomenEd Strategic Leaders
4.30pm. Close

More details tbc
FAQs
How can I contact the organiser with any questions?
Contact womenedleaders@gmail.com Include subject as Unconference 5
What are my transport/parking options for getting to and from the venue?
The venue is a short walk from Sheffield train station. Sheffield City Centre is a short drive off the M1 Motorway in both directions.
What's the refund policy?
There are no refunds. As a voluntary group, we regret we don't have the capacity to deal with refunds, so please ensure you can join us before booking your ticket.