Be inspired, find balance and meet other education professionals at our second annual unconference! All are welcome.
About this event
We are @WomenEdCzech, an affiliate of #womened, a fast-growing grassroots organisation which started in the UK with the aim of connecting women leaders and aspiring leaders in education. Find more about us at our Facebook page or our Twitter feed or the global #womened website.
This, our second unconference, has the theme of BALANCE FOR BETTER, the mantra of International Women's Day 2019. It will be an opportunity to network with professionals from other schools and attend over a dozen sessions from these three areas:
- Work-life balance
- Balance/equality in the workplace
- Leadership equilibrium
Moreover, our keynote will be delivered by Liz Free, FCCT, founder of the International Leadership Academy in The Hague and Global TES Board member!
Lunch, coffee, tea, biscuits and raffle tickets are included in your 250 CZK (£9) ticket! The price also covers materials and clean-up; 100% of the cost goes right back into providing events.
A creche will be available for attendees with children; please let us know if you'd like to access it.
We'll have a collection for professional clothing if you'd like to bring some to donate for charity.
Attendees will need to understand English.
* * * * *
Jsme @WomenEdCzech, pobočka #womened, rychle rostoucí organizace, která podporuje návraty ke kořenům. Organizace vznikla ve Velké Británii s cílem propojit (především) ženy ve vedení s ženami, které usilují o vedoucí postavení ve vzdělávání. Více se o nás můžete dovědět na naši Facebookové stránce, na Twitteru nebo na globálních webových stránkách #womened. Hlídání dětí bude zajištěno. Na místě bude také probíhat charitativní sbírka profesionálního pracovního oblečení, do které můžete přispět vlastními kousky.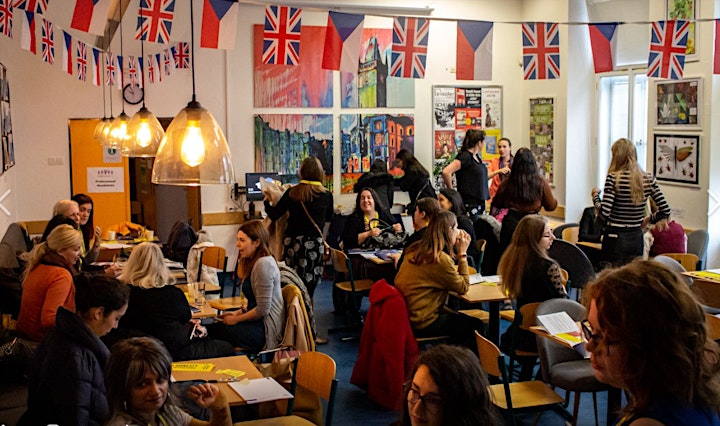 Organiser of #WomenEd Prague,Czechia 2nd Annual Unconference: Balance for Better