Description
What is #WomenEd?
#WomenEd is a grassroots movement which connects existing and aspiring leaders in education. Even though women dominate the workforce across all sectors of education there still remain gender inequalities, particularly at senior leadership level.
#WomenEdScotland are delighted to offer a networking opportunity for those involved in Scottish Education.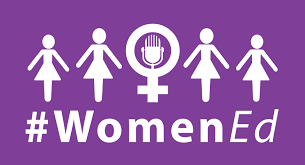 What will be involved?

Our networking events are informal spaces for reflecting, sharing and discussing the barriers and solutions to progressing on our leadership journeys.
These events are inclusive for all educators who wish to attend - you do not need to be a leader, a teacher or even a woman to come and join us!
Come along to:
Find out more about the origins of WomenEd;

Contribute to the discussion around the why, what and how of establishing WomenEd Scotland;

Discuss educational leadership;

Help shape the WomenEd Scotland Leadership Day;

Find out more about the opportunity to become a network lead in Scotland.
Thanks to sponsorship from SCEL, tickets for this event are free and lunch will be provided.