Join us for a weekend of climbing, camping, learning and socialising in the beautiful Forest of Fontainebleau [version française ci-dessous]
About this event
The Women's Bouldering Festival is a non-profit event inviting participants for the third year running. The WBF connects climbers of all experience levels and facilitates mentorship within the community, so we can share our skills, stories and ethics.
It is a safe space open to all who want to have a great time climbing and continue to grow in the sport and beyond, learning and discussing social equity and responsible recreation.
What's included in your ticket (Full WBF Pass 2020):
Two nights of camping
A lovely goodie bag
Friday night bonfire and refreshments
Morning yoga warm-up with Tiffany Soi
A ticket to Karma Climbing Gym to be used in case of rain or within 12 months
Saturday night social with snacks, refreshments, talks and a raffle with prizes from our partners
Assignment to a group led by a Volunteer Mentor for climbing on Saturday and Sunday
Separately to the Full WBF Pass, you can also book here for the free Conservation Workshop with the National Forestry Office (ONF) on Monday, 22.09.2020. Help us to build steps, reduce erosion and care for the forest. More info below.
ADDITIONAL INFORMATION
A draft schedule of the event is available here. Please note that you will need your own car or to car-pool with another participant.
To help you pack for the event, a FAQ section will be available soon.
Appropriate social distancing policy will be implemented during the event and communicated to the participants at a later date.
Please note that due to COVID19, the programme of the event might be subject to last-minute changes. In case the event is cancelled, the tickets will be refunded minus the cost of posting goodie bags. Individual refunds can be processed until 31.08.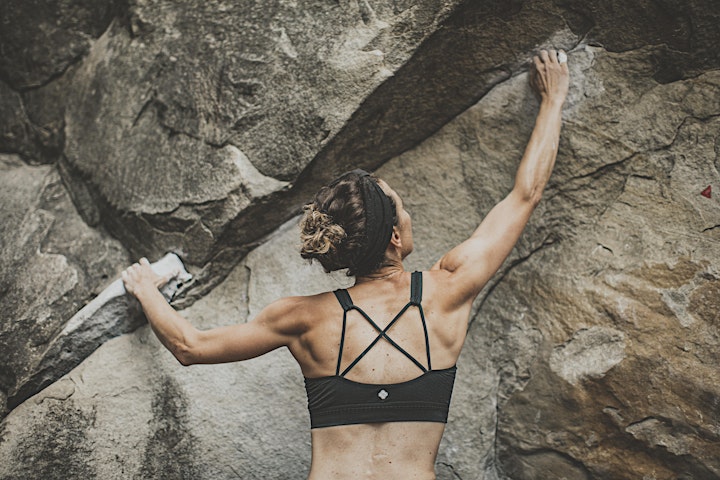 Full WBF Pass 18-20. September 2020 | EUR 59.00
A Pass for the weekend of climbing, camping, learning and socialising in the beautiful Forest of Fontainebleau.
Locals' Pass 18-20. September 2020 | free
For those who live locally and want to join the Festival only for climbing on Saturday or Sunday. You will be assigned to a small international group with an experienced Mentor. If you'd like to attend socialising and events at the camping, please purchase a full WBF pass.
If you're an experienced local climber yourself, we'd love to get you on board as a Mentor. (Mentors' attendance and camping is free.)
Padadise.com bouldering pad rental | donation
A bouldering pad for you this weekend, courtesy of Padadise. Please consider a generous donation that will support Black Girls Hike.
Support Black Girls Hike | donation
Black Girls Hike (BGH) is a safe outdoor space for Black Women founded in Manchester, UK. If you are able to help, we encourage you to donate to here in support of BGH fundraiser for healing retreats. (Please note that you can make a donation even without buying a WBF Pass.)
Trust, Balance and Relaxation Workshop | Saturday, 19. September 2020 | EUR 12.00
Balance and partnering exercises that can be practised as a warm-up or alongside climbing to increase movement awarness and release tension. Taught by Berlin-based, Fontainebleau-born Marie Zeller who combines contemporary dance and Shiatsu massage in her practice.
Conservation Workshop with the ONF | 21. September 2020 | free
More than 13 million people are visiting the Forest of Fontainebleau every year and the local ecosystem is under tremendous strain. The National Forestry Office (ONF) needs volunteers to help fight erosion caused by human activity. This is your chance to give back to the forest and learn from foresters about its protection. An active rest day and lots of fun - all for a higher purpose! Attendance is free.
Starting at 10:00 am. Exact location in the Forest of Fontainebleau will be announced closer to the date. Families are welcome.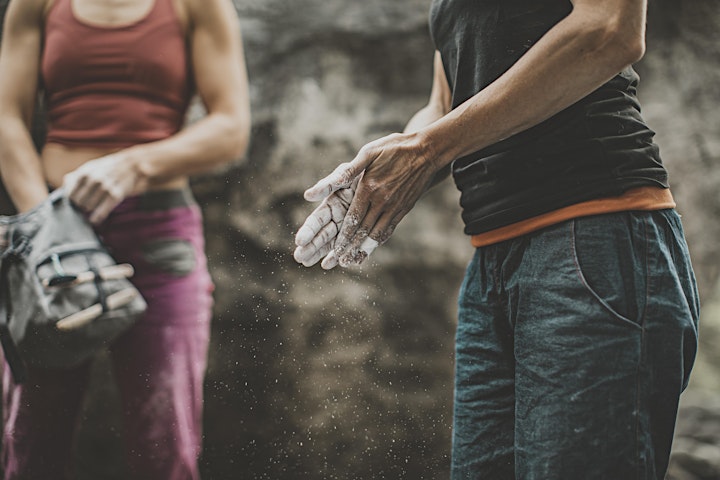 [version française]
Rejoignez-nous pour un week-end de grimpe, de camping, de découverte et de rencontres dans la magnifique forêt de Fontainebleau!
Le festival de bloc "Women's bouldering" (WBF) est un événement associatif auquel chacun peut s'inscrire, et qui a lieu maintenant pour la troisième année consécutive. Le WBF a pour but de mettre en contact des grimpeuses(eurs) de tous horizons et niveaux, et de faciliter le parrainage au sein de la communauté, nous permettant ainsi de partager tous ensemble nos savoirs, histoires et éthiques.
Ce festival représente aussi un environnement sûr ouvert à toutes et tous dans le but de prendre du plaisir à grimper, de permettre le développement personnel ainsi que celui de notre sport tout en préservant l'environnement, et enfin de discuter d'équité sociale.
Votre billet inclut (Full WBF Pass 2020):
2 nuits en camping
Un sac rempli de cadeaux
Un feu de camp avec rafraîchissements le vendredi
Une séance de Yoga matinale avec Tiffany Soi
Une entrée à la salle Karma Climbing Gym de Fontainebleau qui sera utilisée en cas de pluie, ou qui peut-être utilisée librement pendant 1 an
Une soirée du samedi soir avec encas, rafraîchissements, conférences et loterie pour gagner des prix offerts par nos partenaires
Un tutorat de grimpe par groupe avec nos mentors volontaires le samedi et dimanche
En plus de votre pass "Full WBF Pass", vous pouvez réserver votre place ici afin de participer à un atelier de conservation en collaboration avec l'office national des forêts (ONF) le lundi 22.09.2020. Aidez-nous à construire des marches, réduire l'érosion, et protéger notre belle forêt de Fontainebleau! Plus d'infos ci-dessous.
INFORMATIONS COMPLÉMENTAIRES
Un calendrier provisoire de l'événement est disponible ici. Veuillez noter qu'il vous faut être véhiculé, ou partager une voiture avec un(e) autre participant(e) afin de pouvoir vous déplacer lors du festival.
Afin de vous permettre de vous préparer au mieux pour le festival, une section FAQ sera bientôt disponible.
Une politique de distanciation sociale adaptée sera implémentée pendant le festival, et nous vous transmettrons plus de précisions à ce sujet très prochainement.
En raison de la situation particulière due au COVID19, le déroulement du festival est sujet à des changements de dernière minute. Dans l'éventualité où le festival devrait être annulé, l'intégralité du montant des billets vous sera remboursée, moins le prix d'envoi de votre sac cadeau. Les remboursements individuels non liés au COVID19 peuvent être effectués jusqu'au 31 août 2020.
Atelier de conservation avec l'ONF | Lundi 21.09.2020
Plus de 13 millions de personnes visitent chaque année la forêt de Fontainebleau, imposant une certaine pression anthropique sur l'écosystème de la forêt. L'ONF a besoin de volontaires pour lutter contre l'érosion accélérée par la présence humaine. Avec cet atelier, vous aurez l'opportunité de redonner un peu à la forêt et d'apprendre à la protéger avec ses gardiens principaux. Un jour de repos actif, où l'on s'amuse beaucoup, pour participer à une grande cause! Participation gratuite.
Début de l'atelier à 10 heures. Le lieu de rendez vous exact sera communiquer en amont de l'atelier. Les familles sont bienvenues.
Locals Pass | FREE
Pour celles et ceux qui habitent dans le coin, mais qui souhaitent participer au festival pour grimper Samedi et Dimanche. Vous serez assignez à un groupe international de grimpeurs(euses), encadrés par un mentor expérimenté. Si vous souhaitez participer à la totalité du festival et des événements durant le festival, veuillez choisir un "Full WBF Pass".
Padadise.com Pad | don
Besoin d'un pad de bloc ce week-end là? Visitez Padadise.com. Si vous le pouvez/voulez, vous pouvez faire un don, généreusement afin de supporter Black Girls Hike.
Don à Black Grils Hike
Black Grils Hike (BGH) est une association fondée à Manchester, Royaume Uni, offrant un environnement sûr pour les femmes noires fondé afin de pratiquer des activités en extérieur. Si vous le souhaitez et le pouvez, nous vous encourageons à faire un don à l'asso BGH afin d'aider au développement d'activités. (vous pouvez bien-sûr faire un don sans acheter de billet pour le WBF)
Organiser of Women's Bouldering Festival | Fontainebleau 19-21.09.20