Description
Please join us for this free Women's Enterprise Network in the Strathearn area.
The network is designed to support women starting, running or growing a business in rural Perthshire or even for those who are thinking about it. It's a free event and will start with a light buffet, followed by an informal chance to meet other like-minded women, meet some of the Growbiz team and of course hear from our inspirational speaker.
There's no membership required, so you can come along to as many events (or as few events) as you like! We're planning to run this Women's Enterprise Network on the third Wednesday of each month and will hope to visit different venues within the Strathearn area.
---
The evening will be facilitated by Jennifer Lindsay-Finan who lives in Auchterarder and you can contact her with any questions you have about the event here - jennifer@growbiz.co.uk
Our Women's Enterprise Network in Eastern Perthshire has been running for a few years now and is always one of our most popular events, so please book your place now.
Our guest speaker is Clare Pinchbeck from Hettie's Tearoom in Pitlochry - there's also a rumour she might bring some of her delicious coffee!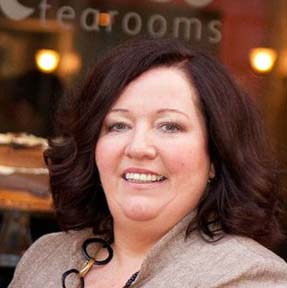 Clare grew up on the eastern edge of Glencoe, on the remote Rannoch Moor, at Rannoch Station. Her father was the Station Master, so life revolved around trains – she even went off to school by train. She entered the world of hospitality aged just 11, when she asked the owner of the 7 bedroom hotel at the station for a job in the summer holidays. There began a love affair with all things customer!
After college Clare completed her hotel management training with Trust House Forte and went on to be one of the youngest General Manager's in the UK aged 26. Clare has had experience in 3, 4 and 5 star hotels. Clare had a spell in sales and marketing, but discovered that the level of customer service in the roles she found herself in were in direct conflict with her passion to really look after customers.
After 13 years owning her own hotel, in 2010 Clare opened Hettie's Tearoom in Pitlochry. With a clear 'why' and a firm focus on making Hettie's a really great experience as well as a great place for tea and cake. Clare has developed Hettie's into the award winning success it is today, welcoming over 80,000 customers per year.
At Hettie's Clare developed a comprehensive customer service model to ensure every customer got full the Hettie's Experience. With the vision of being "The Happiest Tearoom in the World" at the heart of every decision made and direction taken – the Hettie's team delivers happiness 363 days per year!
Now, not required in the business day to day, Clare is developing the Hettie's wonderful loose leaf tea product ready for export, starting in the US. There are currently 32 blends in the range.
The most recent development for Hettie's is the installation of a Micro Coffee Roaster. Clare is focussing on educating everyone who will listen about the wonderful world of freshly roasted coffee!
Clare lives in Pitlochry with daughter Henrietta (Hettie) who is 13 and Rascal (4 legs)! In her spare time Clare loves to walk with Rascal, study personal development, have early nights and early mornings, spend time with family and is always busy fundraising for her daughter's equestrian vaulting team, Pegasus Vaulting.