This is a bilingual invitation, Welsh can be found further down.
About this event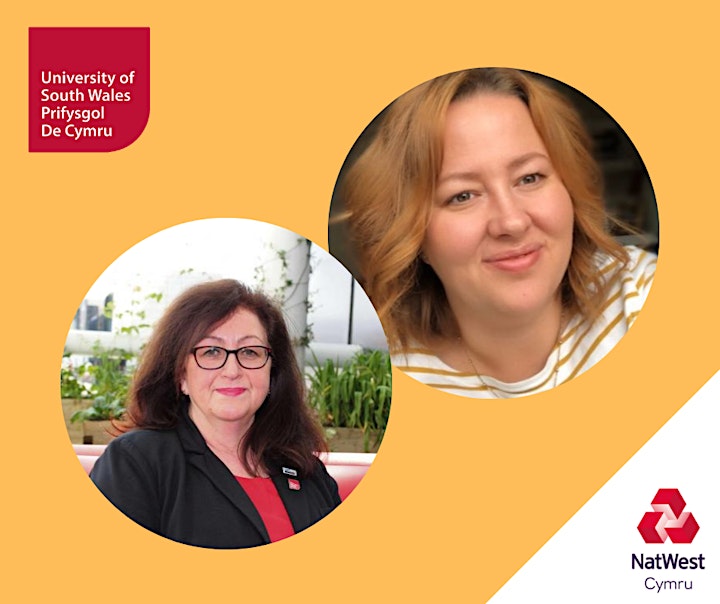 This is a bilingual invitation, Welsh can be found further down. 
Women's Entrepreneurship Hub
Monthly networking with inspirational female founders
The Women's Entrepreneurship Hub networking sessions are delivered as part of the Developing Entrepreneurial Women Programme, supported by NatWest.
Our monthly networking events with inspirational female founders are open to all women in business. Each month Christine Atkinson (USW Business School) will be tackling a different barrier to business experienced by women, and discussing practical tips & tools to successfully overcome them.
How to master the work-life balance challenge, with Ceri Gillett, of We Are MUBO
Ceri Gillett is the founder of Mubo, a social enterprise changing the way we speak to parents about business. Ceri spent over a decade in business development within the finance industry before she became a mother and went on to start multiple enterprises both on and offline.
Ceri has spent the last 5 years developing predominantly female communities in the online space. In 2020 she was listed in Pioneers Post as one of the top 100 Social Entrepreneurs, amongst many other awards. She has been published in magazines, on podcasts & regularly speaks about business and motherhood.
For reporting and monitoring we ask that you register with the programme on this link prior to booking on to individual networking events.
All sessions will be delivered virtually via Microsoft Teams.
About USW Exchange: 
USW Exchange is the hub for business and engagement at the University of South Wales, based on the Newport and Treforest Campus. We work with organisations to create connections with bridge academia and industry.
Take a look at other events being held at USW Exchange on our events page here. You can view our Privacy Statement here.
Canolfan Entrepreneuriaeth Menywod
Rhwydweithio misol gyda sylfaenwyr benywaidd ysbrydoledig
Cyflwynir sesiynau rhwydweithio'r Ganolfan Entrepreneuriaeth Menywod fel rhan o'r Rhaglen Datblygu Menywod Entrepreneuraidd, gyda chefnogaeth NatWest.
Mae ein digwyddiadau rhwydweithio misol gyda sylfaenwyr benywaidd ysbrydoledig yn agored i bob menyw mewn busnes. Bob mis bydd Christine Atkinson (Ysgol Fusnes PDC) yn mynd i'r afael â rhwystr gwahanol i fusnesau a brofir gan fenywod, ac yn trafod awgrymiadau ac offer ymarferol i'w goresgyn yn llwyddiannus.
Sut i feistroli'r her cydbwysedd rhwng bywyd a gwaith, gyda Ceri Gillett, o We Are MUBO
Ceri Gillett yw sylfaenydd Mubo, menter gymdeithasol sy'n newid y ffordd rydym yn siarad â rhieni am fusnes. Treuliodd Ceri dros ddegawd mewn datblygu busnes o fewn y diwydiant cyllid cyn iddi ddod yn fam ac aeth ymlaen i ddechrau sawl menter ar-lein ac all-lein.
Mae Ceri wedi treulio'r 5 mlynedd diwethaf yn datblygu cymunedau benywaidd yn bennaf yn y gofod ar-lein. Yn 2020 cafodd ei rhestru yn Pioneers Post fel un o'r 100 Entrepreneur Cymdeithasol gorau, ymhlith llawer o wobrau eraill. Fe'i cyhoeddwyd mewn cylchgronau, ar bodlediadau ac mae'n siarad yn rheolaidd am fusnes a chymhellion.
Ar gyfer adrodd a monitro gofynnwn i chi gofrestru gyda'r rhaglen ar y ddolen hon cyn archebu lle mewn digwyddiadau rhwydweithio unigol.
Bydd pob sesiwn yn cael ei chyflwyno bron drwy Microsoft Teams.
Ynglŷn â Chyfnewidfa PDC:
Cyfnewidfa PDC yw'r hwb ar gyfer busnes ac ymwneud â Phrifysgol De Cymru, ac mae wedi'i leoli ar Gampws Trefforest. Rydym yn gweithio gyda sefydliadau i greu cysylltiadau gan bontio byd addysg a diwydiant.
Cymrwch olwg ar ddigwyddiadau eraill sy'n cael eu cynnal yng Nghyfnewidfa PDC ar dudalen ein digwyddiadau fan hyn
Gallwch weld ein Datganiad Preifatrwydd fan hyn.