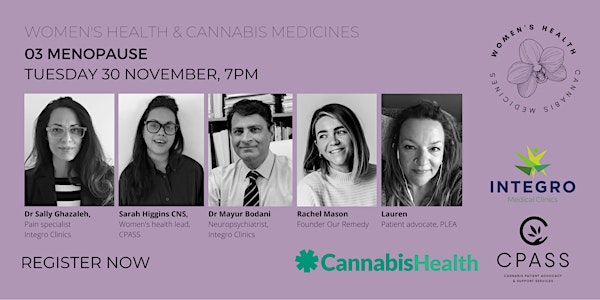 Women's Health and Cannabis Medicines: Menopause
A groundbreaking webinar exploring the experiences of women who use cannabis to manage the symptoms of menopause
About this event
Cannabis Health Magazine, Integro Medical Clinics and Cannabis Patients Advocacy and Support Services (CPASS) are delighted to present a four-part webinar series exploring the experience of women who have struggled to feel supported by the healthcare system in their journeys to diagnosis. The third episode in this ground-breaking series will be focusing on the multi-faceted and often challenging experience of women finding cannabis medicines helpful to manage the symptoms of menopause.
It is widely understood that the current model of medicine has largely ignored the complexity of the female body. Women's pain is not acted on as quickly and many conditions present differently in women than in men and take longer to diagnose. Women can end up living with symptoms for many years before they are correctly diagnosed and treated.
Increasingly women are finding that cannabis-based medicines (CBM's) can be the key to managing their chronic health conditions.
Aimed at both the general public and professional caregivers, this webinar series aims to explore the application of cannabis medicines in the management of complex health conditions and to highlight some of the wider issues surrounding gender inequalities that exist in our modern medical model.
Joins us as we openly and candidly discuss the realities of living with chronic health conditions through patient testimonies.
Panellists:
Rachel Mason (our remedy CBD)
Rachel Mason, founder of Our remedy CBD - Rachel is the Founder of Our Remedy, a wellness brand for women. After studying graphic design she co-founded two start-ups; a healthy eating cafe and a vape brand. After going through some serious health issues and finding CBD really helpful she launched her own wellness brand focused on women. Driven by her passion for the environment Rachel has created the UK's first plastic-free CBD oil brand with a focus on women's health.
https://ourremedy.co.uk
Lauren CB, Patient Advocate at PLEA
Lauren is 48 and after being diagnosed last year with primary progressive MS, she had to give up her 30-year career as a mental health nurse. Lauren has been using medical cannabis to help ease her symptoms of MS and also menopause, and these have helped give her a new lease of life. Lauren's mission is to now help raise awareness of medical cannabis and to campaign for this to be free on the NHS. Lauren has 2 rescue dogs, vegan and is a keen urban gardener.
https://www.pleacommunity.org.uk/
Dr Sally Ghazaleh
Dr Ghazaleh is a Pain Management Consultant at the Whittington Hospital, and the National Hospital of Neurology and Neurosurgery, London. She also prescribes cannabis-based medicines and is the Women's Pain Expert at Integro Medical Clinics.
Sally specialises in managing patients with lower back pain, neck pain, neuropathic pain, abdominal pain, cancer pain, complex regional pain syndrome, post-stroke pain and fibromyalgia. She has a particular interest in bladder and abdominal pain in women, and women's health in general. She is fluent in Arabic, English and Hungarian.
www.integroclinics.com
Sarah Higgins CNS
Sarah is a Clinical Nurse Specialist, with over 10 years of experience working in the NHS. She developed an interest in medical cannabis and its application in women's health following the implementation of routine screening for recreational drug use in sexual and reproductive health services. On exploring this further she identified a trend in which women were often self-medicating with cannabis for hormone-related difficulties.
Sarah is also the Women's Health Lead at non-profit organisation CPASS Nurses Arm. The organisation's nurse, midwife, and educator-led principal focus are on improving health, clinical outcomes and patient experience, through building nursing and midwifery leadership capacity to make significant improvements to the cannabinoid patient care environment.
www.cannpass.org
Organiser of Women's Health and Cannabis Medicines: Menopause