Build strength with Alice Liveing, take on a beginner workout with Lucy Wyndham-Reed and get your zen on with Fabletics and BreathPod.
About this Event
9:00 AM - 9:45 AM
Total-body strength
Alice Liveing, personal trainer
Join Alice Liveing for an effective total-body strength training workout suitable for all ability levels – whether you're a newbie or a pro. A set of dumbbells is a good idea, but Alice will suggest alternatives for those who don't have.
________________________________________________________________________________________________
13:00 PM - 13:45 PM
Lucy's beginner low-impact full-body workout
Lucy Wyndham-Read, personal trainer
Tone your arms, abs, glutes, thighs, chest and back in this beginner-friendly, no-equipment workout. Expect to get your blood pumping in low-impact cardio intervals between sets – no jumping required.
LEVEL: Beginner
EQUIPMENT: No equipment needed
________________________________________________________________________________________________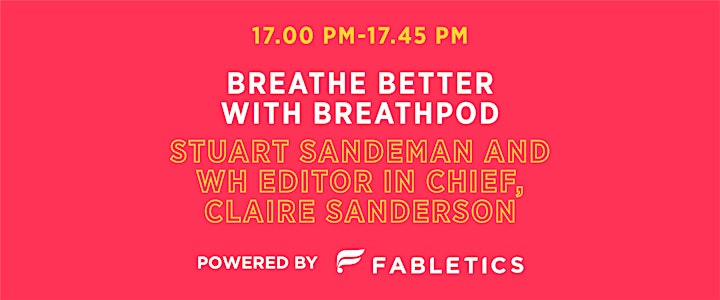 17:00 PM - 17:45 PM
Breathe Better with Breathpod
Stuart Sandeman will guide you and Women's Health Editor-in-Chief Claire Sanderson through a calming breathwork session. Learn how breathing can transform your life in more ways than one as Stuart provides Claire with a follow-along, live assessment. Join in and harness the power of your breath.
Watch along for your chance to WIN a new year workout wardrobe from Fabletics!*
Simply answer Stuart's question during the session in the YouTube comments section to be in with a chance of winning.
LEVEL: Suitable for all ages and fitness levels
EQUIPMENT: No equipment needed
*Terms and conditions apply
Register now to receive your copy of our FREE Weekenders e-zine – a special edition digital festival guide filled with insider information, expert advice, recipes and shopping discounts.

Please note, all sessions have been pre-recorded.
FAQs
Where is Women's Health Weekenders taking place?
Our events will be streaming over four weekends on YouTube.
Do I need to have a YouTube account to access the streamed sessions?
No, you do not need an account. You can view the session from any device without a login.
Do I need any equipment to take part in any of the exercise classes?
The session details on the event description page will tell if you need any equipment to take part.
How can I ensure I work out safely?
Make sure your environment is clear of any obstructions and you have sufficient room for your activity of choice. Be sensible and ensure you are wearing appropriate clothing and proper footwear to exercise in – for most workout programmes, slippers, sandals and socks with no grip may not be advised. Stay hydrated and have water on hand throughout your workout and post workout. Finally, know your limits.
How can I access the stream?
Your ticket and subsequent reminder emails leading up to the event will provide you with a direct link to our YouTube channel where you will be able to view the sessions taking place at the times promoted.
What device can I view the event on?
We recommend watching on a TV or a desktop computer for the best experience, but the stream will also work on mobile and tablet.
Do I need a webcam to access the stream?
No, you won't need a webcam to access the stream.
I am not available at the time that the live stream is taking place. Will the session be recorded and posted at a later date?
If you miss the session, all sessions will be available to watch on the Women's Health YouTube channel immediately after the event has taken place.
DISCLAIMER
These workouts are personal to the trainers and may not be suited for you. It is strongly recommend that you consult with your doctor before beginning this or any exercise program. By engaging in this exercise program, you agree that you do so at your own risk.
_________________________________
Full details of Hearst Terms & Conditions, Hearst Data Protection & Hearst Privacy Notice.