Women's Leadership Network Annual Conference 2019: Inclusive Leadership
About this Event
What's in store?
Guest speakers
Two inspirational and thought-provoking keynote speakers kick off a day that we'll spend exploring inclusive leadership and creating the blueprints for inclusive FE, skills and lifelong learning organisations:
Caroline Criado Perez, @CCriadoPerez, writer, broadcaster and award-winning feminist campaigner. Her second book, 'Invisible Women': exposing data bias in a world designed for men, was published in March 2019 by Chatto in the UK and Abrams in the US. Caroline was the 2013 recipient of the Liberty Human Rights Campaigner of the Year award and was named OBE in the Queen's Birthday Honours 2015.
Micha Frazer-Carroll, @Micha_Frazer, multi-award nominated journalist and first person and opinions editor of gal-dem, an online and print magazine written by women of colour and non-binary people of colour for all to explore. She was former Welfare and Rights Officer of Cambridge University students' union and founded Blueprint, a magazine that focuses on mental health. Micha currently writes for HuffPost UK and the Guardian and is interested in psychology, pop culture, gender, race and mixedness. You can email her at micha@gal-dem.com
Panel discussion
A panel of leading thinkers on the subject will present, discuss and challenge their and our views of inclusive leadership:
Dr Vicky Duckworth @vicky_duckworth and @FETransforms - more below
Dr Rob Smith @R0b5m1th and @FETransforms - more below
Derek Hooper @equalityderek
NUS speaker TBC
Open Space
All of which will give us plenty to think about over lunch and get us thinking for an Open Space workshop
Get out your kaleidoscope
Sarah Simons and Dr Julie Mills, OBE reflect from their different perspectives, on what we've learned and what we now need to do
Sarah Simons, @mrssarahsimons offers a teacher's perspective
Dr Julie Mills OBE, @CEOMKCollege offers a senior leader's perspective
Conference chairs
Our very own WLN co-chairs, Jackie Grubb, CEO and Principal City College Plymouth and Mel Lenehan, CEO and Principal, Fircroft College
Outline programme
10.00 Arrival
10.30 Welcome and introduction
10.45 Keynote presentation and questions - Caroline Criado Perez
11:10 Keynote presentation and questions - Micha Frazer-Carroll
11:45 "What does Inclusive Leadership mean for FE, skills and lifelong learning?" - panel presentations and discussion
12:45 Break for lunch, visiting stalls, some fresh air and a walk around the block studying the famous faces on Morley's walls and networking
13.30 Open Space: Spend the afternoon developing ideas on what inclusive leadership looks like for different aspects of post-16 education. WLN will facilitate groups and capture discussions. Each group will present their ideas.
Help yourself to the tea/coffee on tap throughout this open space session to help us stay focused
15.00 Stick with us to the end, for reflections on what it all means and what we and WLN should do next
From a teacher perspective - Sarah Simons, FE teacher, TES columnist, Director of UKFEchat
From a senior leader's perspective - Dr Julie Mills OBE, CEO-Principal Milton Keynes College Group
16.00 Close
Who is this for?
Are you a current or aspiring leader? Are you someone who wants to understand and explore deeply inclusive leadership and the difference it can make to equality, diversity, and inclusion in further education, skills and lifelong learning? Yes? Then it's definitely for you.
Venue
Situated in the centre of London, and with good public transport access, Morley College is one of the country's oldest and largest specialist providers of adult education. Established in 1889, and with its roots stretching back some years before that. It was founded to address the learning needs of Waterloo and Lambeth - an area of high poverty at the time - as the Morley Memorial College for Working Men and Women, and was the first institution of its kind to admit both men and women on an equal footing.
Named after Morley College's founder, Emma Cons, we will be in the Emma Cons Hall on the ground floor of the main college building. It has separate direct ramp access entrance to the left of the building as you face the main entrance.The hall features fabulous large scale murals by painter Martin Froy.
We want colleagues to have full access to this meeting. Please do not be offended if we ask you to help us get this right. When you complete your booking, please make sure you tell us if you have any accessibility, belief/faith, caring, dietary, learning, medical or other requirements and what you need us to do so that you can participate in this networking event.
Accessibility
Morley College has recently completed major building works. We'll add an accessibility 'walk-through' and images with details of accessibility outside and inside the building and conference hall.
What to bring
Your most curious and open mind Your work name/ID badge
Business cards if you use them or
Your mobile device (smartphone or tablet) if you use this to share your own and record others' contact details
Practical stuff
Finding the venue: Use the Eventbrite interactive map to get travel directions
On arrival: WLN will greet you on arrival at the main college reception and escort you to the meeting room.
Light lunch and refreshments provided (when you complete your booking, please remember to let us know about any dietary requirements).
Wi-Fi is available.
How much does it cost?
From nothing, if you are a WLN partner, to £200. Here's how it works:
The full cost fee for delegates who are not WLN partners is £200
Individual and organisational WLN partners get ONE FREE place as a benefit of being a partner
WLN organisational partners can buy an additional discounted ticket for £200 for 3 of their aspiring leaders
Apply now to become a WLN partner now and get a FREE conference place as a benefit of your partnership offer.
The fee to become an individual WLN partner is £81/year or £30/year for students/people on a low income.
Fees for organisational partners are on the following sliding scale according to the size of your organisation:
£2,000/year for large organisations, e.g. general further education colleges, large Independent training providers
£1,000/year for medium size organisations, e.g. smaller general further education colleges, independent training providers, adult and community learning providers
£500/year for small organisations, e.g. third sector providers
Any questions?
Anything else you want to know? Ask away.
Can't join us this time but interested in future events and joining our mailing list?
Please use the 'contact the organiser link or email/text Kathryn James kj.consultinghi@outlook.com | 07535482217
Thank you to our sponsors
Thanks to all our sponsoring organisations, including Protocol and Morley College, for sponsoring this event specifically. Without the generous support of our sponsors, WLN would not be able to bring you this event or carry out its work. Several sponsors are hosting stalls at the conference, so do make time to speak with them and find out more about what they do.
Tell us about it
We are grateful for your time in joining us at this event. We hope that afterwards, you will feel it has inspired, and empowered you in your leadership and helped you to connect with others who are interested in inclusive leadership and committed to supporting women's leadership at every level in FE, skills and lifelong learning.
We'll create opportunities during the event for you to ask questions and share your thoughts. A few days after the meeting, we will send out a link to a short survey for your feedback. Please look out for it in your inbox.
Tell others about it
You can help us by telling other people about this conference and the ideas we plan to explore. Connect with our guest speakers, panel members, and us on LinkedIn and Twitter @The_WLN and share our posts and tweets. Add your voice and share your own leadership story and why you want to come to this event. Tag us in, and we'll support you. We'll be using hashtags: #InclusiveFELeadership #FEWomenMeet
We look forward to seeing you at Morley College at 10 am on Thursday, 11 July 2019.
Guest keynote speaker Caroline Criado-Perez and her dog, Poppy, who is of course accompanying her to the conference.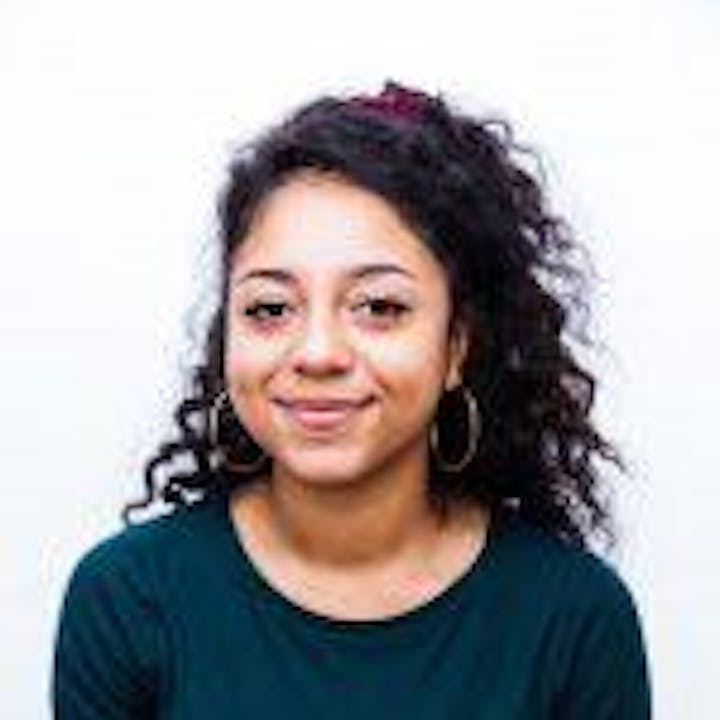 Guest keynote speaker Micha Frazer-Carroll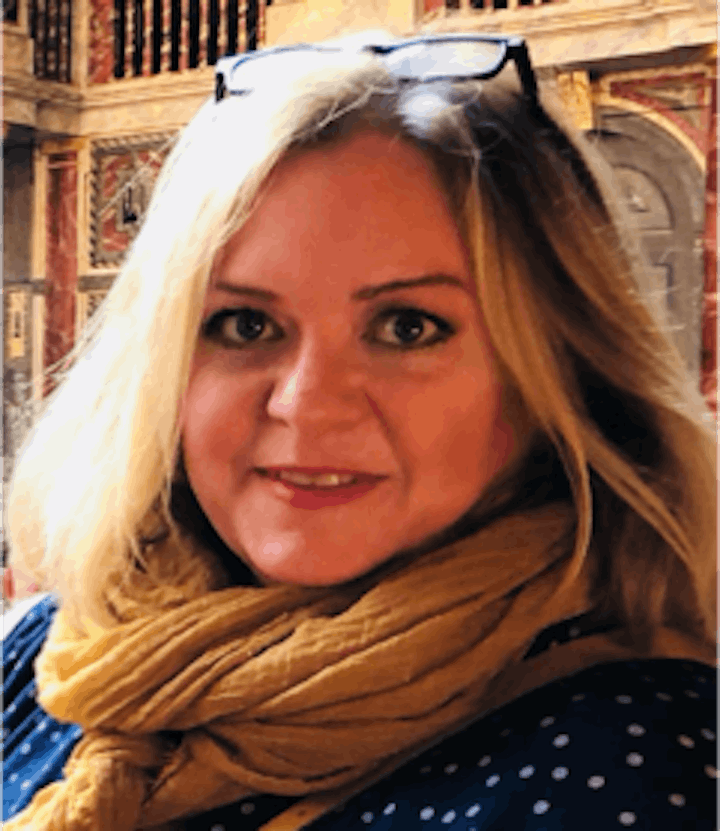 Guest speaker, Sarah Simons
After a career in show business, Sarah took a teacher training course in an FE college, which accidentally led her to the sector that she loves. As well as teaching English and drama to all sorts of student groups, in colleges and in the community, Sarah has been a TES columnist for almost a decade and a judge on The TES FE Awards since they began. She contributes to a range of publications, conferences, and sector-wide discussions, as well as consulting on FE projects across colleges.
Sarah is Founder and 'Matron' of #UKFEchat, a community of FE professionals who get together on Twitter every Thursday at 9pm. The group has held national conferences, group meetings with sector leaders and real life meet-ups, as well as publishing a series of guide books.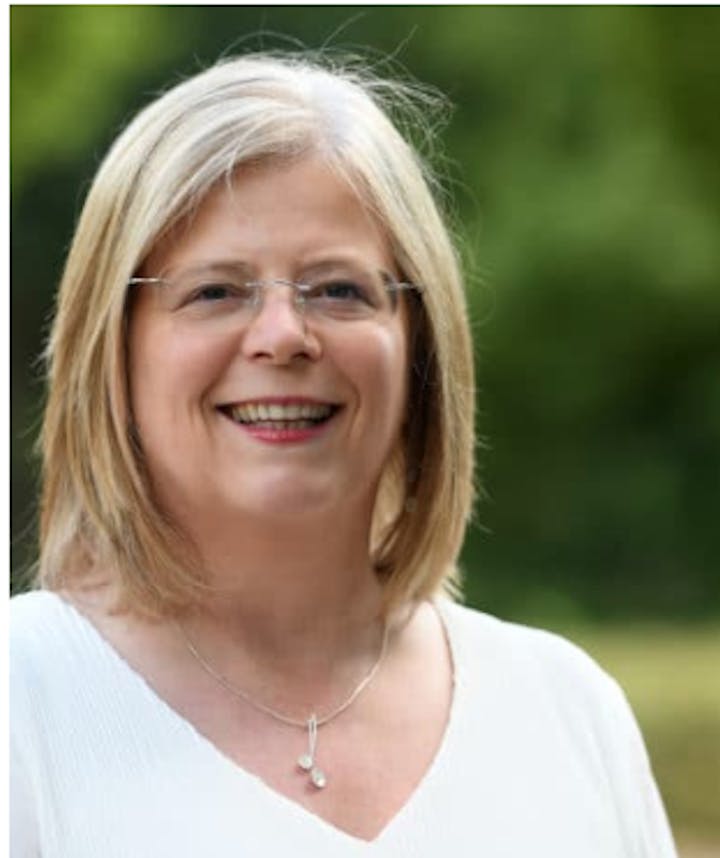 Guest speaker, Milton Keynes College CEO and Group Principal, Dr Julie Mills, was been awarded an OBE in the 2019 Queen's Birthday Honours for helping establish greater links between education and business.
A passionate advocate for diversity and inclusion, Julie was recently named Principal of the Year by the National Centre for Diversity. She is the driving force behind plans for an Institute of Technology at Bletchley Park, which will see up to 1,000 students graduating with digital qualifications each year in partnership with global organisations including as Microsoft, KPMG and Cranfield University and over 50 local and regional businesses of all sizes.
Julie is Chair of the Helena Kennedy Foundation, vice chair of the English Colleges Football Association and Chair of Women Leaders UK. She is a director of the MK Dons Sport and Education Trust and of the MK Business Leaders Partnership.
Julie said, 'I am honoured to receive this award. It is recognition of the importance of Further Education and testament to the spirit of entrepreneurship and collaboration within Milton Keynes as well as the fantastic support from colleagues as we continue our mission to Transform Lives through Learning. To be rewarded for doing a job I love is a wonderful surprise'.