Wailing Women presents a virtual pre-conference. 3 days of the Word, Panel discussions, Healing sessions, Quiz, etc. Please invite the sick.
About this event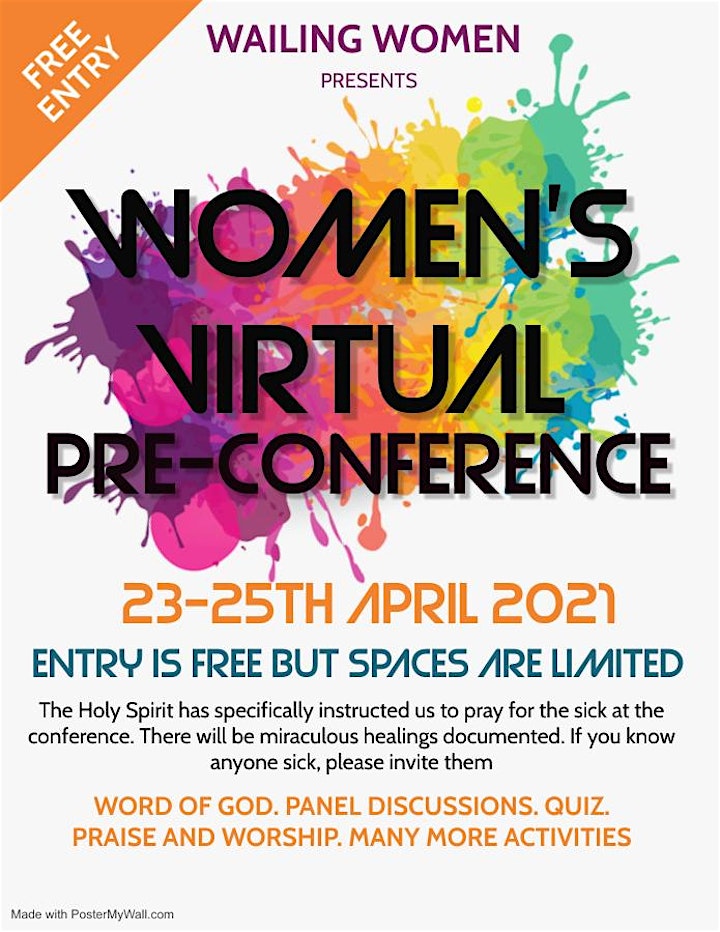 In 2020, the Lord instructed the Wailing Women Team to host a conference, but due to covid restrictions, the physical Conference has been moved to April 2022. In the meantime, the Holy Spirit led the team to host a virtual pre-conference for WOMEN ONLY from April 23-25th, 2021.
Evangelist Nickie is the Founder and Leader of Wailing Women. She and her team members are radically sold out and Holy Ghost filled servants of God with a burning passion for soul winning and reviving the body of Christ. She is a preacher of the gospel operating in the gift of healings. As thus, the Holy Spirit has specifically instructed her to pray for the sick at this pre-conference, and has promised that there would be an OVERFLOW of miraculous healings and deliverance testimonies. If you know anyone sick and oppressed by the enemy, please invite them to come and claim their miracle.
You can expect three days of revival by anointed vessels of God, praise and worship led by a gifted and anointed worshipper, prayer and healing sessions, panel discussions, quiz, games and so much more. If you have been feeling the push to go deeper in your faith, this is the conference for you. If you find yourself backslidden and struggling with the desires of the flesh, this is for you. If you need prayers or simply fellowship with women who share the same faith and struggles, this is a NOT TO MISS!
TICKETS ARE FREE AND VERY LIMITED DUE TO OUR ZOOM CAPACITY. IF YOU ARE NOT SURE IF YOU WILL BE ATTENDING PLEASE DON'T HOLD UP SPACE FOR SOMEONE ELSE.