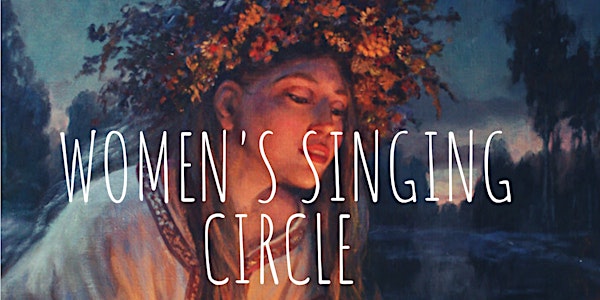 Women's singing and well being circle with traditional polyphonic songs
Location
238 SPACE
238 Stapleton Rd
Bristol
BS5 0NT
United Kingdom
Women's singing and well-being circle with traditional polyphonic songs from Eastern Europe and beyond. OUR INVITATION TO YOU Would you
About this event
 *For new women who didn't work with me before* Come to the workshop on 16th of Jan 2022 to experience Women's Singing Circle - https://fb.me/e/OkoQWNmG *
OUR INVITATION TO YOU 
We invite you to join us in creating this community of women, to sing, to share and support our lives, as we begin 2022.
Would you like to be more expressive with your voice, more confident to sing and connected to group of women ?
Would you like to learn singing in traditional harmonies in relaxing, flowing and held circle of women ? (Here is a great example of Eastern European singing - https://www.youtube.com/watch?v=04fEWQOwUD4 https://www.youtube.com/watch?v=46S0son0No0) ?
Would you like to have more energy and release stress ?
If you answered yes to these questions, then this group could be for you. 
WHAT WE ARE OFFERING 
We invite you for a fusion of women's circle and choir. Over the course of six sessions, we aim to build a warm, inclusive group, honouring our cycles as women. On our previous course, participants felt the group was safe, nourishing, fulfilling and they felt heard and seen. We will do this through weekly check-in, sharing some beautiful ancient songs, learning some different vocal techniques to help release your voice and sharing our experience.
DO I NEED GROUP EXPERIENCE OF SINGING?
If you love the sound of this group but have very little or no experience of singing in a group, this is completely OK, we aim to help you learn and feel supported by the facilitators and the group we create together, no singing experience is needed.  However, if you do have the experience, this is also the perfect opportunity for you to be free to explore harmonies and improvise within the group.
WHAT WILL WE LEARN?
- to build our confidence step by step
- vocal warm-up that help to develop and free your voice
- breathwork that helps to strengthen our voices
- singing in traditional harmonies (Here is a great example of Eastern European singing. - https://www.youtube.com/watch?v=04fEWQOwUD4 https://www.youtube.com/watch?v=46S0son0No0)
- voice improvisations
- self-care practices such as sound relaxations and guided meditations
TERM DATES
This term dates are 28th of Jan, 4th, 11th, 18th , 25th of Feb and 4th of March.
We meet weekly on Fridays evenings. You are welcome to gather on from 6.45 pm, in 238 Cafe, however, please be aware we will start the session promptly at 7 pm and finish at 9 pm.
WHO IS IT FOR?
Our invitation is to women of all ages and ethnicities wherever you are in your journey of womanhood, menstruating, menopausal, or post-menopausal.
Join us and feel the power of these ancient songs reaching across time through our female lineage.
We will be holding a space for creativity and vocal expression with these traditional ancient songs from Ukraine, Russia, Serbia and Poland.
PLEASE NOTE ~ There are 6 sessions in each cycle.  The first two of the cycle is always an open session and can be purchased individually with no commitment to attend the subsequent course. (Price £20) You can also pay in one lump sum for all the sessions in the cycle. (Full ticket - £90, Early birds ticket (before 17th of January) - £80, Concession - £65 ) 
PAYMENTS - BOOKINGS
You can book via eventbrite or by sending the payment via PayPal. LINK HERE - https://www.paypal.com/paypalme/events108
Please put your NAME and tile " Drop in" or "closed group " and select "someone you trust" option to avoid additional fees.
Bank details are available upon request.
WHAT WILL OUR SESSIONS LOOK LIKE?
Following our group introductions and short check-in at the beginning, we will move into various styles of warming up the body and the voice. From there, each week will have a slightly different look and feel depending on the songs we are working with and the feeling within the group. We'll also weave in some deep relaxation time towards the end of each session, which could be a sound bath using crystal bowl, harp playing, a song bath etc.   
LINKS TO VIDEO TESTIMONIALS FROM THE LAST TERM 
https://www.youtube.com/watch?v=0H_du1u6RC8
VIDEO FROM RETREAT
https://www.youtube.com/watch?v=A372_NgNebQ&t=55s
NEXT SINGING WORKSHOP WITH EASTERN EUROPEAN SONGS 16th of Jan 2022 -
https://fb.me/e/OkoQWNmG
WHO ARE WE? 
SONG LEADER/SOUND THERAPIST/ & COURSE DESIGN ~ Magdalena Leszczyc (known as Lena) is a sound therapist with bestselling sound course on udemy.com with over 4 500 students.She is also a waldorf teacher, product designer and children's entertainer. She is Polish by birth, Eastern European songs are deeply rooted in her soul, she has been singing ever since she was a little girl. Bringing this treasure trove of beautiful songs about nature, enchanted forests, villages, seas and rivers. Lena's passion for these songs is as infectious as the songs themselves, and a key part of what she describes as her 'beautiful heritage'. Lena has trained in feminine sound therapy, attended workshops with Labolatorium Piesni, trained with the workshop leader, singer-songwriter and vocal coach Susie Ro Prater, and was previously part of another eastern European singing group here in the UK. Called to create a fusion of a women's circle and choir, she began this project on 12th of Nov 2019.Lena is also engaged in ongoing mentoring and supervision within the dynamic field of group facilitation and workshop leading with Rosalind J Turner, PGDip.Hum.Psych.
We invite you to join us in creating this community of women, to sing, to share and support our lives, as we begin 2022.