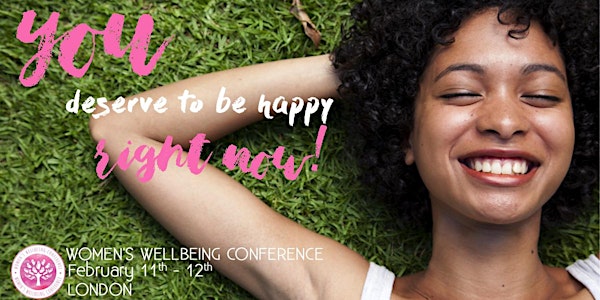 Women's Wellbeing Conference 2017
Event Information
Location
The Columbia Hotel
95-99 Lancaster Gate
London
W2 3NS
United Kingdom
Description
WE'RE RETURNING TO LONDON TO INSPIRE, EMPOWER AND ENCOURAGE WOMEN TOWARDS A HAPPIER AND MORE RESILIENT LIFE
Join us for another fantastic event designed to help you improve your wellbeing day to day and enjoy:
A schedule packed full of inspirational speakers

Goody bags courtesy of My Beauty Matches

Pampering sessions from Neal's Yard

Networking opportunities to meet other like-minded women like you
95% of last year's guests left feeling uplifted, inspired and positive about their future.
****
Life of the modern woman can feel like an endless race; always problem-solving ahead of time, looking after partners, relatives and children whilst juggling careers, businesses, finances, and friendships. Not to mention the pressure of looking good too. It's not surprising that women everywhere are experiencing more stress, anxiety, burnout and sleepless nights.
The inspirational two-day Women's Wellbeing Conference is returning to London on the 11th and 12th February 2017, designed to provide a 'mental vacation' and leave you feeling inspired, empowered and more in control of your own wellbeing.
Outside stresses often can't be helped, our spectacular line up of speakers will explore how day-to-day wellbeing can be improved with a simple understanding of how the mind works and the choice we have about which thoughts and worries we engage with as they happen.
Early bird tickets for the weekend conference at The Columbia Hotel are on sale for £175pp or £165pp when bought as a pair until 30th December.
The spectacular event line-up features speakers from across the globe, including:
Cathy Casey – a clinical psychologist who has succeeded in helping inmates at prisons around the world feel happier and more mentally resilient to their surroundings

Jacquie Forde - an international speaker, trainer, activist and a campaigner for political improvements in Scotland and the UK to improve health, mental wellbeing and equality

Varsha Jain - a doctor, NASA researcher, looking into the effects of space on the women's health
Our speaker sessions are interspersed with time to digest, discuss and mingle with other like-minded women, or take advantage of partners such as Neal's Yard and MyBeautyMatches, which will be providing free pampering and goodies.
Anya Layfield and Jacquie Moses, founders of the Women's Wellbeing Conference, said: "Our speakers will be sharing an understanding that has been transformative for women from all walks of life – from workaholic CEOs and female gang members imprisoned in some of the world's toughest jails to ambitious athletes and struggling parents.
"A huge 95% of our guests last year said they left feeling uplifted, inspired and positive about their future and we can't wait to bring this experience to even more women in 2017. It really is amazing what a small shift in the way we interact with the world can do to help women create a happier, more successful and rewarding life."
Anya Layfield and Jacquie Moses set up the Women's Wellbeing Conference in 2016 with the vision of empowering as many women as possible – be they mothers or businesswomen – to achieve better peace of mind, clarity, and emotional wellbeing.
Learn more by visiting wwbc.me.uk.
Date and time
Location
The Columbia Hotel
95-99 Lancaster Gate
London
W2 3NS
United Kingdom