We are going to provide a free one day event to promote wellness and wellbeing, we will be hosting many events and workshops on the day
About this event
Our event list below will give you a great selection of activities you can attend to provide you with ideas to improve and increase your own personal wellness.
But first an important announcement about road works!
The A19 north bound from the Norton turn off (A1027) will be closed on Saturday, so you will need to avoid that road if you are coming from Stockton and use the back road via Thorpe Thewles/Durham Rd. If travelling from Norton / Stockton / Yarm / Darlington come to the Thorpe Thewles junction, turn at the signpost to Wolviston. Follow the road past Wynyard Hall, at the Cricket/Football club take a very sharp left onto Wynyard Rd. Just over the A19 bridge indicate left - Cross Farm is on the brow of the hill. If coming through Wolviston, go past the duck pond on your right, out of the village towards Thorpe Thewles. Just before the A19 bridge, Cross Farm is located on the right.
SO where were we.... ah yes!
We will have:
LIVE MUSIC by Visitant; Charly B; and Tasha Graham and Julie Easby.
Flag making by Ward Wellbeing
Compassionate meditation by The Recovery Trust
Sound baths by Trulyred Sounds
Writing workshops by Red Stone Healer
Clay workshops by Carol Newmarch
Tees Women Poets are hosting expression through poetry workshops
Meet Rie Pearson author of 'Be kind, no excuses' sharing their work
You can even meet some of Hopefields horses!
AND women's support and wellbeing charities Red Balloons, Rubies and TRAC UK will be there to chat to as well.
There will be food and refreshments on offer, but bring a picnic and a flask, and something to sit on if you like!
This is an entirely free event, so there is nothing to pay for once you get here.
Thank you to everyone who has volunteered their time to attend and make this event happen!
Hopefully this will be the first of many... x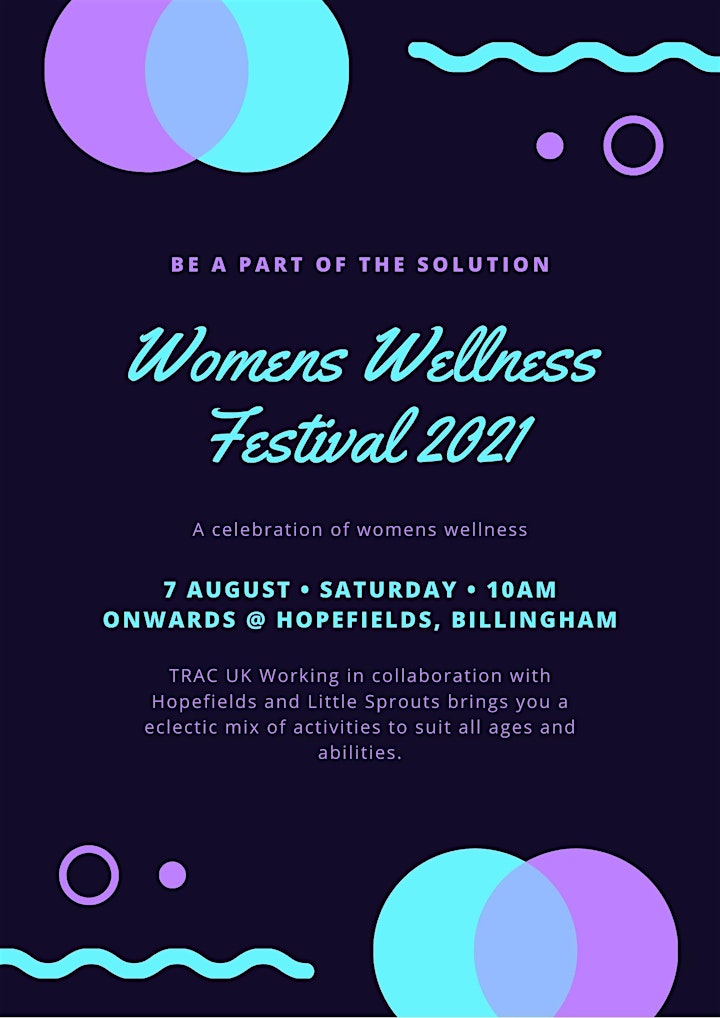 Organiser of Women's Wellness Festival
TRAC offers taught courses/rolling programmes across the local area.

An Advocate is someone who will support you, listen to you and can speak for you in times of need. At times people with addictions may feel vulnerable and need support in getting their voice heard.If you feel no-one is listening to what you want or how you feel about a particular situation , an Advocate may be the answer. 
We encourage people to express their views about their health and treatment and to let those in power know what is important to them.
Annalice is our Founder, a Counsellor/12 Step Therapist and Founder of Women Only Facebook Recovery Group with nearly 3800 members and growing daily.  The group was set up on International Women Day 2013 in memory of a close female friend who died from addiction.​
I have extensive experience in the substance misuse field both in the community and prisons I am a qualified trainer with a vast amount of experience facilitating and setting up mutual aid groups. I have a degree in Counselling studying CBT as the Core Model. I am DID (Dissociative Identity disorder) qualified working with a Trauma informed approach also  with a Diploma in NLP (Neuro Linguistic Programming). I am a 12 Step Therapist/Smart Recovery Facilitator  with training in The Rewind Technique - Trauma and Phobias