Woodcarving & Gilding and Stone Carving course in-person open day 2021/22
Sales Have Ended
Registrations are closed
Thank you for booking a place on our in-person open day - we look forward to meeting you and showing you around our studios!
Sales Have Ended
Registrations are closed
Thank you for booking a place on our in-person open day - we look forward to meeting you and showing you around our studios!
Meet our Course Leader in our carving studios & learn about our range of Historic Carving degree and diploma courses, for study in 2021/22.
About this event
Our renowned BA and PGDip/MA Historic Carving courses, in either Woodcarving & Gilding or Architectural Stone carving are the only courses in Europe at this level.
We have a few places available on both our wood and stone carving courses starting in autumn 2021. We also still have a range of grants and bursaries for 2021/22, to help fund your course fees.
If you're considering learning advanced carving skills for a career in architectural heritage or to steer your art practice in a new direction, book onto our in-person open day at our specialist London facilities, and find out more about our immersive courses.
This is a great opportunity to see our recently refurbished facilities first hand and soak up some of the unique atmosphere at our historic Art School. The open day takes place during our ever-popular Degree Show (18-22 August) and you'll also be able to view the outstanding work of our graduating students.
If you are interested in studying on one of our carving courses in 2021/22 and benefitting from one of our bursaries, but are unable to attend this open day, please contact us at admissions@cityandguildsartschool.ac.uk
OUR HISTORIC CARVING COURSES
BA (Hons) Historic Carving: Architectural Stone - 3 yrs, FT
BA (Hons) Historic Carving: Woodcarving & Gilding - 3 yrs, FT
GradDip Arts: Carving - 1 yr FT or 2 yrs PT
PgDip Carving - 30 wks FT or 60 wks PT
MA Carving - 45 wks FT or 75 wks PT
The Art School has an unbroken tradition of teaching sculpture, stone and woodcarving since it was founded in 1879. We play a crucial role in keeping alive the skills essential for preserving the world's most important monuments and buildings, and offer Europe's only BA (Hons) and MA courses in the subject.
We offer a broad range of grants and bursaries to help students fund their education. When you've accepted your place on one of our courses, you can apply for available funding. This financial support has enabled many students to study Historic Carving with us, who would otherwise not have the means to do so.
Our comprehensive and advanced carving courses will prepare you for a fulfilling career in architectural heritage as a professional carver or as a professional sculptor. Whether your ambition is to create new work in historic contexts or to restore sculpture and ornament, the aesthetic and historical knowledge you'll gain on your course will be as important as your manual carving skills.
You'll benefit from our extensive industry links and heritage networks, with exceptional live projects and commissions supporting your professional practice. You will be offered unparalleled opportunities to develop your skills and knowledge as well as your professional practice experience and professional networks.
All our Carving Tutors are inspiring, established professionals and our generous tutor to student ratio means a tutor will always be on hand to offer guidance and support, and one-to-one supervision.
All courses culminate in a final show which is an important platform to showcase your practice and often leads to commissions and future exhibitions. Your open day takes place during our 2021 Degree Show so you will have the opportunity to see our students' spectacular work.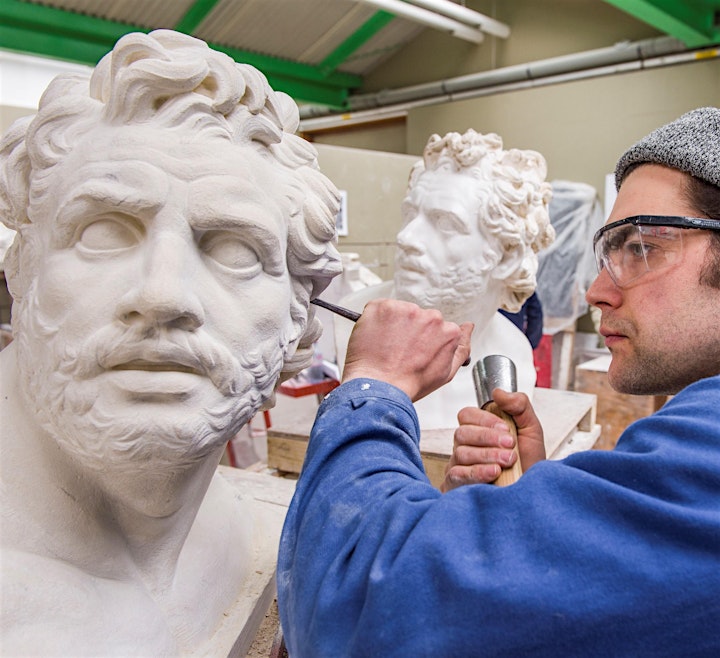 COVID-19 PRECAUTIONS
To ensure your safety and that of our staff and students, we ask you to take a lateral flow test prior to attending the open day, wear a 3 ply face covering, keep hands sanitised and follow our social distancing guidelines. We'll send you more details when you register.
We hope to see you at the Art School very soon!
Organiser of Woodcarving & Gilding and Stone Carving course in-person open day 2021/22
City & Guilds of London Art School is a small, not-for-profit higher education provider in central London.
We specialise in teaching contemporary fine art, design, conservation and historic craft skills at Foundation, undergraduate and postgraduate levels, focusing on both traditional and contemporary skills, processes and theories.
We provide bright, spacious studio spaces, a high tutor-to-student ratio, specialist facilities, prestigious live projects and commissions with our incredible industry links and a range of grants and financial assistance.