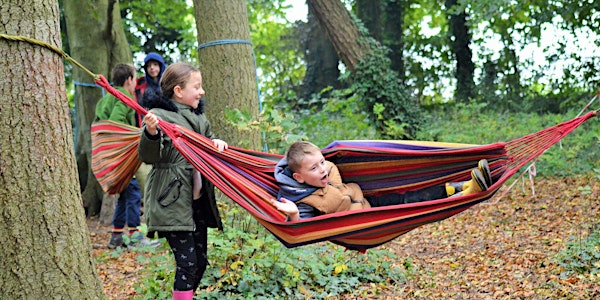 Woodland Wonders Summer Holiday Club 5-11yrs, 2-6th Aug FREE for FSM kids
Refund policy
Contact the organiser to request a refund.
Eventbrite's fee is nonrefundable.
A Summer holiday club for children aged 5 to 11 years. Free places for children who are entitled to free school meals
About this event
Woodland Wonders Summer Club
This year we are pleased to be offering a Summer club for children aged 5 to 11years. With the unique benefit of being able to run the sessions at three different locations throughout the week we are able to offer children a varied mix of different activities, experiences and learning opportunities.
Free spaces for children who receive free school meals:
As well as offering places at our normal costs we are very pleased to have been successful in obtaining a grant from WSCC HAF food and activities fund and are now able to offer places FREE to children in receipt of (FSM) free school meals,(FSM based on income/means tested benefit). If you are unsure if you are entitled to a free place please check using the governments eligibility criteria for FSM https://www.gov.uk/apply-free-school-meals/west-sussex before booking your place. Your child's school will also be able to let you know.
Paid for places:
We are also offering non funded places for those who are not entitled to FSM. The price per session is £28.00 per child per session, which will include all activities and a hot lunch, snacks and drinks at every session. A discount is being offered to those who would like to book a complete week of activities
TO MAKE THE BOOKING SYSTEM EASIER IF YOU WOULD LIKE TO BOOK A FULL WEEK OF ACTIVITIES BOTH PAID AND FUNDED PLACESE PLEASE USE THE FOLLOWING BOOKING LINK: https://www.eventbrite.co.uk/e/162826611779
To book on a daily basis both funded and paid for places please use this booking page.
Details:
At each session we will offer a variety of different activities and experiences unique to each location, from animal encounters at Applefield, forest school activities such as fire lighting, using hand tools, outdoor cookery and den building at The Aldingbourne Country Centre to exploring, crafting and fun in the park at Hotham Park. Each session is designed to engage young minds in a fun and interactive way, whilst giving children opportunities to learn new skills, meet new friends with whom you will make some long lasting childhood memories. Every day we will be offering a hot lunch prepared and cooked over the campfire for the children, giving them the additional opportunity to learn some outdoor cookery skills.
Dates:
Monday 2nd August, 10-2.30pm at Applefield Smallholding, Sidlesham
What's included: A hot lunch, cooked over the fire, meet, greet and feed the animals, learn about life on a farm, exploring, crafts, games and making new friends
Tuesday 3rd August, 10-2.30pm at The Aldingbourne Country Centre
What's included: Help prepare the food to be cooked over the fire for our group hot lunch. A variety of forest school activities, such as fire lighting, using hand tools to make a woodcraft, den building, group/team building games and bug hunting.
Wednesday 4th August: at The Aldingbourne Country Centre
What's included: Extend skills learnt with further more challenging forest school activities. Learn different fire lighting techniques such as a bow drill, more challenging woodcrafts, natural crafts, team games, exploring, swing, hammock and lots of fun.
Thursday 5th August: at Applefield Smallholding, Sidlesham
What's included: Learn all about the animals that live on the farm, meet, greet and feed the animals, crafts, games, exploring, bug hunting, hammock, swing, mud kitchen and much more.
Friday 6th August: at Hotham Park, The Discovery Garden, Bognor Regis
What's included: Explore and learn all about the park, discover our secret garden where we will cook our lunch, experience some forest school activities, play some games, have a go on the swing and hammock and have loads of fun making new friends.
Price:
WSCC funded places: FREE for children in receipt of income based FSM.
Non funded places: £28.00 per session
To book a full week of activities for both free and paid for (discounted for a full week) please use the link: https://www.eventbrite.co.uk/e/162826611779
Please contact us with any questions you may have about the sessions or if you are unsure whether you qualify for a free place to Jen at woodlandwondersforestschool@gmail.com
What's included:
A hot lunch, snacks and drinks at every session, all crafts to take home, farm or forest school activities, games, making memories and having lots of fun!
FAQ:
My child has food allergies:
There is a section on the order form to complete with any food allergies. If you would like to discuss any food allergies or other requirements further please do get in touch.
Can I book onto more than one session if I am taking a funded place:
Yes, you can book to come to all the sessions irrelevant if you are entitled to free places or paid for ones.
What to bring and wear:
Long sleeved tops and long trousers
Wet weather gear, trousers and coat
Suncream and sunhat
Appropriate outdoor shoes, wellies in wet weather.
Water bottle
Covid-19
All staff and volunteers will take a lateral flow Covid test regularly and inline with government guidance. Hand sanitiser and hand washing facilities will be available to use at regular intervals and are situated around all the sites.
Cancellation and refund policy:
If in the unfortunate event we are unable to run the session due to newly imposed lockdown restrictions we will issue everyone with a full a refund. If you are unable to attend due to you having to self isolate, have Covid or for any other reason, unfortunately we will not be able to offer a refund.
What happens if the weather is bad?
We will continue the session in most weathers and will put up tarps in wet weather or use site shelters dependant on the site used.
The locations?
We will send out an itinerary for each session booked, with details, address and where to meet.
Your information and how we use it
Funded places: For funding purposes the details of all those who have booked a free place will be shared with WSCC HAF food and activities fund to record the success of the scheme and for their impact survey.
All bookings: At time of booking we require some information about you and your child, for example allergies, alternative needs or special requirements, first aid, email and emergency contact phone number. This information is only kept for the duration of the course or event and your contact number will only be used by us in the event of an emergency arising with your child or if we need to contact attendees prior to the event to give extra information. If you consent for us to use your email to contact about future events, this will only be used by Woodland Wonders (we do not pass these details onto any other 3rd party) and will be used only to send details of other events run by Woodland Wonders that we think you may be interested in. If you consent for photos to be used, these will only be used for our Facebook page, website and promotional purposes only and are not passed onto anyone else. If you no longer want us to contact you this way, please email us and we will remove you from our emailing list.woodlandwondersforestschool@gmail.com