A time to come together to hear from the Lord, be envisioned and empowered to ARISE and TAKE OUR PLACE in the areas God has destined for us
About this event
You are specially invited to Women of purpose and Influence 2021 Virtual Conference.
ARISE AND TAKE YOUR PLACE – Judges 5:7
Friday 13th August 2021 7pm
Saturday 14th of August 2021: 10am to 12.20pm, 1.30pm to 4pm, 5pm to 6:30pm
Sunday 15th of August 2021: 10.15am to 1pm
www.womenopi.org / www.gnaministries.org
If at any time we need to know the mind of God, it is now, we live in an unprecedented era with pandemic, moral and economic issues that have shaken the core and foundation of our lives. It is time to rise up, take up the places God has destined for us, pick up the baton again and begin to influence current and future generations for good.
Judges 5:7 "Village life ceased, it ceased in Israel, Until I, Deborah, arose, Arose a mother in Israel.".
This conference is a time set apart as women to come and hear from God and be empowered as we navigate to fulfil God's purpose in this decade.
Sessions includes: -
Arise and Take Your Place in your Home
Arise and Take Your Place in the Market Place
Q & A session
Prayer and Prophetic session
We look forward to having you at this year's conference. We pray everyone will experience a divine encounter with the Lord Jesus Christ to ARISE and TAKE OUR PLACE in the areas God have destined for us
Once you register, we will send you the log in details for the online event. We know you will leave the conference blessed and empowered in Jesus's name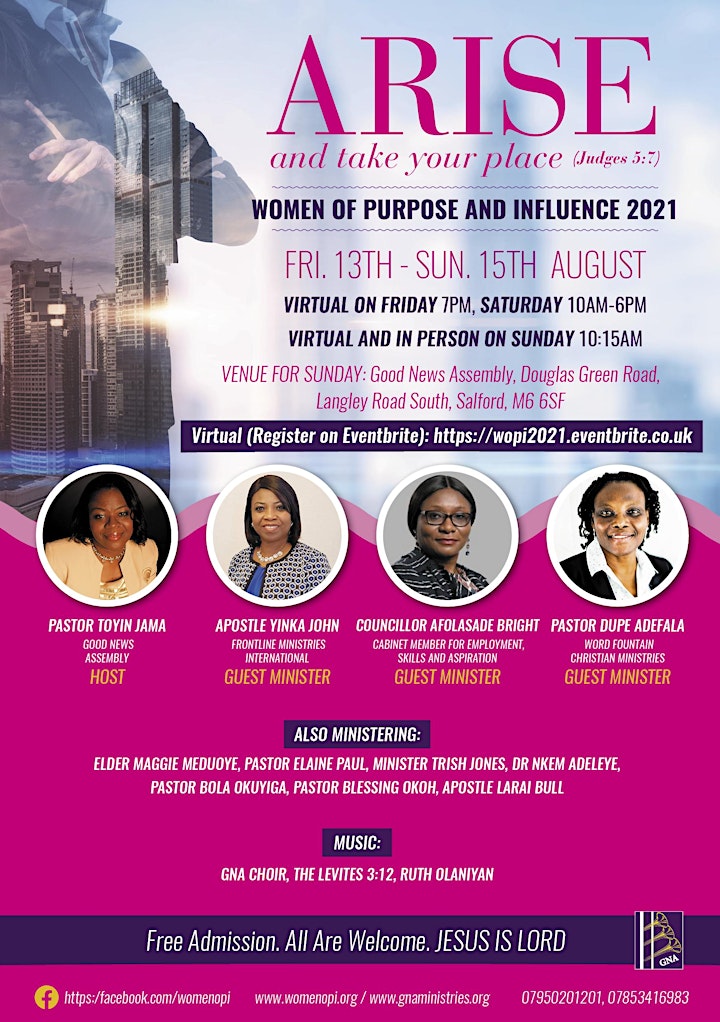 Organiser of WOPI 2021 - ARISE and TAKE YOUR PLACE - Judges 5:7
Women of Purpose and Influence - Empowering women to live purposefully and influence generations.
 
WOPI is the ministry arm of Good News Assembly. We are a group of women that love the Lord Jesus Christ and want to serve the purposes of God in this generation, like it was said of David in Acts 13:36 'For David, after he had served God's will and purpose and counsel in his own generation, fell asleep and was buried among his forefathers,...' 
 
In this world, you will either be remembered for the trouble you caused or the problems you solved. We want to be remembered as problem solvers, living in righteousness, holiness and integrity like the virtuous woman in Proverbs 31.
 
Our Motto is to live purposefully and influence our generations for good like Deborah – 'Village life ceased, it ceased until I, Deborah arose Arose a mother in Israel' Judges 5:7. Deborah was a woman who lived purposefully as a Prophetess, Wife and Judge. She was able to influence her generation spiritually, physically and socially by giving counsel and encouragement that helped Men and Women to fulfil their purpose.
 
Our motto will be achieved by
1. Running conferences and seminars that will empower women to discover & fulfil their God given purpose and influence their generations for good at Home, Church and in the Market Place.
2. Setting up community projects locally, nationally and internationally
3. Supporting other Christian Organisations and Establishments